and

The Globus Family of Brands
---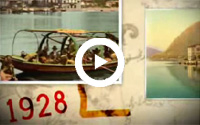 More than 75 years ago, Antonio Mantegazza bought a rowboat to transport commercial goods across Lake Lugano in Switzerland. Who could know that rowboat would launch the world's leading escorted travel company? Today Globus is a global, family-owned company reaching every corner of the world. Globus is now the first choice among individuals looking for vacations with both domestic and international travel in a variety of styles to six continents and hundreds of itineraries to choose from

(see Globus History video right)

.

Antonio's frequent trips across the scenic lake led him to consider opportunities in a different market - tourism. His entrepreneurial instinct pushed him to gradually acquire some motorcoaches to transport tourists around the Lake Lugano area. In 1928, Antonio opened a company specializing in motorcoach touring called Globus Viaggi. The company began with a fleet of 12 coaches which operated local excursions for European tourists in Switzerland.

By 1950, Globus Viaggi had grown to a fleet of 33 coaches and featured overnight excursions to Rome, Venice, the Dolomites and the French Riviera. Gradually, these became regularly scheduled tours and grew longer to cover more ground. Later that decade, under the leadership of Werner Albek, Antonio's business partner, Globus pioneered the concept of Grand European Touring by offering first-class European tours to North Americans. By 1961, the company launched its Cosmos arm, which featured affordable, value-priced European touring for the cost-conscious British traveler.

The coach tours were so successful that Cosmos soon introduced another form of travel for the British market: air holiday packages to the sunny destinations of southern Europe. By 1968, Cosmos air holidays became so popular the company formed its own airline, Monarch Airlines. Monarch Airlines started out modestly with two used Britannia aircraft and eventually blossomed into one of the most successful European charter companies with a large fleet of modern jets and its own engineering division.

Under the flagship of Sergio Mantegazza, current president and son of Antonio, Globus began expanding its markets beyond Great Britain and North America. Since 1974, travel packages have been sold in Australia, New Zealand, Canada and most recently in Southeast Asia. Starting in the 70s, the company also aggressively expanded its offerings, introducing travelers to more countries than any other tour operator with packages to Africa, South and North America, Europe, the South Pacific and Asia.

Today, the Globus family of brands is marketed and operated by a network of more than 32 independent tourism and aviation businesses, serviced by a group of more than 5,000 professionals worldwide. Combined, Globus, Cosmos, and Monograms carry over 500,000 passengers a year, making the organization the leading operator of guided vacations worldwide. Globus attributes its success to the ideals of founder Antonio Mantegazza. For three generations, his vision, hard work, love for travel, and commitment have guided the company. These values are the cornerstone on which Globus was built and will continue to grow.

Touring Is Just Another Way To Say "Perfectly Planned"





Think about all the great things you plan to do on your vacation. Now picture it going perfectly. That's what it feels like to tour. Bypassing the waiting lines at attractions, enjoying the company of your fellow travelers instead of driving on your own, walking into your hotel lobby and loving it every time. Not a moment of your priceless vacation wasted.



With Globus, it goes beyond planning perfection. After more than 80 years we've come to know vacations like no one else. And we can't wait to share its stories with you. Those unforgettable details about the colorful characters and places that will transform your visit into a lasting memory. Throughout your Globus tour your destination will be brought to life by expert Tour Directors who will share those stories and their intimate knowledge of every location and landmark.



With more than

225 guided vacations

to more than 70 countries on six continents, Globus gives you choice to ensure you'll see the world the way you want.

VIP Access

- skip the lines and get special treatment at the must-see attractions.

Central Hotels

- we've done the work to find just the right hotels in the heart of the city.

Tour Directors

- take your heads out of the guidebook and let expert guides make every destination fascinating.

Transportation

- leave the navigating to us – and just sit back and enjoy the ride.

Inside visits to major and must-see sites

are included in the vacation price.
A variety of travel styles and specialty travel includes Cruise & Tour, Family Travel, Religious Vacations, and more.
As you encounter

famous sights

, you don't just view or drive by—you visit, taking the time to go inside and learn the stories that bring them to life.
The ideal combination of

free time

and

planned activities

results in the perfect getaway.

Portage is included!

Not handling your own bag really enhances your vacation experience.
A dynamic blend of transportation includes deluxe motorcoach, rail, air, and cruise—we make getting there part of the fun!

Many great meals

are included in the package price—for a great value plus freedom to experience the local fare as you wish.
As the

most recognized Tour Operator in the industry

, our vacations receive five times the recommendation rate as our nearest competitor, and we're the escorted travel provider of choice by Travel Weekly, Recommend magazine, and Travel Age West.
Globus escorted travel receives a

97% satisfaction rating

on our customers' post-vacation surveys.
More than

80 years experience

showing people the world.
Great Hotels in the Heart of the Action!


When you travel with Globus, even the places you lay your head at night have their own intriguing histories and captivating stories to uncover—because many Globus hotels are legendary places in their own right. At our superior, conveniently located hotels, you'll always feel well looked after because we know that relaxing in comfortable, clean, attractive accommodations at the end of a busy day of sightseeing is essential. The hotels we carefully select have mastered the fine art of handling group check-ins and baggage, and of balancing efficiency with the individual attention you deserve. You won't be surprised by any hidden check-out charges, either. And with your hotels often within mere steps of the world's greatest sites and attractions, you'll never waste precious vacation time getting to the sights you want to see most.
Superior Accommodation
Globus uses chains such as Crowne Plaza, Forte, Hilton, Holiday Inn, Hyatt, Inter-Continental, Jolly, Queens Moat Houses, Marriott, Mövenpick, Radisson SAS, Renaissance, Scandic, Sheraton, Sofitel, Thistle and Westin.
The specific hotels we have selected for you are listed separately for each tour. The vast majority of our hotels are rated deluxe (D), superior first-class (SF), or first-class (F). In overnight places where there is no hotel in these categories or where our demand exceeds the supply, we choose the best available superior tourist-class (ST) or tourist class (TC) hotels.
Most hotels have amenities such as satellite TV, mini-bar, a cocktail lounge, a restaurant, room service and concierge services. Many also have a swimming pool, health club, shops, and dry cleaning and laundry services.
Globus hotel ratings follow standards set by the independent Hotel & Travel Index and by national tourist boards. The specific rating for each contract hotel is determined by our quality controllers.
We reserve the right to substitute hotels listed on the itinerary pages with hotels of equivalent standard. With your Globus travel documents you'll receive a list of hotel addresses, telephone numbers, and fax numbers for your vacation.
Why Globus is Better
Even though our main competitors use hotels with comparable quality, none of them has mastered the art of creating vacations that will enthrall you and enrich you, with lots of side trips, adventurous optionals, and many other memorable experiences.
Dining in Style
With Globus, even meals are designed for your convenience and to help you make the most of your vacation. Start each day with a hearty included breakfast; take advantage of free time to sample the local fare on your own; and discover culinary highlights through food and wine tastings, and traditional meals at local restaurants.
Extra Nights Before and After Your Vacation
If you require extra nights at the first and/or last vacation hotel, we will make reservations for you at the rates quoted, provided you request them at the time you book your vacation. Rates are per person, per night, and include room with private bath, breakfast, service charges, and taxes.
Extra nights are only available immediately prior to or after your vacation. Every effort will be made to reserve extra nights at the hotel where your vacation stays. If space at the hotel is not available, alternative accommodations will be reserved at a hotel of equivalent standard. When this is the case, the transfer from and to the vacation hotel is at our expense.
As hotel space is limited, we cannot reserve more than two extra nights before and/or after your vacation, unless they are needed to bridge the gap between two Globus vacations. During particularly busy periods, hotel space in certain cities can become so tight that we may be unable to sell extra nights.
Experience the World Through The Eyes Of A Local Expert
One of the biggest benefits of a Globus escorted vacation is getting to experience the very essence of your destination in the company of Tour Directors and Local Guides who are actually from the region. Year after year, these experts are rated the best in the industry by travelers and travel agents—and our perfectly planned itineraries incorporate their feedback so that you can get the most out of every stop. All along the way, they share their vast knowledge of the areas, offer special recommendations, and tell colorful stories about each historic landmark to help bring your journey to life in a powerful, memorable, and enriching way.
In Europe, included headsets for sightseeing on the Continent give you the freedom to roam through some of the world's most famous attractions without missing a moment of fascinating commentary by your expert Tour Director or Local Guide.

NO TIME WASTED with VIP ACCESS
A Minute Saved Is a Minute Earned
We've spent more than eight decades creating and finely honing vacations that strike the perfect balance between included planned activities…and leisure time to explore on your own. We actually take you inside the world's most awe-inspiring places, where your expert Tour Director and Local Guides reveal the little-known facts and colorful tales about the destination. This very special VIP access means you'll have a richer overall experience, and will spend less time waiting in lines so you can enjoy the unique flavors and customs of each stop along the way. Plus, Globus offers more included features than our nearest competitor—at no additional cost to you. And all of our planning adds up to great value—a Globus tour can save you up to 40% versus traveling on your own.
We Handle the Details
Seeing the world doesn't have to be a hassle—and with Globus, it isn't! Our escorted vacations come with ultimate peace of mind as you travel without worrying about the details. Because of Globus' buying power, you enjoy unmatched value when it comes to your hotels, transfers, inside visits of must-see attractions, and flight prices. You even have the option to personalize your trip with extra days and additional excursions.
Standard Amenities & Services
Discounts available for early bookings, frequent travelers, second tours within the same year, group travel, young travelers, and triple rooms

Expert Tour Directors, Cruise Directors, Hosts, and Local Guides

Twin-bedded rooms with private bath or shower (hotel taxes, service charges, and tips for baggage handling included)

Private deluxe touring motorcoaches equipped with air-conditioning, extra leg room, and emergency restroom

Helpful travel documents

In Europe, Hosts, Tour Directors, and Cruise Directors at airports greet and assist you with the transfer to your hotel (applicable for air inclusive vacations, and land-only clients who have purchased transfers through Globus)

In Europe, high-speed Eurostar train rides on all vacations traveling between London and Paris (or Brussels)



Transportation to Suit Each Moment of Your Vacation




The Best Way to Go


No other Tour Operator offers as many means of included transportation as we do! At Globus, we believe getting from here to there can really add to the fun, so we employ a wide range of transportation. From trains and luxurious cruise ships to planes and canoes, your magical journey will deliver you to encounters with fascinating people and places, where you can create lasting stories of your own.



Seeing the World in Ultimate Comfort


On your Globus escorted tour, getting around in each city is completely hassle-free. You never have to worry about searching for some ill-defined shuttle meeting place—because we pick you up at your hotel and deliver you right to each destination's world-famous attractions. Our private deluxe motorcoaches include all the comforts you'd expect, including air-conditioning, an emergency restroom, and extra leg room, comparable to the airlines' upgraded "plus" seating so there's plenty of room to stretch out and relax!

Motorcoach Standards



Ride in Comfort




Each Globus motorcoach has upholstered, reclining seats with headrests and individual air-conditioning vents. A high-fidelity sound system broadcasts professional Tour Director's commentary to every seat. Our custom of daily seat rotation gives everyone a variety of vantage points to see the passing countryside and city scenes. All Globus touring motorcoaches are fully air-conditioned.





Free Wi-Fi on Your Motorcoach




Our state-of-the-art motorcoaches offer free Wi-Fi in North America and Europe, as well as video monitors. Once again, Globus has ushered touring into new territory, making it possible for travelers to stay connected with family and friends and browse online for free while touring. Most of our ultramodern motorcoaches now feature free wireless Internet connection. So, as you're enjoying your escorted tour, you can share your experience with friends and relatives back home...and it's all at no cost!




Please note that free connectivity features browsing only; downloading is not available. Some tour departures may not offer this service. Unfortunately, details regarding availability cannot be provided prior to the commencement of the tour. Some countries—such as Iceland, Israel, Jordan, Russia, and Ukraine—and certain regions of other countries do not have Wi-Fi service coverage, so free Wi-Fi is not available. When local coaches are used for transfers or occasionally for sightseeing tours, wireless service is not available.





Limited Group Size for Extra Comfort





The length and width of modern motorcoaches is standard, prescribed by law. The difference among tour operators is in the number of seats installed and actually sold. While it is customary to install and sell 53 seats, Globus installs fewer seats for extra leg room, and limits group size to a maximum of 44 tour members (Europe vacations only). The extra space contributes enormously to your comfort. For airport and port transfers in Britain we generally use motorcoaches with 53 seats.





Smoke-Free Coaches




For non-smokers and moderate smokers an otherwise perfect vacation can be spoiled if they are forced to inhale other people's smoke on a motorcoach. We therefore do not allow smoking on the coach. There are plenty of opportunities to smoke during the frequent stops.





Experienced & Professional Drivers




Globus drivers take pride in driving and in their vehicles, keeping them in great shape and spotlessly clean. Your driver will help you on and off the motorcoach with a smile and load your bags with care. Our travelers consistently lavish the highest praise on the person behind the wheel!





Emergency Washrooms




Motorcoaches in Europe are equipped with an emergency washroom. For transfers and sightseeing in London this amenity is not available. We deliberately use the term "emergency washroom," because this facility is not meant to be used regularly in lieu of the restrooms at our frequent comfort stops.





Sustainable Travel




Globus is committed to reduce transportation-related energy use and greenhouse gas emissions. Globus utilizes motorcoaches that are 5 years or newer and equipped with the latest technology in emission control and reduction. In addition, the utilization of these modern motorcoaches provide 206.6 passenger miles per gallon and on averages, seven times more energy and fuel efficient than a single-occupancy automobile. Each motorcoach replaces as many as 55 passenger cars on the roads, slashing fuel usage and pollution emissions.






RAIL VACATIONS



Experience the ultra-modern Eurostar train from Rome to Florence and the exciting high-speed AVE train from Madrid to Seville. In the Canadian Rockies, you might take one of the sleek, ultra-modern BC Ferries or, if traveling by railcar in Canada or Alaska, enjoy travel operated by VIA Rail®. Travel on a road less traveled, see Canada from a different perspective. Globus offers many vacations that include rail travel across Canada.



RedLeaf Service®




Witness some of the most spectacular scenery in the world onboard the Rocky Mountaineer—a truly civilized way to experience this great daylight adventure. Settle back in your roomy reclining seat in air-conditioned comfort and enjoy the service excellence provided by your Onboard Attendant. With RedLeaf Service, you will enjoy the thoughtful details that add so much to your vacation. Delicious chilled breakfast and luncheon selections are served at your seat so you will not miss a moment of the scenery throughout the journey.





GoldLeaf Service®




As you journey through the Canadian Rockies by rail, why not treat yourself to the luxury of GoldLeaf Service? The GoldLeaf dome coach puts you in the middle of the aweinspiring scenery as you bask in a level of luxury that recalls the train travel of days gone by. With a separate dining room, gourmet menu selections, a team of Onboard Attendants to provide you with attentive personal service, and commentary, Rocky Mountaineer GoldLeaf Service is as good as it gets.





CRUISE SHIPS


Globus, the world leader in escorted tours has joined forces with the finest cruise lines in the industry to bring you the most incredible vacation experiences on both land and sea with a Cruise & Tour vacation package. From Greece & Turkey to the South Pacific and Hawaii to Alaska, Globus offers you multiple opportunities to enjoy your vacation at land and at sea.

Holland America Ships





MS Maasdam




MS Statendam




MS Volendam




MS Westerdam




MS Zaandam


MS Zuiderdam





Norwegian Cruise Lines





Pride of America

Louis Hellenic Cruise Lines





Aquamarine




Majesty




Cristal




Aegean Pearl




Louis Olympia


Orient Queen





Galapagos Islands



Galapagos Legend


Galapagos Explorer II

Flights Coordinated With Your Vacation
With Globus, think of your entire vacation as one-stop shopping. Rather than spending hours researching flights to coordinate with your vacation start and end dates, let us handle the work. And when we book your flights, if there are any changes to your vacation schedule, we make the air changes for you. As a completely independent company, we have no ties to any one airline. We negotiate the lowest possible airfares with the world's finest carriers on your behalf.
Globus offers 2 air options - Flex Air and Instant Purchase Air. Flex Air allows flexibility if you want to make changes to your vacation schedule. Instant Purchase Air may offer additional airline options but has more restrictions. Some vacations may only offer one Air type option.
Low Air-Inclusive Prices & Free Airport Transfers
Regardless which air option you choose when you book your Globus vacation air-inclusive, the transfer to and from the airport to your start and end hotel is included (on published departure and return dates). This can be a substantial savings and give you peace of mind.
Land-only vacation clients who make their own air arrangements on regularly scheduled direct or nonstop flights (not chartered flights) into terminals may purchase our airport transfer service.
Airport transfers can be arranged when you purchase extra nights before or after the vacation. Transfers cannot be provided when you join late or leave early. Flight information for air purchased separately from Globus will be required at time of booking the extra night transfers and must be provided to Globus prior to final payment.
You can fax (303.703.7060) or mail a photocopy of your air itinerary with arrival and departure flights and dates with your invoice number to the Transfer Department. Flight details should be sent apart from other correspondence. Flight details and payment must be received no later than final payment. Time and terminal limitations are provided.
Transfers will be provided only if confirmed by Globus. Look for confirmation of your transfer in the travel documents.
We Also Accept Your Reservation on a Land-Only Basis
While booking your vacation air-inclusive gives you all the advantages described, you can also choose the land-only option.
Book Early to Get Even Better Prices Than Those Listed
The earlier you book, the better the rates will be, as availability of the best airline rates is at its best. For up-to-the-minute air prices, look online or ask a Travel Consultant. Any changes and/or revisions to airline flights may affect your air-inclusive price.
Booking your Vacation with Air
Guaranteed air-inclusive prices - air is only available to passengers traveling from the United States and only available when booked in conjunction with a land vacation. An additional non-refundable air deposit ($250 per person for 2012 departures or $300 per person for 2013 departures) is required for Flex Air booked in conjunction with any land vacation (i.e. air-inclusive vacation). Air can only be booked by Globus in conjunction with a vacation package. Instant Purchase Air requires air payment in full at time of booking (i.e. air-inclusive vacation) plus $30 per person non-refundable service fee. Once booked, Instant Purchase Air is non-refundable, and non-changeable. Some vacations may only offer one Air type option. However, once your airfare is confirmed and Globus has received your full air and land deposit, your air-inclusive vacation price is guaranteed.
How We Select Your Flights
Since seats for our low-cost airfares fill quickly, we urge you to book early. Air-inclusive reservations cannot be made later than 10 days prior to departure. Additional rules may apply. Ask our Travel Consultants for details. Although we will try, Globus cannot always honor carrier or flight preferences.
Air tickets will be received two to three weeks prior to vacation departure. For any late bookings, tickets are sent overnight after final payment is received. It is advised to contact your air carrier for special service requests, such as specific seat assignments and special meals, or, if applicable, to advise your frequent flyer number.
Upgrades
Business class and/or Premium Economy upgrades may be available for purchase. Please inquire with your Travel Agent at the time of booking for applicable price quotes. NOTE: U.S. connection flights typically do not have upgraded cabins available in conjunction with international upgraded service.
Air-Inclusive Vacations – Applicable Taxes & Fees
Air inclusive price quotes will include all government-imposed taxes and fees applicable at the time of booking and will be shown as a Total Amount. Additional airline fees for baggage may apply. At the time of booking your air-inclusive vacation online, carrier Websites will be provided to check baggage fees, or you can visit www.iflybags.com for up-to-date baggage pricing/restrictions. The total airfare price, the base airfare price, and the applicable government taxes and fees are broken-out line-by-line and shown while booking online and on the invoice after your travel is booked. For return travel from some countries, international travelers are required to pay entry and/or exit fees at the airport. These fees will be collected by the local government and are payable by the traveler at time of travel. Your confirmation booking information will contain information about these fees.
Not Included In Your Vacation Price
Charges not included in the land vacation price: airfare to and from the start of your vacation; airline baggage fees including checked and/or excess baggage fees; Federal inspection fees for the Federal U.S. Customs and Immigrations; agricultural tax; other per person taxes imposed by government entities; applicable cruise taxes, fees, fares and port charges; passports; visas and vaccinations; transfers; tips to your Tour or Cruise Director, Local Host, driver, Local Guides, and/or ships' crew; gratuities on ferries, trains, and cruise ships; laundry; telephone; minibar; alcohol, beverages, and food outside of the contracted menu as presented at a hotel or restaurant (these extra items will be billed to you before leaving the hotel, ship, or restaurant); additional excursions and activities not listed as 'included' in the itinerary; porterage at airports or train stations; Travel Protection premiums; and all other items of a personal nature.
Taxes and fees
Taxes and fees are extra and subject to change and are not guaranteed until full land and air deposit are received.
Transportation Security Administration (TSA) Requirements
Travel Protection Plus offers comprehensive protection for your travel investment. In addition to excellent trip coverage and cancellation protection, the plan also includes a Cancel for Any Reason Waiver Benefit that allows for cancellations up to 24 hours prior to departure (or prior business day, whichever is farther out) for any reason. In the event cancellation is for a non-covered reason under Travel Protection Plus, the cancellation penalty retained by Globus, minus the travel protection payment, will be reimbursed under the Cancel for Any Reason Waiver Benefit, in the form of Travel Certificates valid for travel within two years from the original cancelled vacation start date. This Cancel for Any Reason Waiver Benefit does not cover Instant Purchase Air or independently purchased air.
Travel Terms & Conditions
The purchase of any travel services offered by Globus, constitutes a contractual arrangement between you and Globus, and represents your acceptance of the Terms & Conditions. Please ensure that you read carefully and understand the Terms & Conditions prior to booking. These Terms & Conditions cover Deposit & Final Payment information, Air-Inclusive Deposits & Final Payment, Revisions & Revision Fees, Air Arrangements, Participation, Travelers Who Need Special Assistance, Young Travelers, Smoking, Price Policy, Visas and Passports, Hotels & Accommodations, Baggage Allowance, Travel Documents, Not Included in the Land Price, Refunds, Service Inquires After the Vacation, Holidays, Safety, Photos & Pictures, Optional Excursions, and Responsibility.


Trust & Travel Insurance
---
For generations, Globus has worked hard to provide the best on-trip experiences, world-class customer service, and the best consumer protection plans available in the travel industry.
$11 Million of Travel Protection
Worldwide Scope
Travel Protection
Travel Protection Plus
Global Travel Community
Awards
Affiliations
$11 Million of Travel Protection
Globus has provided a $10 million letter of credit* issued by a leading bank to protect payments made by its customers for all 2005 vacation departures sold in the United States. "In these uncertain times, we feel it is important to assure our customers and our travel partners that we are financially secure and that we back our products 100 percent," said Phillip Gordon, chief executive officer and president. This is in addition to the $1 million traveler's assistance program maintained by the United States Tour Operators Association (USTOA) in favor of Globus travelers.
*The $10 million letter of credit has been issued by Credit Suisse S.A. in favor of PRO-CLAIM, INC. of Highlands Ranch, Colorado, acting as trustee of a trust for the benefit of Globus and Cosmos customers who advance deposits or payments for any Globus or Cosmos tour departure sold in the United States. PRO-CLAIM INC., as trustee of the trust, is responsible for refunding deposits or payments (excluding deposits or payments made by credit cards, since chargebacks are available), for Globus and Cosmos tours sold in the United States in the event Group Voyagers Inc., d/b/a Globus and Cosmos, becomes insolvent, bankrupt or ceases business.

Worldwide Scope
Globus is truly a worldwide operation with 32 offices around the world to assist travelers. Booking Globus vacations is always simple due to a network of over 13,000 knowledgeable travel agencies offering Globus vacations. Globus is also offered by some of the most well known travel consortia, such as Vacation.com.



Travel Protection


You're planning your annual vacation, or the vacation of a lifetime. Either way you don't want to think about canceling or interrupting your trip. Or getting sick. Or losing your luggage. We know these things can happen and we provide travelers peace of mind with a Travel Protection Plan. The plan costs from $79-$249 per person (depending on the vacation destination and price) and offers a wide range of benefits. Ask your travel agent for the details, get the details in your travel documents or follow the link below.

Please note that the Czech Republic now requires a minimum of $35,000 medical and repatriation insurance coverage. Our basic Travel Protection policy has a $25,000 limit, however will be increased to $35,000 while in the Czech Republic in order to meet Czech Republic requirements. There is no additional cost for this extra coverage. If you choose to purchase insurance independently, please know that the you may be required by immigration to produce proof of coverage while traveling in the Czech Republic.



Travel Protection Plus (Cancellation Protection)
---
If you purchase the Globus family of brands Travel Protection Plan, you may also purchase the optional Globus family of brands Travel Protection Plus Plan at an additional cost of only $30.00 per person. This additional Benefit* (if purchased) allows you to cancel your vacation up to 24 hours (or the prior business day, whichever is farther out) before your scheduled departure for any reason not covered by the basic Travel Protection Plan provisions. Under this Travel Protection Plus Plan Benefit, Globus family of brands will reimburse the cancellation penalty amount, as retained by the Globus family of brands, in travel certificates, minus the insurance premium. Plus, now Travel Protection Plus extends your basic Travel Protection Plan benefits to include coverage of air penalties or change fees on air purchased outside of the Globus family of brands, when canceling for a reason covered by your basic Travel Protection Plan.
*The Travel Protection Plus Plan is provided by Globus family of brands and is not an insurance benefit and must be purchased with the initial payment for your Trip.
ASK YOUR AGENT ABOUT DETAILS.


Globus recognizes the importance of preserving the North American attractions that our travelers go to great lengths to experience, which is why Globus is donating generously to the Tourism Cares for Tomorrow for restoration and preservation of five "American Icons." The donations are going toward specific projects, rather than operational costs.






GLOBUS TOURS and COSMOS TOURS are a member of

---