Day

1
OVERNIGHT FLIGHT
---
You're on your way to the United Kingdom. Begin in England and enjoy a 3-night stay in London.


Day

2
Edinburgh, Scotland - Tour Begins
---
Your tour opens in Edinburgh, Scotland's capital city. Tonight, experience how traditional Scottish ingredients are getting a modern twist during a welcome dinner at one of the city's popular restaurants.


Htl:

Radisson Blu Edinburgh




Dinner
Day

3
Edinburgh
---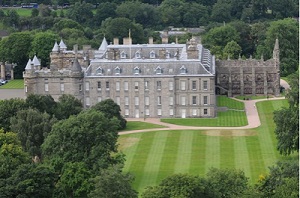 This morning, visit Edinburgh Castle, home to the Scottish Crown Jewels. Then it's your choice! Get acquainted with this regal city on a locally guided tour of the city via motorcoach -OR- join a local expert and explore the Old Town and Royal Mile on foot.*


Htl:

Radisson Blu Edinburgh

Breakfast
Day

4
Edinburgh - St. Andrews - INVERNESS
---
Depart Edinburgh and visit a whisky distillery built on an old monastery, where you may enjoy a whisky tasting tour. Then travel onto St. Andrews, the beautiful town in the Kingdom of Fife that gave the world the game of golf – see the Royal and Ancient Clubhouse and the famous Old Course. Continue on to Inverness, the capital of the Highlands.


Htl:

Best Western Palace Hotel Inverness

Breakfast

Dinner
<>

Day

5 INVERNESS - LOCH NESS -

INVERNESS
---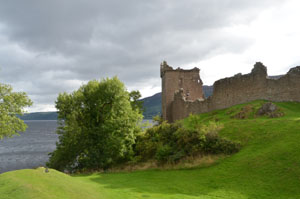 This morning, take a scenic cruise on Loch Ness before disembarking at the base of the famed Urquhart Castle. Explore the ruins of this historic stronghold where acts of chivalry and defiance exhibit more than 1,000 years of Scottish history. Return to Inverness and have time to explore the city or join a riverside walk. This evening, enjoy a Highland evening filled with storytelling, singing and Scottish dancing!


Htl:

Best Western Palace Hotel Inverness

Breakfast

Dinner
Day

6
INVERNESS - FORT WILLIAM - GLENCOE - Glasgow
---
Depart Inverness and stop just north of Fort William to take in the historic Caledonian Canal and its famous Neptune's Staircase, a flight of eight locks and an incredible feat of engineering. Continue to the scenic valley of Glencoe, one of Scotland's most historic and breathtaking glens. Your day ends in Glasgow.


Day

7
Glasgow - Belfast, Northern Ireland
---
This morning, explore Glasgow with a local guide. Highlights include a visit to George Square, and passing by Glasgow Cathedral, Provand's Lordship, the oldest house in the city, and Glasgow Green, discovering the rich industrial heritage of the city. Travel to the scenic Ayrshire coast to your ferry. Cross the famed Irish Sea as you head for Northern Ireland's capital city of Belfast.


Htl:

AC Hotel by Marriott

Breakfast
DAY
8
BELFAST
---
Enjoy a privately guided tour of Belfast, Northern Ireland's largest city. Learn about the struggles in this great city's history as you pass through its distinctive neighborhoods. See "Samson" and "Goliath," the massive cranes of the Belfast shipyard. Complete today's tour with a visit to the award-winning Titanic Experience museum.


Htl:

AC Hotel by Marriott

Breakfast

Dinner
Day

9
Belfast - Glens of Antrim - Giant's Causeway - Derry
---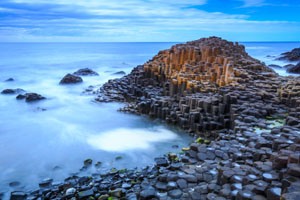 Venture along the stunning Antrim Coastal Route, stopping at the Giant's Causeway (UNESCO). Formed by volcanic activity millions of years ago, the causeway resembles an old, cobbled road leading mystically into the sea. Then, embark on one of the world's most beautiful railway** journeys along the Causeway Coast. Soak up the incredible scenery before arriving in the walled city of Derry. Set out on a walking tour featuring the medieval city walls, St. Augustine's Cathedral, and the Guildhall. Perhaps you will discover why Derry is one of Ireland's best-kept secrets during an optional evening of storytelling and traditional music at a pub serving traditional pub-style food.


Day

10
Derry - Donegal TOWN - Derry
---
Today's journey showcases the rugged beauty of County Donegal. Visit spectacular Glenveagh National Park, a natural wonderland with 40,000 acres of mountains, lakes and woodland. Enjoy a guided visit to stately Glenveagh Castle, set amidst the colorful splendor of one of the finest gardens in Ireland. Tonight, it's Diner's Choice choose the perfect spot from a "menu" of Derry's great restaurants.


Day

11 Derry- Armagh - Cider Farm Visit - DUBLIN Ireland

---
Depart on a journey through the scenic countryside of Northern Ireland, stopping in Armagh to view the twin cathedrals dedicated to Ireland's Patron Saint. The two St. Patrick's Cathedrals, one Catholic and one Protestant, symbolize the two souls of Ireland. Then, visit a family-run cider farm. Meet the family and explore the orchards before sampling their award-winning Irish ciders. Continue on to the Republic of Ireland. Your day concludes in Dublin, Ireland's vibrant capital city.


| | |
| --- | --- |
| Htl: Clayton Hotel Ballsbridge | Breakfast |
Day

12 Dublin

---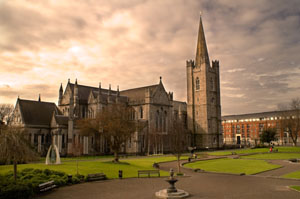 A locally guided tour of Dublin highlights the world-renowned St. Patrick's Cathedral, O'Connell Street, Grafton Street, Phoenix Park and the city's magnificent rows of lovely Georgian town homes. You may choose to join an optional tour with lunch at a local pub followed by a visit to the Guinness Storehouse. Spend the rest of your day at leisure as you delve further into Dublin's cultural treasures. This evening, toast the end of an incredible adventure during a farewell dinner at one of the city's most popular local restaurants.


Htl:

Clayton Hotel Ballsbridge

Breakfast

Dinner
Day

13
DUBLIN - Tour Ends
---
Your tour comes to a close.
PASSPORT & VISA INFORMATION



Certain countries require a minimum of 6 months passport validity. You are strongly urged to contact the appropriate consulate for details. Visit www.travel.state.gov for the U.S. State Department for the latest details about passports and visa requirements.



IMPORTANT

: We recommend that our clients traveling abroad take a photocopy of their passport and applicable visas. It should be packed separately from your actual passport and visa. We also recommend leaving a copy at home with your emergency contact.

DESTINATION FACTS & STATS

Time Zone
The United Kingdom and Ireland are 5 hours ahead of Eastern Standard Time.

Currency in the United Kingdom is the British Pound. In Ireland, currency is the Euro.

Electricity

The electrical current in the U.K. is 220V. An adaptor (which changes the physical plug) and/or converter (which changes the electric current) are necessary if you plan to use an appliance with voltage different from the standard within the country you are visiting. Please note, if your appliance has dual voltage you may still need an adaptor for the plug. When packing your electronic items for travel, please review the converter electric current level to make sure it is the same or greater than the items you are planning on using. If you plan on utilizing or transporting a sleep apnea machine, please remember to pack an extension cord and adapter plug to ensure proper function.

Elevation

Elevation on this tour will not exceed 1500 feet.




Exploring Scotland and Ireland



Plan Ahead, Reserve Now!
Add a touch of personalization to your vacation by selecting from our well-researched list of options. While Collette is known for our many inclusions, we also want to be sure you have adequate free time and options to enhance your vacation – your way. And now, you can reserve your options in advance of your tour!

Availability is limited and reservations are on a first come, first serve basis. Payment must be received no later than 15 days prior to departure. Prices are subject to change. Children under the age of 18 MUST be accompanied by an adult.



A Scottish Night Out - $

110




City: Edinburgh

Duration: 3 Hours

Join us for a rollicking evening of tastes, sights and sounds that are classically Scottish. Feast on a banquet prepared from a selection of local recipes. Your taste buds will savor the true flavor and goodness of this distinctive country. Your evening will be filled with entertainment including Highland pipers and dancers, who deliver the very best in Scottish music, song and dance. A highlight of the evening is the Ceremony of the Haggis, and, of course, you may try this national dish. Be prepared for a Scottish night of food, fun and many fond memories!




Royal Yacht Britannia and The Royal Tea Room - $75




City: Edinburgh

Duration: 3 Hours
Follow in the footsteps of royalty with a visit to the famous Royal Yacht Britannia. Launched in 1953, she spent over 40 years serving as the Royal Family's yacht and was considered to be "the most famous ship in the world." This royal residence saw countless famous guests at its many state visits, official receptions and royal social occasions. Now berthed in Leith, Edinburgh, it has become one of the UK's top tourist attractions. As you stroll along its decks and meander through the halls, you'll get to know how the Queen would have spent her days aboard this royal residence on the sea. While on board you will also visit the Royal Tea Room where you can enjoy freshly prepared, home-made food, stunning views and a warm welcome.



Bagpipe Lessons and A Traditional Scottish Dinner - $85




City: Glasgow

Duration: 4 Hours

Get to know the music that is distinctly Scottish at the National Piping Centre, proudly possessing a very regal patron – Prince Charles. From your first steps into this remarkable building, formerly a church, you'll be charmed by the unique sounds of the bagpipe. Join an expert who will lead you through the museum to discover the history of this intriguing instrument and learn about its importance to Scottish culture today. Then you'll learn how to play! After a short demonstration, give it a try for yourself. Receive a "chanter," the piece of the bagpipe that creates the melody, to practice, and once you get the hang of it have the opportunity to try the full instrument. Now that you have worked up an appetite, make your way to dinner in their lovely farm-to-table restaurant. Savor the cuisine that is a modern take on traditional Scottish cooking. Cap off your evening with a wee dram of Scotch whisky.

The Spirit of Derry - $80




City: Derry

Duration: 3 Hours
Explore one of Ireland's best-kept secrets. Enjoy an engaging evening that reveals the history of Derry and the North through storytelling, music and song. The tale of Derry is intertwined with many of Ireland's most important events. Come and experience the city's budding farm-to-table culinary scene with a three-course dinner at a top restaurant and see first hand why Derry was named the UK City of Culture in 2013.



A Traditional Irish Night - $99




City: Dublin

Duration: 3.5 Hours
Come to know Ireland's famed welcoming spirit, lively music and dynamic dancing during a fun-filled evening of Irish entertainment at its very best. You will become Irish for the night as you take in the local entertainment and savor some of Ireland's most traditional dishes, such as homemade soda bread and Dublin coddle. The Irish dancers will dazzle you and the traditional Irish ballads will touch your heart. This toe-tapping evening will take you on a journey that captures the true local flavor in a welcoming setting and immersing you in the magic of Irish culture that is rich in tradition and cheer.
Pub Lunch & The Guinness Storehouse - $

70




City: Dublin

Duration: 3 Hours
Enjoy a traditional pub lunch at a historic pub where you will soak up the atmosphere of days gone by. After lunch, continue on to the nearby Guinness Storehouse, Ireland's top international visitor attraction. Learn about the brewing process that creates this beloved beverage and discover the technique needed to pour the perfect pint! Classic Guinness ads and memorabilia create a nostalgic ambiance as you indulge in a complimentary pint and learn about a different yet key part of Ireland's history.

Please Note: This option will not be offered on St. Patrick's Day or Easter Sunday. Children under the age of 18 MUST be accompanied by an adult and may not participate in the tasting at the Guinness Storehouse.



is a global leader of world travel and Escorted Tours, offering 150 vacation choices on all seven continents. We are a family-owned business, now in our third generation of Sullivan-family ownership.

MISSION STATEMENT
Our whole purpose at Collette Vacations is to fulfill vacation dreams. Our daily goal is to deliver to our family of travelers the highest quality, best value and exceptional service, every time, everywhere. We strive to create extraordinary vacation experiences on all 7 continents. Our greatest reward is planning our clients' next trip.

The Collette Difference
IT'S IN THE DETAILS
---
Our

NO WORRIES

cancellation waver means you can cancel anytime prior to the day of departure and receive a

full cash refund

.

Add up the cost of hotels, transportation, meals, sightseeing and entertainment and you'll find what an

incredible savings

a tour offers.

On a tour, you'll find yourself saying, "I never would have thought to try that!" We work everyday to uncover those gems that make your vacation special.

Let our experience work for yours

.



Don't worry about planning the details

, getting directions, picking great hotels, or purchasing sightseeing tickets - we do that!

Our

tour managers

are with you from start to finish, taking care of every detail - and brightening your vacation with history and anecdotes that bring the destination to life. A Collette Tour means less time planning and more time enjoying.

You pack the bags - we'll lug them around! That's right - when you're on tour with us,

we take care of all luggage handling

... including the tip!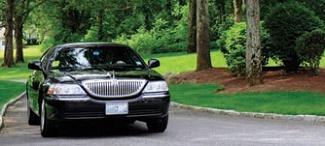 Enjoy a free ride from home to the airport and back, including tip. We believe that your vacation should start at your front door. We include FREE roundtrip sedan service with air-inclusive Collette tours in many U.S. cities within 50 miles radius from more than 80 airport gateways.



Why Travel on an Escorted Tour?
---
We take the hassle out of travel, so you have all the fun. Here's how.





Our buying power gets you unbeatable value.




Our tours include your sightseeing, entertainment, admissions to museums and parks, great hotels and many meals, making it a hassle free experience for you from start to finish. Our hotels are centrally located, so you won't waste a second of your free time in buses or cabs. Even your luggage is managed for you.





We planned ahead, so Europe with us is still a bargain.




We can provide a vacation to Europe, for example, at 15% less than you would pay if you planned it on your own. There is no better time than now to buy a packaged vacation.





Imagine seeing Thailand for less than $90 a day, and that includes your hotel.




On our Thailand - Ancient Capitals and Countryside tour, you'll ride an elephant and cruise the Mekong River into Laos, just two unforgettable included experiences among 14 days worth of discoveries You'll also enjoy 26 meals on tour, including a dinner cruise on a rice barge. See the Golden Buddha, the ruins of Ayutthaya and Sukhothai, the colorful pageantry of a Hill Tribe cultural show - it's all included!





It's like traveling with a friend who knows the area.




Your tour manager will be with you every step of the way, handling the tedious details of travel, while you relax and enjoy the trip. They are seasoned professionals with in-depth knowledge about your destination and a passion for sharing it.





Our tour developers personally scout out the best for you.




They search for accommodations, restaurants, attractions and entertainment to assemble not only a fantastic trip, but create an entire experience that captures the spirit of your destination. Learn the secrets of Tuscan cuisine from a Florentine chef in Italy. Fly a kite in China. Feed a kangaroo in Australia. Our tour developers love creating those unforgettable moments that make your trip uniquely yours.





We've got something for everyone, from Branson to Beijing.




Collette Vacations travels to more than 150 destinations on all seven continents. We also offer Explorations by Collette, small-group tours with a maximum of only 16 - 24 passengers that wander off the beaten path. Explorations tours feature boutique hotels, outdoor activities and interaction with local people.



No Worries Protection Plan

What exactly is your cancellation waiver?


We have the best cancellation waiver in the industry-period. You can cancel your trip up until the day prior to departure for any reason - sickness, change of heart or any reason whatsoever-and you will receive a full refund, minus the small cost of the insurance. That's a cash refund, not a voucher or certificate. There's no risk when you book with Collette.





But isn't it expensive?




Not at all! Let's say you were planning to take our Italian Vistas tour for 13 days. The land-only waiver is just $170 per person. That breaks down to about $13.07 a day-just a little over eight euros! The land and air waiver is only $30 more. That's airplane peanuts compared to the peace of mind you'll enjoy.





Plus, you're covered on tour.




Our cancellation waiver and insurance plan covers you on tour. If you have to stop your trip or return home early, need medical assistance or evacuation, suffer a baggage loss or delay; or are delayed on tour for 12 hours or more, you're covered.





Testimonials:




My husband had an accident in New Zealand…He subsequently had to be transferred by ambulance to Invercargill (Southland Hospital) to have surgery on his leg. He spent one week in the hospital. I am so glad we always take out the insurance. This is our third trip with Collette and we always take out the insurance…In spite of the accident, we had a wonderful time in Australia and New Zealand up to Queenstown and we are very glad we took the trip. Genevieve Gallagher, Clifton Park, NY





We had one unfortunate problem; one traveler broke her ankle…Thank goodness I insist that my passengers take the insurance. Virginia Gratton, Greenport, NY





CANCELLATION WAIVER & INSURANCE PLAN
Exception: If you originally purchased non-refundable airline tickets, the Waiver does not provide a refund for the airline tickets, taxes or fees in the event of a cancellation or a return transportation benefit if you must return home early. The air waiver does not cover medical evacuation or additional expenses associated with a medical emergency.

The Waiver Fee does not cover any single supplement charges which arise from an individual's traveling companion electing to cancel for any reason prior to departure. In this case, the single supplement will be deducted from the refund of the person who cancels. Division of this charge between the two passengers involved is solely their responsibility. If insufficient funds are deducted from the canceling client, the traveling client will be charged the remaining portion of the single supplement.

Payment of the Waiver Fee (if chosen) must be received by Collette Vacations with your Deposit. The Waiver is non-transferable and valid for each applicant only.

Collette Vacations can assume no responsibility for and cannot be held liable for any wrongful, negligent or unauthorized acts or omissions of any travel agent or travel agency other than that of Collette Travel Service, Inc. itself, and its own employees.
SCHEDULE OF COVERAGES
MAXIMUM BENEFIT AMOUNT
PART A – Benefits Provided By Collette Vacations
Pre-Departure Cancellation Fee & Unused Services Waiver
Up to Trip Cost
PART B – Benefits Provided by the Insurance Company Listed Below
Accidental Death & Dismemberment
$25,000
Accident & Sickness Medical Expense
$25,000
Emergency Evacuation & Repatriation
$50,000
Travel Delay (Maximum of $100 per Day)
$1,500
Baggage and Personal Effects
$2,000
Baggage Delay
$200

PART B CONDITIONS & LIMITATIONS Certain exclusions and limitations apply and are detailed in the Certificate of Coverage. For example, coverage does not apply to: any sickness or condition of you, a Traveling Companion or an Immediate Family Member traveling with you that existed during the 60 days prior to the effective date of the coverages (this exclusion is waived if your plan payment is received by Collette Vacations within 7 days of your initial deposit/payment for your trip and you are not disabled from travel at the time your plan payment is received), suicide, normal pregnancy, war or any act of war, mental or nervous disorders. A Traveling Companion is defined as a person booked to share accommodations in the same room with you during your trip. Sickness or injury must require care by a Physician and must commence while the Travel Protection Plan is in effect for you. This plan does not cover a loss that results from an illness, disease, or other condition (of you, an Immediate Family Member, Traveling Companion or Business Partner), event or circumstance which occurs at a time when this plan is not in effect for you.
Part B of this plan is underwritten by: Stonebridge Casualty Insurance Company, Columbus, Ohio 464-03

Where to Present Part A Claims
To request a refund under the Cancellation Fee and Unused Services Waiver, please send any unused
airlines tickets (only if purchased from Collette Vacations), a doctor's note or medical documentation and a written request to:



Collette Vacations
ATTN: Customer Service Department
162 Middle Street
Pawtucket, RI 02860

If cancellation occurs prior to departure, contact the Collette Vacations Reservations Department.

When a client cancels prior to departure any due refunds are processed through the booking agent. Agent commissions are not protected if cancellation occurs prior to departure.

All Inquiries and Claims under Part B should be reported to the Plan Administrator:



Trip Mate*
9225 Ward Parkway, Suite 200
Kansas City, MO 64114
Tel: 800-888-7292
*In CA, dba Trip Mate Insurance Agency
CANCELLATION WAIVER & INSURANCE PLAN PRICING (Per Person)
Land Only Clients
$30 for all domestic escorted tours under 6 days
$110 for all domestic escorted tours of 6 days or more
$110 for all international tours 9 days or under (except cruises, Canadian Rockies Train Tours, Australia, New Zealand, South America, Africa & Egypt)
$170 for international tours 10 days or more (except cruises, Canadian Rockies Train Tours, Australia, New Zealand, South America, Africa & Egypt)
$195 for all Australia, New Zealand, South America, Africa & Egypt
$205 for all cruises and Canadian Rockies Train Tours
When purchasing pre and post night accommodations, including optional extensions, the number of days will be added to the total number of tour days, and may subsequently alter your waiver fees. Please confirm with your reservation agent at time of booking.
Air Inclusive Clients
(air is purchased through Collette Vacations)
$60 for all domestic escorted tours under 6 days
$140 for all domestic escorted tours of 6 days or more
$150 for all international tours 9 days or under (except cruises, Canadian Rockies Train Tours, Australia, New Zealand, South America, Africa & Egypt)
$200 for all international tours 10 days or more (except cruises, Canadian Rockies Train Tours, Australia, New Zealand, South America, Africa & Egypt)
$225 for all Australia, New Zealand, South America, Africa & Egypt
$235 for all cruises and Canadian Rockies Train Tours
The Cancellation Waiver fee with air can only be purchased by individuals who have purchased air through Collette Vacations.


Collette Tours is a NON-FEE buy!
We will not charge a fee for any/all tour planning for Collette Vacations.
Our services are absolutely free when servicing this quality program. Rest assured, you will receive the quality that you expect and the unique value of a well-designed tour program from the beginning and planning stage to the culmination of this exceptional journey.
Experience the Collette Difference with Gardner Travel!

IT'S CALLED WORRY-FREE TRAVEL
AND IT MEANS OUR PEOPLE TAKE CARE OF EVERYTHING SO YOU DON'T HAVE TO!