Since 1979

CHINA | CAMBODIA | VIETNAM | JAPAN
2017 / 2018


The delights of Asia are revealed in our many guided vacations to this intriguing continent. If you've ever wanted to walk the Great Wall of China or cruise the Yangtze River, then one of our China escorted vacations is the journey for you. Or perhaps you want to discover the history and culture of Japan, Vietnam or Cambodia. Whatever tour you choose, you're sure to revel in the beauty of the many facets of Asia on an escorted tour.

LOW

UNPUBLISHED

DISCOUNTED RATES!*

KNOWLEDGEABLE AGENTS WITH OVER 35 YEARS OF EXPERIENCE REPRESENTING THESE FINE TOUR PROGRAMS

CHOOSE TO WORK ONE-ON-ONE WITH OUR PERSONABLE AGENTS OR BOOK IT ONLINE. YOUR CHOICE - ALWAYS!
*
We provide an additional point-of-sale discount for all
Globus, Cosmos, Avalon River Cruises
and
Monograms Independent
tours. For
Collette Vacations
we provide a welcome home "thank you" visa gift card. Ask us or email us about details. We will provide this information on every no-obligation quote that we send you.
| | |
| --- | --- |
| | |
DISCOVER JAPAN
Japan's Highlights and Culture!
by
Globus Tours
From bustling cities to quiet mountain villages, experience the distinct flavor of Japan during this amazing vacation. Of course, you'll visit Japan's famous sights, including many of its castles and shrines. In Kyoto, see the Temple of the Gold Pavilion, a Buddhist temple covered in gold leaf, and be amazed at its beauty. In Nara, visit Todaiji Temple, a UNESCO World Heritage Site built in 752 AD and one of Japan's most significant temples. You'll also visit the traditional Gassho-Zukuri-style (joined hands) thatched houses in Shirawaka and Tokyo's Meiji Shrine, a magnificent Shinto monument set in a man-made garden.

On this Japan tour, you'll not only see the fascinating structures and shrines, you'll also have a chance to visit one of Japan's greatest gardens—Kenroku-en. According to the ancient Chinese book of gardens, gardens should have six different sublime qualities, but it is rare to find all six qualities in a garden. Dating from the 1670s, Kenroku-en does in fact combine the six attributes of a perfect garden—spaciousness & seclusion, artifice & antiquity, and water-courses & panoramas. Keep your eyes open for the perfect photos!

But that's not all…on this tour, you'll discover Japan's culture through special experiences arranged by Globus. Partake in a traditional tea ceremony, taste sake, and participate in a Japanese cooking class. You'll also attempt calligraphy, learn about the Yuzen dyeing technique used on kimonos, take part in a gold leaf class, browse a farmers market, and try on a traditional kimono.

All of this and much more await you on this marvelous Japan tour. It's a vacation of a lifetime!

DISCOVER JAPAN
Land Rate FROM:

$3899
| | |
| --- | --- |
| | |
TREASURES OF CHINA
Visit Beijing, Xi'an, Guilin, and Shanghai!
by
Globus Tours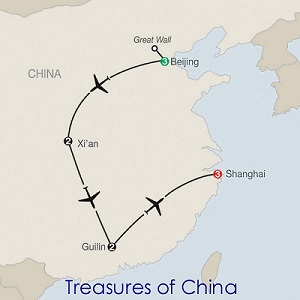 Delve into the unique world of ancient China during this fabulous vacation. Your trip begins in China's capital city, Beijing. Here, enjoy a sightseeing tour that includes the Forbidden City's Imperial Palace, once the sacred home of China's great emperors, and Tian'anmen Square, the largest public square in the world and where the People's Republic of China was proclaimed in 1949. See the former Imperial Summer Palace, a complex of pavilions, temples, and galleries situated on Kunming Lake. No vacation to China is complete without seeing the Great Wall of China, and on this tour, you get a chance to walk along the wall to enjoy sweeping vistas of this mammoth fortress. After lunch in a local restaurant, take a leisurely walk down the Sacred Way of the Ming Tombs. Experience life in a historic neighborhood while enjoying a rickshaw ride through one of Beijing's hutongs, the city's ancient alleys, and enjoy a night at the Peking Opera. Fly to Xi'an in central China and visit the Dayan Pagoda, built in 652 AD. Then enjoy a noodle-making demonstration by a master chef and learn how Chinese noodles are made by hand. Also in Xi'an, marvel at the army of Terracotta Warriors that guarded China's first emperor's tomb for 2,000 years. Next, your tour takes you to Shanghai, China's most populous city and center of trade and industry. Visit the Children's Palace, one of China's famous kindergartens. The Shanghai Museum and Yu Yuan Gardens provide the perfect backdrop as you end your amazing China vacation. On this trip, you witness the remnants of China's history and experience the vibrancy of the cities as they are now. It is a vacation of a lifetime!

| | |
| --- | --- |
| | |
EXPLORING VIETNAM AND CAMBODIA

A Tale of Two Countries
by
Globus Tours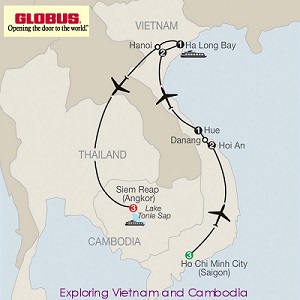 On this journey, experience unique wildlife, brilliant colors in the tropics, an Outback adventure, sumptuous cuisine, lively nightlife, fun shopping, and much more!

Discover some of Australia's unique wildlife, including the famed Tasmanian Devil, a carnivorous marsupial with the appearance of a small, stocky dog; the iconic kangaroo, which number roughly 40 million in Australia; koala; wallaby; crocodile in Kakadu National Park; and rare Australian sea lions and New Zealand fur seals on Kangaroo Island, one of the world's last unspoiled habitats.

Learn about the way of life in the remote Outback with your visit to Alice Springs and a trip highlight—a journey on the Ghan train. This overnight train journey will offer a fascinating perspective of the Outback as you travel from Adelaide to Alice Springs. Of course, this vacation offers you the opportunity to see Australia's most famous sights, including the remarkable and colorful Great Barrier Reef and Uluru (Ayers Rock).

Also discover its most popular cities. In Sydney, visit the Sydney Opera House, cruise on Sydney Harbour, and explore the cobblestone streets of the Rocks, the harborside area where the first convicts settled. Dine aboard Melbourne's historic Colonial Tramcar Restaurant as it winds its way through the city streets, and enjoy time on your own to explore the city and surrounding area. Perhaps take a trip to see the Penguin Parade or go wine tasting in the Yarra Valley.

After this in-depth vacation you're sure to return home with lots of photos, memories, and stories to share with friends and family!