Since 1979





2020



Sample the unique cultures of Central America & South America during these thrilling escorted tours to Costa Rica, Brazil, Argentina, Chile, Peru, the Galapagos Islands & the Amazon. In Central America, sample the scenic beauty of Costa Rica and tour a banana plantation before reaching Tortuguero National Park, Costa Rica's national park dedicated to protecting endangered turtles. In Rio de Janeiro, Brazil visit Sugar Loaf Mountain and the statue of Christ the Redeemer crowning Corcovado Mountain. You'll also be able see Iguassu Falls from the Brazilian side. In Buenos Aires, Argentina, tour the Metropolitan Cathedral and the Cemetery of the Recoleta, the burial site of Eva Peron, before heading down to Bariloche in Patagonia and taking a chairlift ride to Cerro Campanario. In Chile a guided sightseeing tour takes you to San Cristobal Hill and the 18th-century cathedral. With a perfect balance of guided tours and leisure time to enjoy these wonderful cities, these South America tours are filled with memories to last a lifetime.

LOW

UNPUBLISHED

DISCOUNTED RATES!*

KNOWLEDGEABLE AGENTS WITH OVER 35 YEARS OF EXPERIENCE REPRESENTING THESE FINE TOUR PROGRAMS

CHOOSE TO WORK ONE-ON-ONE WITH OUR PERSONABLE AGENTS OR BOOK IT ONLINE. YOUR CHOICE - ALWAYS!
*
We provide an additional point-of-sale discount for all
Globus, Cosmos, Avalon River Cruises
and
Monograms Independent
tours. For
Collette Vacations
we provide a welcome home "thank you" visa gift card. Ask us or email us about details. We will provide this information on every no-obligation quote that we send you.
| | |
| --- | --- |
| | |
CUBA'S PEOPLE, CULTURE & COLONIAL CITIES
includes Cuba Past and Present!
by
Globus Tours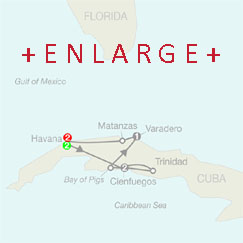 A once-in-a-lifetime experience awaits on this Cuba travel program! Join Globus and be among the first American travelers in five decades to visit Cuba and its most fascinating cities. This special Support for the Cuban People program allows Americans and Cubans to share meaningful interactions while enjoying the rich history and culture of this amazing country. Every day of your travel program is filled with compelling activities and conversations, where both Cubans and Americans can openly share their ideas and opinions. Participate in discussions about Cuba's history, agriculture, music, religion, and art. You can embrace Cuban culture when you meet and join in a discussion with the interact with local artists and exchange views on the importance of art to a community; engage with musicians discuss private enterprise in Cuba with local restaurant owners and staff; and meet Cuban baseball players to discuss this favorite pastime in both Cuba and the U.S. On this Cuba tour program, you'll also have a chance to explore some of Cuba's colonial cities with their cobblestone streets and historic architecture. In fact, the city centers of Cienfuegos, Trinidad, and Havana have all been named UNESCO World Heritage Sites. Fascinating, informative, and insightful discoveries await you on this rare opportunity to visit the "Pearl of the Antilles." It's an experience like no other!
| | |
| --- | --- |
| | |
NATURAL WONDERS OF COSTA RICA
includes Arenal Volcano and Monteverde Rain Forest!
by Globus Tours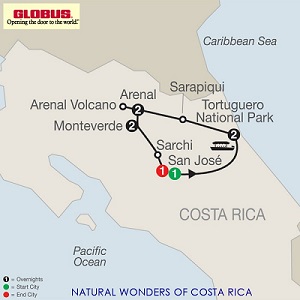 Grab your camera and get ready for a wonderful vacation to Costa Rica! Witness bountiful wildlife in their natural habitat, enjoy relaxing dips in ecothermal hot springs, and learn about the Costa Rican culture on this thrilling adventure. Among the many highlights of this tour is Tortuguero National Park, where you'll take a boat ride along remote, unspoiled sections of the park to view wildlife. Your guide will look out for the wildlife—including freshwater turtles, egrets, toucans, and monkeys—so you can sit back, relax, and take plenty of pictures.

Another tour highlight is the Arenal Volcano, considered one of the most active volcanoes in the world. You may witness the red lava streaming down the sides as you hear the volcano's grumbling. Relax as you soak in the ecothermal hot springs and perhaps watch the lava flow down the volcano—a spectacular sight! In Monteverde, visit the Santa Elena Cloud Forest Reserve, home to forest fauna such as jaguars, resplendent quetzal, monkeys, ocelots, and many species of birds—not to mention the large diversity of plant species.

On this Costa Rica tour, you'll also have a chance to visit local farms to learn about the local culture and industries. So be sure to grab your swimsuit and prepare yourself for a trip of a lifetime—a trip filled with wildlife, scenic waterways, tropical rainforests, and knowledgeable guides to help you learn about Costa Rica.


| | |
| --- | --- |
| | |
PERU SPLENDORS
includes Machu Picchu!
by
Globus Tours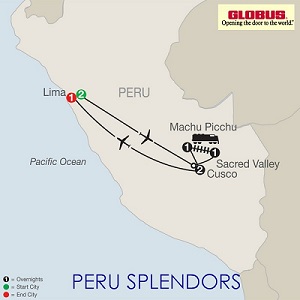 From its amazing archaeological treasures to its gastronomic delights and from its rich history to its melting pot of cultures, Peru offers visitors a wide array of attractions—and on this tour, you'll experience its highlights. Lima is a cosmopolitan city steeped in history with pre-Columbian ruins, Spanish colonial buildings, and remnants of colonial mansions with lavish, Moorish-style balconies. On your sightseeing tour, you'll see many of its famous sights, including the San Francisco Monastery. High in the Andes Mountains, Cusco is the oldest continuously inhabited city in South America and is sure to please history buffs. Learn about the Incas' struggles with the invading Spaniards on your tour of Cusco and visit the Temple of Sacsayhuaman, built in the early 12th century with some stones weighing more than 350 tons. Try to figure out how it was built so precisely without the help of modern machinery and technology! Of course, no vacation to Peru is complete without visiting Machu Picchu. Built around 1450 at the height of the Inca Empire, Machu Picchu is located in a gorgeous mountain setting above the Urubamba Valley. Stand in awe as you witness it. It is one of the most majestic images in South America, if not the world!

Not only will you visit the must-see sights, you'll also have an opportunity to learn about Peruvian life. Experience a Mother Earth ceremony performed by a local shaman. These ceremonies thanking Mother Earth and asking for good health and safe travels have been practiced in Peru since before the arrival of the Incas. You'll also stop at a local Peruvian food market and visit a home to meet some of the locals and experience their way of life.

| | |
| --- | --- |
| | |
SOUTH AMERICAN GETAWAY
includes Iguassu Falls!
by
Globus Tours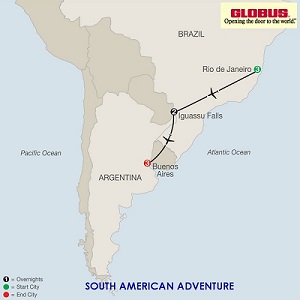 On this South America vacation, discover two of the great cities—Rio de Janeiro and Buenos Aires—at a more leisurely pace. On this tour, you'll have plenty of free time in each city to explore and experience the varied restaurants, shops, and optional excursions. Dance the Tango in Buenos Aires and sip caipirinhas, a popular Brazilian cocktail in Rio from atop Sugar Loaf Mountain. Listen to the samba sounds of Rio and watch people play soccer and volleyball on famous Copacabana Beach. In Buenos Aires, see the Cemetery of the Recoleta, where Eva Peron is buried. Eva Peron was the illegitimate daughter of a poor provincial family. She came to Buenos Aires at age 15 to try her luck as a radio actress, and by the time she died at age 33, she was declared the "Spiritual Leader of the Nation." You'll learn more about her life on your sightseeing tour in Buenos Aires.

A trip highlight is Iguassu Falls, one of the most spectacular sights on earth. Meaning "Big Water" in the local dialect, there are 275 falls that cover a distance of over a mile and a half. A photograph cannot accurately portray this breathtaking sight—you must experience it for yourself! Hear the deafening roar and admire the brilliant rainbows created by the clouds of spray. And, as a special treat, stay inside Iguassu National Park just steps away from the falls at the famous Belmond Hotel Das Cataratas!

From the vibrant cities to the scenic beauty, this vacation to Rio de Janeiro, Iguassu Falls, and Buenos Aires will leave you with vacation memories you'll cherish for life.

| | |
| --- | --- |
| | |
LEGACY OF THE INCAS
Touring Ancient Peru!
by
Globus Tours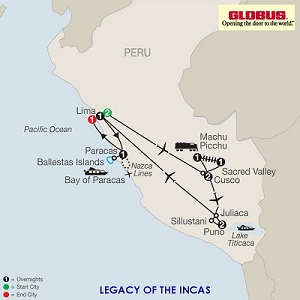 Peru is one of the great originating centers of ancient culture, and on this vacation, you'll discover its archaeological treasures, visit its ancient ruins, and learn about its ancient culture. A highlight of your vacation is a tour to Machu Picchu, where you'll visit this amazing Inca city. Stand in awe as you witness the ancient ruins surrounded by soaring peaks—one of the most majestic images in South America! Also, see the Temple of Sacsayhuaman, which was built in the early 12th century. Some of the stones used to build the fortress weigh more than 350 tons, and the stones were fit so tightly together that a piece of paper will not fit between the stones. Try to figure out how it was built without the help of modern technology and machinery! While at the ruins, experience a Mother Earth ceremony by a local shaman to thank Mother Earth and to ask for good health and safe travels.

Of course, no trip to Peru is complete without seeing the Nazca Lines. When seen from the air, the lines form precise geometric shapes that number in the hundreds, as well as 70 figures, which include a monkey, whale, hummingbird, shark, spiders, and plants. Archaeologists remain puzzled about why the ancient Nazca people, who thrived here from 200 BC to 500 AD, created illustrations that could only be seen from far above the earth.

These are just some of the many highlights you'll see on this wonderful Peru vacation. For travelers ready for a new adventure, this tour is not to be missed!
SPIRIT OF SOUTH AMERICA
includes Brazil, Argentina and Peru!
by
Globus Tours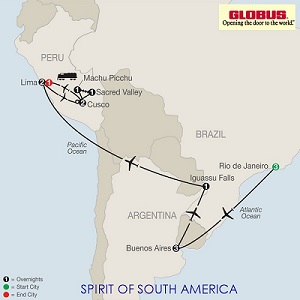 Explore the beauty of South America during this exhilarating vacation to Brazil, Argentina, and Peru. Visit its cosmopolitan and lively cities as well as its ancient treasures and scenic highlights. Start in Rio de Janeiro, a vibrant, bustling city known for its beautiful beaches and beautiful people. The birthplace of Samba, Rio's vitality comes alive as you experience its sights, sounds, and flavors. In Lima, your sightseeing focuses on its rich colonial history and includes a visit to the Larco Herrera Museum, which has a large collection of pre-Columbian Peruvian art. Buenos Aires is regarded as the "Paris of South America" with its chic shopping, French architecture, outdoor cafés, legendary nightlife, and cosmopolitan cuisine. It is famous for its sensuous Tango dance, and you'll see a Tango show—you'll even get a Tango dance lesson on your Globus tour!

Be amazed as you view the spectacular panoramic views of many of the 275 cataracts that make up Iguassu Falls—with its clouds of spray, incessant roar, and surrounding tropical growth. Of course, no vacation to South America is complete without a visit to the marvelous structures built by the Incas, including the semi-circular Kenko Amphitheater and Puca Pucara. You'll visit Machu Picchu, where you'll stand in awe as you witness the ancient ruins surrounded by soaring peaks—one of the most majestic images in South America! You'll also visit the Temple of Sacsayhuaman, a fortress built in the early 12th century with stones weighing more than 350 tons. While at the ruins, experience a Mother Earth ceremony by a local shaman to thank Mother Earth and to ask for good health and safe travels.

From the vibrant cities to the ancient structures, this vacation to South America has it all! So grab your camera and be prepared for a trip of a lifetime.

SOUTH AMERICAN ODYSSEY

includes Brazil, Argentina and Chile!
by
Globus Tours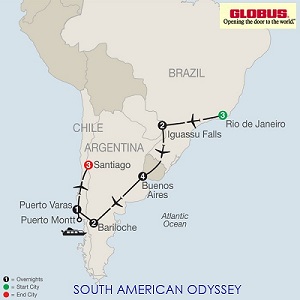 Sample the unique cultures of South America on this thrilling vacation to Brazil, Argentina, and Chile, including stays in Rio de Janeiro, Iguassu Falls, Buenos Aires, Bariloche, and Santiago.

On this tour, you'll see some amazing scenery and natural wonders, including Iguassu Falls, located on the border of Brazil and Argentina. See the falls from both sides—with their thunderous roar, torrential downpour, and brilliant rainbows. Everywhere you look, there is water pouring down! Words cannot describe the sheer wonder of the falls! But that's not all…even more beauty awaits you in Bariloche, which boasts some of Argentina's most glorious scenery. Take a chairlift ride to a lookout point at Cerro Campanario, rated one of the top 10 viewing spots by National Geographic. Experience breathtaking panoramic views and breathe fresh mountain air. Finally, enjoy the spectacular scenery as you cross the Andes Lakes by boat.

In addition to beautiful scenery, you'll also experience the vibrant cities—Rio de Janeiro, Buenos Aires, and Santiago—and enjoy a guided sightseeing tour in each city. A highlight of any trip to Rio is the Christ the Redeemer statue, the 98-foot statue of Jesus that was elected a New Seven Wonders of the World. You'll take a scenic cog railway to the top of Corcovado Mountain, where you can admire 360-degree views of the city. In Buenos Aires, stroll the streets of this friendly town and experience a Tango show—a passionate, sizzling dance. You'll even have the chance to dance the Tango at a lesson! Outside of Buenos Aires, visit an estancia (ranch) to learn about the life of gauchos (cowboys). In Santiago, you'll have an opportunity to take an optional excursion to Chile's wine country.

From the lakes and mountains to the towns and cities, this vacation through South America is sure to leave you with lots of memories and photos.

SOUTH AMERICAN ODYSSEY
Land Rate FROM:

$5169