EGYPT and The Nile






Journey along the lifeline of Egyptian civilization, sightseeing ancient temples, tombs, local villages, and farms on a Nile river cruise. Located in Africa's northeast, the Nile is the longest river in the world! Measuring 4,160 miles (6,955 km), the river flows north from Lake Victoria through Uganda, Sudan, and Egypt, passing rainforests, mountains, savannas, swamps, and desert landscapes before culminating in the fertile Nile Delta and draining into the Mediterranean Sea. Sail past 5,000 years of history on an incredible Nile river cruise vacation through

Egypt

.




| | | |
| --- | --- | --- |
| | | |
| COSMOS TOURS | GLOBUS TOURS | COLLETTE VACATIONS |

EGYPTIAN SPLENDOR
by Globus Tours
TOUR ID:GTSAEG1056
Highlights of Egypt's Rich Past


This 10-day vacation offers an exciting voyage through the Kingdom of the Pharaohs. Your journey begins in Cairo where you'll marvel at Tutankhamon's treasures in the Egyptian Museum, visit the enigmatic Sphinx, and see the Great Pyramids of Giza. Then fly to Aswan to enjoy a felucca ride and board an elegant hotel boat for a four-night Nile River cruise to Luxor. Along the way, visit Kitchener Island's lush Botanical Gardens, gigantic Aswan Dam, the Temple of Isis, the Valley of Kings and Valley of Queens, and Luxor Temple. You'll also enjoy a horse-drawn carriage ride through Edfu to the Temple of Horus, visiting colorful local bazaars and exploring the stunning monuments of Karnak.



10 Days including air or 9 Days Cairo/Cairo
LAND RATE FROM:

$2211

p/p

Egyptian Splendor
10 Day- Deluxe Tour
GRAND TOUR OF EGYPT
by Globus Tours
TOUR ID:GTSAEG1058
Egypt and the Nile


Complete sightseeing program: Cairo, the Pyramids, Alexandria, Karnak, Luxor, Valley of Kings and Valley of Queens, Edfu, Kom Ombo, Aswan, Philae. Nile cruise accommodation in luxury two-berth outside cabins with private facilities on one of the great Oberoi hotel boats; all shore excursions are included.



12 Days including air or 11 Days Cairo/Cairo
LAND RATE FROM:

$2608

p/p




Grand Tour of Egypt
11 Day- Deluxe Tour
SPLENDORS OF THE NILE
by Collette Vacations

TOUR ID:GTSAEG1059
Smithsonian Journey!




Step back in time and explore thousands of years of history, legend and lore as you view the timeless wonders of Egypt. Discover the world of the ancient Egyptians as you visit the incomparable sites of the pharaohs – Memphis and Sakkara, the Pyramids of Giza, Luxor and Karnak temples, and the tombs on the West Bank of ancient Thebes. Dedicated Egyptologists provide insight throughout your journey. Cruise along the legendary Nile River, pass colonnaded temples and stop at the temples of Edfu and Kom Ombo, situated at the crossroads of ancient caravan routes.





12 Days including air, or 11 Days Cairo/Cairo
LAND RATE FROM:

$1699

p/p

Splendors of the Nile
12 Day- Deluxe Tour
JOURNEY THROUGH JORDAN AND EGYPT
by Collette Vacations

TOUR ID:GTSAEG1060
Explorations Series!




Embark on a one-of-a-kind journey. Bask in the warmth of Egyptian and Jordanian hospitality. Spend a full day at the stunning stone-carved hidden city of Petra. Discover the world of the ancient Egyptians in the shadow of the Pyramids. Cruise down the legendary Nile for three nights. Be welcomed for lunch at a Bedouin camp in the remarkable Wadi Rum desert. Luxuriate at a Dead Sea resort and spa. Explore an endlessly fascinating part of the world where history and an energetic culture come together.





15 Days including air, or 14 Days Cairo/Cairo
LAND RATE FROM:

$2999

p/p

Journey Through
Jordan and Egypt
15 Day- Deluxe Tour
SPLENDORS OF THE NILE


by Abercrombie and Kent
TOUR ID:GTSAEA1061
Ultimate Nile!


Splendors of the Nile is a comprehensive Connoisseurs program, exploring every highlight along the Nile "in A&K style." After three nights in Cairo (where sightseeing includes the Museum of Antiquities and its Mummy Room, Memphis, Sakkara, the Pyramids and Sphinx), fly south to Abu Simbel to see the great Temple of Ramses, saved from the rising waters of Lake Nasser by an international effort financed, in large part, by the United States. Then, continuing to Aswan by air, board 'Sun Boat IV' to begin a five-day cruise to the temples at Kom Ombo, Edfu and Esna. Two nights in Luxor allow travellers to see all of the wondrous sights. Little-visited Dendera, Karnak and Luxor are highlights, as is the Mortuary Temple of Hatshepsut, Egypt's only female pharaoh, and the Valley of the Kings, resting place of Tutankhamon and many of his royal peers. Returning to Cairo, explore the old Coptic city and its Islamic mosques and monuments before boarding a homebound flight.

1

0 Days Cairo/Cairo


LAND RATE FROM:

$6,575

p/p

Abercrombie and Kent

Splendors of the Nile
11 Day- Ultimate Tour


INDEX OF SELECT TOURS

We have indexed many of the top-quality escorted or freestyle tour programs throughout the world for the budget-minded traveler, as well as, those seeking the very best programs available. Each tour provides a detailed description of its contents, itinerary, rates and inclusions for viewing in the privacy of your home or office.
OUR

FEATURED

ONLINE BOOKING PARTNERS
---







BOOK IT ONLINE AND SAVE!

When you see the

$CASH BACK$

emblem immediately below one of our self-booking engines you get CASH BACK! Click here for details!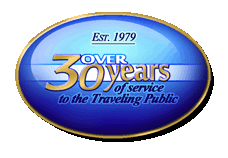 For over 30 years

- family owned and operated...

Our counselors are available to answer your travel questions and assist you in the selection process of the travel-related services that you seek. If you do not find all of the answers within our site please feel free to contact us by phone or an email. We are both honored and pleased that you have chosen to visit us. We hope that our family has the opportunity to serve you and yours in the not too distant future.


Thank you for visiting us on The Web!

Sincerely,


Randy C. Gardner
President
rgardner@gardnertravel.com

OUR HOURS ARE

Monday - Friday
|
8:30am to 5:30pm
| Central Standard Time

TOLL FREE
877-510-4653
or
817/788-5210
For more information e-mail us at vacation@gardnertravel.com

Gardner Travel Service, Inc.
Serving Dallas/Fort Worth and the World

Member

Traditional Service Values with a Southern Flavor!
SiteMap




TOURS BY
REGION












PLAY IT YOUR WAY!




WITH





Receive updates on special departures, seasonal discounts, and special sales discount offers.



Please check the following boxes that would apply:




EUROPE

AFRICA
ASIA
SOUTH PACIFIC
NORTH AMERICA
CENTRAL AMERICA
SOUTH AMERICA
CARIBBEAN/MEXICO



ENTER YOUR EMAIL ADDRESS: