REGIONAL DISCOVERIES



Click on


GRAND TOURS of EUROPE
REGIONAL DISCOVERIES
Click here for
to view all Cosmos Tours

CALL US AT
1-877-510-4653


From modest beginnings in 1928, Globus has grown into the English-speaking world's leading operators of escorted tours. A pioneer of affordable first class touring, Globus is the benchmark against which other operators measure themselves. Our unparalleled success is built on our long-term commitment to delivering top-notch service at the lowest possible price.
Millions of enthusiastic travelers spanning three generations have enjoyed our exciting tours, and many of them come back for more year after year. Amost two-thirds of our clients are repeaters or take our tours because of hearty encouragement from satisfied friends or relatives; many tour members book on recommendations of travel agents who know from experience that they can rely on Globus. A great vote of confidence for our fine product!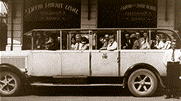 The international Globus & Cosmos group began as a small family company. More than 70 years ago, Antonio Mantegazza bought a rowboat to transport commercial goods across Lake Lugano in Switzerland. Who would have known that rowboat would launch the world's largest escorted travel company?
Antonio's frequent trips across the scenic lake led him to consider opportunities in a different market - tourism. His entrepreneurial instinct pushed him to gradually acquire some motorcoaches to transport tourists around the Lake Lugano area. In 1928, Antonio opened a company specializing in motorcoach touring called Globus Viaggi. The company began with a fleet of 12 coaches which operated local excursions for European tourists in Switzerland.
By 1950, Globus Viaggi had grown to a fleet of 33 coaches and featured overnight excursions to Rome, Venice, the Dolomites and the French Riviera. Gradually, these became regularly scheduled tours and grew longer to cover more ground. Later that decade, under the leadership of Werner Albek, Antonio's business partner, Globus pioneered the concept of Grand European Touring by offering first-class European tours to North Americans. By 1961, the company launched its Cosmos arm, which featured affordable, budget-priced European touring for the cost-conscious British traveler.
The coach tours were so successful that Cosmos soon introduced another form of travel for the British market: air holiday packages to the sunny destinations of southern Europe. By 1968, Cosmos air holidays became so popular the company formed its own airline, Monarch Airlines. Monarch Airlines started out modestly with two used Britannia aircraft and eventually blossomed into one of the most successful European charter companies with a large fleet of modern jets and its own engineering division.
Globus & Cosmos began expanding its markets beyond Great Britain and North America. Since 1974, tour packages have been sold in Australia, New Zealand, Canada and most recently in Southeast Asia. Starting in the 70's, the company also aggressively expanded its tour offerings, introducing travelers to more countries than any other tour operator with packages to Africa, Antarctica, South and North America, Europe, the South Pacific and Asia.

Globus & Cosmos History
Today, the Globus & Cosmos group of companies consists of more than 30 tourism and aviation businesses, serviced by a group of more than 5,000 professionals. Globus & Cosmos escorted and independent tours offer more than 12,000 departures of 356 different itineraries, covering more than 70 countries on six continents. Combined, Globus and Cosmos carry about 500,000 passengers a year making the company the largest operator of escorted tours worldwide.
Globus & Cosmos attributes its success to the ideals of founder Antonio Mantegazza. For three generations, his vision, hard work, love for travel and commitment have guided the company. These values are the cornerstone on which Globus & Cosmos was built and will continue to grow.

What is the difference between Globus and Cosmos?
Globus:
Globus travels to all seven continents and over 70 countries, with five travel styles to chose from that keep pace with the way you like to travel. With the best Tour Directors in the business taking care of every detail and sharing their intimate knowledge of the world, you experience more in an enjoyable and memorable way.
Cosmos:
Cosmos has opened up the world to independent-minded, value conscious travelers. Our expertly planned vacations combine all the advantages of group travel with the flexibility of built-in free time to explore. Knowledgeable Tour Directors handle the details and bring destinations to life.

TERMS AND CONDITIONS
Tour conditions - please read carefully

Deposit and final payment
Please make checks or money orders payable to your travel agent. For invoices not exceeding four tour members we accept Visa, Discover/Novus, American Express, and MasterCard. Your payment is not deemed made until it is received by Globus.
A non-refundable deposit of $150 per tour and person is required for us to hold seats for you. To secure your space, have your travel agent give your name, credit card number, and address to Globus when making your reservation. The deposit forms part of your final payment which is due 45 days prior to departure. For final payment your travel agent will submit a UCC form with your signature, billing address, and home telephone number.
Acceptance on the tour is subject to presentation at departure of the Tour Member Certificate evidencing receipt of full payment by Globus.

Cancellations and cancellation fees
If cancellation is received by Globus more than 45 days prior to departure, the non-refundable deposit will be retained (maximum 20% of total price). For cancellations received within 45 days of departure, the following per person cancellation fees apply:
45-22 days prior to departure: 20% of total price
21-8 days prior to departure: 30% of total price
7-1 days prior to departure: 50% of total price
On departure day and later: 100% of total price.
Higher cancellation fees apply for tour QZ:
45-32 days prior to departure:50% of total price
31 days or less prior to departure: 100% of total price
Cancellation charges also apply to additional accommodations reserved prior to and after the tour.
If Globus cancels a tour, we will re-book passengers on the same tour with a different departure date or a similar tour; if Globus has confirmed flights on the canceled tour we will confirm flights for the alternate tour. All re-bookings are subject to availability. If the alternate tour is not acceptable, we will refund all monies paid to Globus by your travel agent; there is no additional liability. Globus cannot assume responsibility for any additional costs or any fees relating to the issuance and/or cancellation of air tickets or other travel arrangements not made through Globus.
For generations, Globus has worked hard to provide the best on-trip experiences, world-class customer service, and the best consumer protection plans available in the travel industry.
$11 Million of Travel Protection
Globus has provided a $10 million letter of credit* issued by a leading bank to protect payments made by its customers for all vacation departures sold in the United States. "In these uncertain times, we feel it is important to assure our customers and our travel partners that we are financially secure and that we back our products 100 percent," said Scott Nisbet, chief executive officer and president. This is in addition to the $1 million traveler's assistance program maintained by the United States Tour Operators Association (USTOA) in favor of Globus travelers.

*
Travel Protection
You're planning your annual vacation, or the vacation of a lifetime. Either way you don't want to think about canceling or interrupting your trip. Or getting sick. Or losing your luggage. We know these things can happen and we provide travelers peace of mind with a Travel Protection Plan. The plan costs from $79-$349 per person (depending on the vacation destination and price) and offers a wide range of benefits. Ask your travel agent for the details, get the details in your travel documents or follow the link below.

Please note that the Czech Republic now requires a minimum of $35,000 medical and repatriation insurance coverage. Our basic Travel Protection policy has a $25,000 limit, however will be increased to $50,000 while in the Czech Republic in order to meet Czech Republic requirements. There is no additional cost for this extra coverage. If you choose to purchase insurance independently, please know that the you may be required by immigration to produce proof of coverage while traveling in the Czech Republic.

Learn more about the travel protection
Travel Protection Plus (Cancellation Protection)
If you purchase the Globus family of brands Travel Protection Plan, you may also purchase the optional Globus family of brands Travel Protection Plus Plan at an additional cost of only $30.00 per person. This additional Benefit* (if purchased) allows you to cancel your vacation up to 24 hours (or the prior business day, whichever is farther out) before your scheduled departure for any reason not covered by the basic Travel Protection Plan provisions. Under this Travel Protection Plus Plan Benefit, Globus family of brands will reimburse the cancellation penalty amount, as retained by the Globus family of brands, in travel certificates, minus the travel protection payment. Travel certificates are valid for travel within two years of the date of your original cancelled vacation.

*The Travel Protection Plus Plan is provided by Globus family of brands and is not an insurance benefit and must be purchased with the initial payment for your Trip.
Revision fees
A handling fee of $30 per transaction will be charged for any alteration or revision made to a reservation. A change of tour date or tour itinerary within 45 days of departure will be treated as a cancellation and new booking; regular cancellation fees apply.


In order to ensure congenial membership, Globus reserves the right to accept or reject any person as a tour participant, and to expel from the tour any participant whose conduct is deemed incompatible with the interests of the tour group.



Travelers who need special assistance

Any disability requiring special attention must be reported to Globus at the time the reservation is made. Globus will make reasonable attempts to accommodate the special needs of disabled tour members, but is not responsible in the event it is unable to do so, nor is it responsible for any denial of services by carriers, hotels, lodges, restaurants, or other independent suppliers. Motorcoaches and mini-busses are not equipped with wheelchair ramps. We regret that we cannot provide individual assistance to a tour member for walking, dining, getting on and off motorcoaches, and other transportation vehicles or other personal needs. Travelers who need such assistance, must be accompanied by a qualified companion.


Young tour participants


Tour participants who are less than 18 years old on the tour departure date must be accompanied by an adult; they receive a 10% discount on the land tour price. On escorted tours we do not accept children under eight years old, because we have found they are too young to enjoy these vacations.
Smoking
Smoking is not allowed on Globus motorcoaches and mini-busses.

Tour prices
Air-inclusive prices are for departures from the USA. Tour prices are per person, based on two persons sharing a room. Single room supplements and triple room reductions are listed where applicable. All tour prices are based on rates (including foreign exchange rates) known July 2004 and expected to be in effect at the time of departure. They are subject to increase without notice if such rates change prior to departure. Taxes and fees related to airfare are subject to change without notice.

Passports


A valid passport is required of all tour participants. A U.S. passport is valid for ten years (five years for children). To apply for passports you can contact either your local passport office, designated federal or state clerk of court, or selected post offices. Your travel agent will help you obtain the necessary forms for passport application.

Visas


At the time of printing, visas for Egypt, Kenya and Tanzania are required of all tour members. U.S. citizens do not require visas for any other country.

For tours requiring visas for U.S. citizens, detailed visa information will be mailed or faxed to your travel agent. Non-U.S. citizens must consult with the appropriate consulates to determine if any visas are needed. Securing any needed visas is the responsibility of the tour participant.
Hotel and lodge accommodation
The hotels/lodges listed in this brochure will be used on most departures. If a change becomes necessary for any reason, hotels/lodges substituted will be equivalent to those shown.

While every effort is made to reserve only twin-bedded rooms, it may occasionally happen that a hotel/lodge provides some double-bedded rooms instead. These rooms will be allocated to couples.
Please note that it is standard policy that hotel/lodge rooms are not available for check-in before 1 p.m.

Private bath and single rooms
If, very exceptionally, private bath or single rooms are not available as reserved by us, refunds will be made by the tour director. Claims made in this respect cannot be accepted after the tour.



Baggage
Porterage for one suitcase on tour is included in the tour price. Due to limited coach capacity, this single bag should have dimensions not exceeding 30"x18"x10" and weight not exceeding 60 lbs (27kg). A charge of US$3 per traveling day will be collected by the tour director if a second piece of baggage is carried, or if the suitcase exceeds the established weight and/or dimensions. International air carriers may also impose fees or require you to remove articles and put them in another bag if weight or size limits on checked or carry-on luggage are exceeded.
Globus will supply each client with a complimentary travel bag, which we recommend taking on the trip, and which should be cared for by the owner at all times. Should you prefer to take along another travel bag, it should not exceed the standard measurement of 17"x14"x8".
Wheeled carry-on cases are not suitable as hand luggage on motorcoaches and mini-busses.
No responsibility is accepted for loss of or damage to baggage or any of the passengers belongings. Baggage insurance is recommended. See the facing page for a travel protection plan.

Travel documents
Travel documents, including any air tickets, are sent regular ground delivery three to four weeks prior to tour departure, providing full payment has been received; a $15 charge per reservation is added for documents requested in advance. To ensure quick and safe receipt of documents, a $15 charge per reservation can be added for two-day delivery in the continental USA. (Two-day delivery is required for reservations made within 45 days of departure). Please ask your travel agent to tell us at the time of reservation if you prefer regular ground delivery or two-day delivery.
Not included in the tour price


Federal Inspection Fees for the U.S. Customs and Immigration; International Air Transportation Tax; Agricultural Tax; Security Fee; airport taxes; passports; visas; tips to your tour director, tour driver, and local city guides; gratuities on cruise ships; laundry, beverages, and food not on the regular table dÕh™te menu (these extra items will be billed to you before leaving the hotel/lodge or restaurant); all other items of a personal nature.
Service inquiries after the tour
If after returning from the tour you wish to inquire about any tour services provided, please ensure that all correspondence relating to those services is received by Globus, Quality Control, Group Voyagers Inc. (address below), within 60 days after the tour completion date. This will enable Globus to make timely investigation.


Responsibility
Group Voyagers Inc., d/b/a Globus, 5301 S. Federal Circle, Littleton, CO 80123 Ð 2980 (hereinafter referred to as Òthe CompanyÓ) is responsible to you in making arrangements for the tour services offered in this brochure, including transportation, sightseeing, and hotel/lodge accommodations. The carriers, hotels/lodges, and other suppliers providing tour services are independent contractors and are not agents, employees, or servants of, or joint venturers with, the Company or its affiliates. All certificates and other travel documents for tour services issued by the Company are subject to the terms and conditions specified by the supplier, and to the laws of the countries in which the services are supplied. If, after tour departure, the services included in the tour cannot be supplied, or there are changes in an itinerary for reasons beyond the control of the Company, the Company will arrange for the provision of comparable services. Any resulting additional expense will be payable by tour participants and any resulting saving will be refunded by the Company to tour participants. The Company reserves the right to accept or reject any person as a tour participant, to expel any tour participant from the tour, to make changes in the itinerary whenever the Company deems it necessary for the comfort, convenience, or safety of the tour participants, and to cancel a tour at any time. The tour participant agrees that neither the Company nor its affiliates shall be liable for any damage, loss (including personal injury, death, and property loss) or expense occasioned by any act or omission (including acts or omissions directly or indirectly related to year 2000 computer functioning) of any supplier providing tour services, or any insurer or insurance administrator under the Travel Protection Plan, or of any other person. Legal proceedings against the Company may be instituted only in a state or federal court within the State of Colorado, and any claim involved in such proceedings shall be decided in accordance with the laws of the State of Colorado. Any legal proceedings against the Company must be commenced within one year following the date of tour completion. Neither the Company nor any affiliate shall in any case be liable for other than compensatory damages, and you hereby waive any right to punitive damages. No person, other than an authorized representative of the Company, by a document in writing, is authorized to vary, add, or waive any term or condition in this brochure, including any term or condition set forth in the preceding provisions.

Disclosure notice for safaris
Please be aware that during your participation in any safari tour operated by the Company, certain risks and dangers may arise including, but not limited to, the hazards of traveling in undeveloped areas; travel by boat, train, automobile, aircraft or other means of conveyance; the forces of nature, political unrest and accident or illness in remote regions without means of rapid evacuation or medical facilities. Also be aware and clearly understand that the Company will not have liability regarding provisions of medical care or the adequacy of any care that may be rendered. It is understood that the Company will use its best efforts to ensure that all adequate measures are taken to avoid such occurrences.


Trade name
GLOBUS is a service mark registered in the U.S. Patent and Trademark Office.
CST#2017032-20
Actual rate quotes may vary however IN MOST CASES our rates will be below the listed published rates.


---
OR CALL US AT
1-877-510-4653
WE OFFER REDUCED RATES ON ALL GLOBUS and COSMOS TOURS!
CHECK TOUR FOR AVAILABILITY AND RECEIVE YOUR QUOTE VIA EMAIL

Notes regarding
How We Will Handle Your Request and Your Privacy:
Your request will be handled by a responsible and knowledgeable tour specialist that can not only check availability for this particular tour but can further advise you as to other general quiries that you may have about traveling conditions, passport/visa requirements, immunization requirements and other valuable information that you may need before making a reservation. We are a full service travel company and we have always catered to the individual traveler and his/her specific needs. We want to get to know you as a valued friend in travel. We are always available with our email service but you may feel free to call upon us if you have an immediate request at 1-817-788-5210.

Humans do it best!

Your Privacy is also very important to us. If you elected to be listed with us in the above Optional Advisory List then, you will be added to our maillist for the particular area(s) of interest that you have selected to be informed about. If you do not elect to be on our maillist, simply do not complete that section and we will not add you to our list. We will not add you to any other maillist either. We do not sell or otherwise pass along any information that you may provide to to us in the process of completing your inquiry. For further information on your privacy please see our Liabilities & Privacy Policy.