Since 1979

AUSTRALIA | NEW ZEALAND
SOUTH PACIFIC

2017 / 2018


Head Down Under and experience unflawed beaches, rugged terrain, bustling cities and sleeping koalas. On a South Pacific vacation you can discover Australia's lively cities, New Zealand's charming towns or Fiji's fabulous coral gardens. Explore the Great Barrier Reef, the rugged Outback or learn about the Maori history on one of our escorted tours of Australia, New Zealand or Fiji.

Thoughts of Down Under bring to mind pristine beaches, rugged terrain, bustling cities and sleeping koalas. The following Australia vacation itineraries offer you all this and more. In Australia, enjoy escorted tours of Sydney, Cairns, Melbourne, Ayers Rock and Alice Springs or spend your time exploring the Great Barrier Reef, the rugged Outback or the beautiful bays. Choose your perfect Down Under experience!

LOW

UNPUBLISHED

DISCOUNTED RATES!*

KNOWLEDGEABLE AGENTS WITH OVER 35 YEARS OF EXPERIENCE REPRESENTING THESE FINE TOUR PROGRAMS

CHOOSE TO WORK ONE-ON-ONE WITH OUR PERSONABLE AGENTS OR BOOK IT ONLINE. YOUR CHOICE - ALWAYS!
*
We provide an additional point-of-sale discount for all
Globus, Cosmos, Avalon River Cruises
and
Monograms Independent
tours. For
Collette Vacations
we provide a welcome home "thank you" visa gift card. Ask us or email us about details. We will provide this information on every no-obligation quote that we send you.
SOUTH PACIFIC WONDERS
featuring Australia and New Zealand!

by
Collette Vacations
Dream Big Down Under

Explore two great countries of the Southern Hemisphere – Australia and New Zealand. From the tropical splendor of the Great Barrier Reef on Australia's northeast coast, to the ethereal beauty of glacial fjords on New Zealand's South Island, this journey to the lands "Down Under" brings you the best of both countries at an enjoyable pace. Cruise Sydney Harbour and Milford Sound. Meet Australia's wildlife up-close. Discover the wonders of Aboriginal culture. Indulge in regional flavors at a wine tasting and experience Queenstown, the adventure capital of the world.
| | |
| --- | --- |
| | |
BEST OF NEW ZEALAND WITH SYDNEY
New Zealand Highlights!
by
Globus Tours
Experience the best of New Zealand and Sydney on this unforgettable trip filled with dramatic scenery, cultural exchanges, and top attractions.

In Auckland, enjoy a city sightseeing tour, then spend time in the picturesque Bay of Islands region to learn more about the country's history and enjoy a scenic cruise to the iconic "Hole in the Rock." In Rotorua, enjoy dinner with a local family, visit Te Puia, and enjoy a traditional Hangi dinner and Maori performance. We continue south through New Zealand's lush green North Island to Wellington, New Zealand's capital city, where you'll be treated to a city sightseeing tour.

A scenic inter-island ferry brings us to New Zealand's South Island. Continue to Christchurch and board one of the world's most scenic trains to travel across the Southern Alps. Two nights at Franz Josef won't be enough as you admire the incredible views and have a chance to participate in a Glacier Valley Walk. Our journey ends in Queenstown, the Adventure Capital of the World, where a day trip to unforgettable Doubtful Sound is included.

Continue to the vibrant city of Sydney for a 3-night stay. Your time here includes a city sightseeing tour featuring the famous Opera House, Harbour Bridge, and the beautiful Botanic Gardens. There is plenty of free time to explore this exciting city on your own.


From rugged Doubtful Sound to cosmopolitan Sydney, you are sure to return home with lots of photos and unforgettable memories to share with friends and family!

BEST OF NEW ZEALAND with Sydney
Land Rate FROM:

$4969
| | |
| --- | --- |
| | |
NEW

FOR 2016!
HIGHLIGHTS OF THE SOUTH PACIFIC
Australian/New Zealand including Hobitton!
by
Globus Tours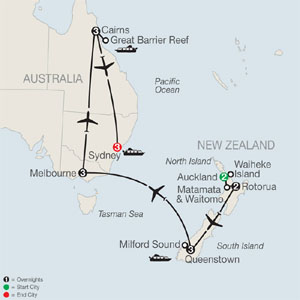 Experience the best of the South Pacific on an unforgettable trip filled with fascinating wildlife, dramatic scenery, and the region's favorite cities.

In New Zealand, float by boat through the Waitomo caves under the brilliance of thousands of glowworms, visit the picturesque farm that brought the Hobbiton movie set of The Lord of the Rings trilogy to life, and find inspiration from the majestic beauty of Fiordland National Park, where you'll cruise Doubtful Sound to experience its pristine natural setting just as the Maori and European explorers did hundreds of years ago. Visit Waimungu Volcanic Valley, home to wonderful plant life, thermal hot springs, and volcanic craters and experience all that Queenstown offers as the "Adventure Capital of the World."

Dine aboard the Colonial Tramcar Restaurant as it winds its way through the city streets of Melbourne, and lose yourself in the city's boutiques and decadent food and wine scene. Then, head to the laid back seaside town of Pot Douglas. A full-day excursion takes you to the Great Barrier Reef to snorkel or take a semi-submersible watercraft tour of the famous underwater world that explodes with color and marine life. You'll also visit Cairns Tropical Zoo for your chance to have your picture taken with a cuddly koala! Go behind the scenes at the world-famous Opera House in Sydney, and enjoy a spectacular harbor, fabulous shopping, cosmopolitan cuisine, and lively nightlife.

From the South Pacific's must-sees to its hidden gems, this vacation is sure to leave you with priceless memories for a lifetime.

| | |
| --- | --- |
| | |
EXPLORING AUSTRALIA

Round About Australia!
by
Globus Tours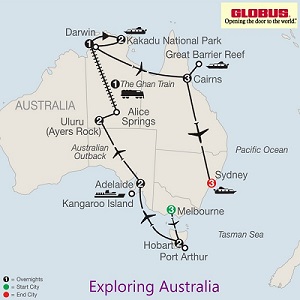 On this journey, experience unique wildlife, brilliant colors in the tropics, an Outback adventure, sumptuous cuisine, lively nightlife, fun shopping, and much more!

Discover some of Australia's unique wildlife, including the famed Tasmanian Devil, a carnivorous marsupial with the appearance of a small, stocky dog; the iconic kangaroo, which number roughly 40 million in Australia; koala; wallaby; crocodile in Kakadu National Park; and rare Australian sea lions and New Zealand fur seals on Kangaroo Island, one of the world's last unspoiled habitats.

Learn about the way of life in the remote Outback with your visit to Alice Springs and a trip highlight—a journey on the Ghan train. This overnight train journey will offer a fascinating perspective of the Outback as you travel from Adelaide to Alice Springs. Of course, this vacation offers you the opportunity to see Australia's most famous sights, including the remarkable and colorful Great Barrier Reef and Uluru (Ayers Rock).

Also discover its most popular cities. In Sydney, visit the Sydney Opera House, cruise on Sydney Harbour, and explore the cobblestone streets of the Rocks, the harborside area where the first convicts settled. Dine aboard Melbourne's historic Colonial Tramcar Restaurant as it winds its way through the city streets, and enjoy time on your own to explore the city and surrounding area. Perhaps take a trip to see the Penguin Parade or go wine tasting in the Yarra Valley.

After this in-depth vacation you're sure to return home with lots of photos, memories, and stories to share with friends and family!
DOWN UNDER DISCOVERY
Australian/New Zealand In-Depth!
by
Globus Tours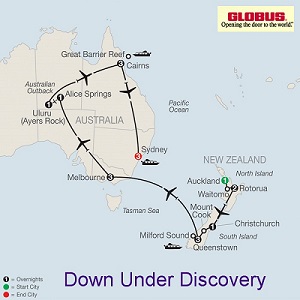 Enjoy a breathtaking combination of cosmopolitan cities and natural beauty on this Down Under Regional Discovery vacation. This fascinating exploration includes everything highlighted in the South Pacific Sampler, from Australia's Great Barrier Reef and sophisticated cities to New Zealand's sprawling farms and natural wonders in a fascinating 22-day vacation. In addition, you'll enjoy a visit to the charming New Zealand alpine village of Franz Josef, nestled at the base of Franz Josef Glacier. You'll also board New Zealand's TranzAlpine Express for a breathtaking journey through the magnificent Southern Alps. Additional sightseeing in Australia includes the Outback, where you can watch the sunrise over mystical Ayers Rock and visit the Royal Flying Doctor Service in Alice Springs. You can add a three-day Hawaii stopover to this vacation on your way home.
THE COMPLETE SOUTH PACIFIC
featuring Australia and New Zealand!
by
Collette Vacations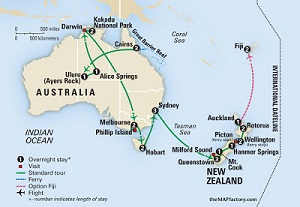 Do It All Down Under

Meet a koala, toss a boomerang and learn to play the didgeridoo – do it all on The Complete South Pacific, an unforgettable 27-day journey to Australia and New Zealand, with two nights on the Australian island of Tasmania. Learn Aboriginal and Maori traditions. Toast the sunset on Ayers Rock with champagne. Discover the colorful world of the Great Barrier Reef. Spend 2 nights in geothermal Rotorua and visit an authentic Maori village. Explore New Zealand's majestic fjord, Milford Sound. Enjoy a home stay and dinner with a New Zealand family. Dine under the Outback stars. Visit the Tasmanian Devil Conservation Center. See the Penguins of Phillip Island commute home. Cruise the waters of Kakadu National Park, where the saltwater crocs splash!
| | |
| --- | --- |
| | |
SOUTH PACIFIC WONDERS
Australia-New Zealand Adventure!
by
Globus Tours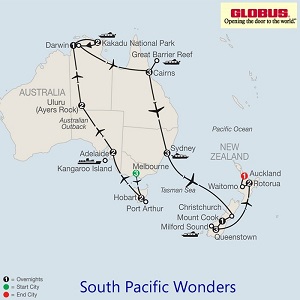 See the best of Australia on this vacation. From vibrant Melbourne to remote Kakadu National Park, you'll be amazed at Australia's native wildlife, including kangaroo, koalas, and emu; you'll learn about Aboriginal culture; and you'll witness incredible scenery every step of the way.

Your vacation begins in cosmopolitan Melbourne where you are treated to a city tour along with lunch on the Colonial Tram Car Restaurant, a unique and unforgettable way to experience the city. Then, explore amazing Kangaroo Island, where you'll get up close and personal with sea lions, fur seals, kangaroos, wallabies, and koalas. It is sure to be a day you'll never forget!

Continue to the "Center of Australia" with a 2-night stay at Uluru (Ayers Rock), one of the world's most mysterious sites. Then, on to Darwin, located near the entrance of the vast Kakadu National Park. Take a cruise through Kakadu's most famous wetlands and see ancient Aboriginal rock petroglyphs at Nourlangie Rock.

On to tropical Cairns, where you'll visit one of the Seven Natural Wonders of the World, the Great Barrier Reef, and have a chance to snap a photo with a koala at the Cairns Zoo. Finish your trip with two nights in bustling Sydney, Australia's largest city. See the highlights of the city as well as visit to famous Bondi Beach, where you'll meet members of the Bondi Surf Bathers' Life Saving Club. End your stay in Sydney with a wonderful dinner and waterside views of the amazing Sydney Harbour.

We leave Australia behind and fly to New Zealand, where our adventure begins with an overnight in Mount Cook National Park. Enjoy stargazing, hiking, scenic flights, or just some time for relaxation. On to Queenstown and a trip highlight: a cruise on Milford Sound. Continue to Rotorua, where you'll be treated to geothermal wonders, a visit to a local sheep farm, and a traditional Maori dinner and cultural performance. On the way to Auckland, experience the unique Waitomo Glowworm Caves. End your South Pacific vacation with a farewell dinner atop Auckland's iconic Sky Tower. Wonderful views along with wonderful conversation and cuisine make this the perfect ending to your holiday.

From the vast landscape of the Outback to the cosmopolitan vibe of Auckland and from the rolling, green hills of New Zealand to the beautiful views of Sydney Harbour, this tour is sure to be your vacation of a lifetime!
| | |
| --- | --- |
| | |
GREAT ADVENTURE DOWN UNDER
Australian/New Zealand Complete!
by
Globus Tours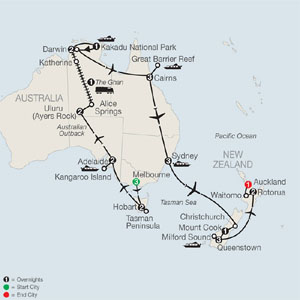 Delve into the hidden charms of Australia and New Zealand on this in-depth, 30-day Regional Discovery vacation. You'll have two days to explore the lively city of Sydney, including a guided tour of the Opera House and the renowned Sydney Aquarium Darling Harbour, before a flight to Brisbane, one of Australia's fastest growing cities. Visit the Australia Zoo, home of the Crocodile Hunter. Next it's on to Cairns to see the Great Barrier Reef for snorkeling or underwater observatory experience like no other in the world. You'll see giant termite nests on the way to Kakadu National Park before returning to Darwin for sightseeing. Fly to Alice Springs to visit the historic old telegraph station and the Royal Flying Doctor Service, and ride a camel at a camel farm! Fly to Ayers Rock, the largest monolith in the world. Return to Alice Springs to board the legendary Ghan Train for a scenic ride to Adelaide for a city tour and leisure time. Fly to Hobart, Tasmania, and explore the penal settlement at Port Arthur. Enjoy a stay in Melbourne before a flight across the Tasman Sea to the charming town of Christchurch, New Zealand. From there you'll visit Fiordland National Park, take a cruise on Milford Sound and explore the resort of Queenstown. Then it's on to the tranquility of Rotorua, home to the mystical and intriguing Maori, before reaching your final destination of cosmopolitan Auckland.
ORGANIZED AND INDEPENDENT
BUT NOT TOO STRUCTURED


You want to see the world, but you don't know where to begin? Well, Monograms began a long time ago — putting all of the planning, arranging and coordinating into an all-in-one package. A package that ensures you won't find yourself forced into the unknown. Monograms factors in your travel dreams while conquering travel obstacles, trading worrying and wondering for wonderment. In places where you won't even begin to know your way, you'll never feel lost with Monograms. You have a choice in travel. You can choose to go it alone, or you can choose to feel like a local. That's the Monograms difference – and why those who travel with Monograms never travel any other way again.
JOURNEY DOWN UNDER

Australian Independent!
by
Monograms
Discover Australia from the Great Barrier Reef to the Outback. In Cairns, enjoy a spectacular half-day trip to the Great Barrier Reef with time to explore on your own. Visit a local zoo to see crocodiles, kangaroos, and koalas, and have dinner at the home of a local Aussie family. Then, travel to the Outback, where the stunning landscape is sure to inspire you. Enjoy guided sightseeing in Ayers Rock and Alice Springs, then explore the Outback on your own. View the vast "Red Centre" from a helicopter—and for a unique desert experience, ride a camel! Last stop is Sydney, the largest city in Australia. After the guided sightseeing tour you will have plenty of time to pursue independent activities. Take surfing lessons at one of the local beaches, dine at the Sydney Sky Tower for 360-degree views of the city, and visit the Blue Mountains.
BEST OF AUSTRALIA: Sydney, Cairns, Uluru, Alice Springs and Melbourne
Australian Independent!
by
Monograms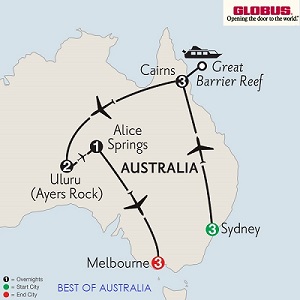 Oz. When Dorothy was there, she encountered munchkins, flying monkeys, witches, and a yellow brick road. On your vacation to Oz, as Australia is commonly nicknamed, you'll encounter exciting cities, friendly people, and amazing natural scenery. And Monograms makes it easy for you to go. On this 13-day vacation, we've arranged your hotel reservations, sightseeing, daily breakfast, and private transfers from/to your hotels to/from the airports for your intra-vacation flights. We've also arranged for you to have a Local Host®—someone who is there for you throughout your stay to answer questions, offer suggestions, and ensure your vacation runs smoothly—in Sydney, Cairns, and Melbourne.
NATURALLY NEW ZEALAND:
Auckland to Queenstown

NEW ZEALAND Independent!
by
Monograms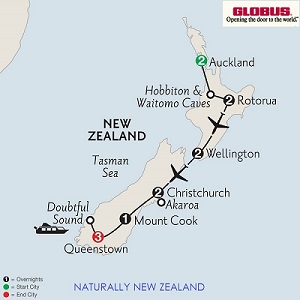 God's Own Country…it might sound conceited, but this is how New Zealanders—or "kiwis"—refer to their country. Why? Maybe because it offers stunning beauty. Maybe because it's one of the first countries in the world to see the sunrise. Maybe because bungee jumping first began there. Don't worry—we won't make you go bungee jumping, unless you choose to do that on your own! Instead, we'll show you the amazing beauty and fun cities. On this 13-day vacation, we've arranged your hotel accommodations, daily breakfast (plus four lunches and one dinner), sightseeing, land transportation, and transfers from/to your hotels to/from the airports for all intra-vacation flights. A one-of-a-kind special feature is the Monograms Local Host®, someone who is there for you to ensure your vacation runs smoothly and you get the most out of your trip. We've arranged for you to have a Local Host in Auckland, Christchurch, and Queenstown.

NATURALLY NEW ZEALAND
Land Rate FROM:

$3259
AUSTRALIAN ESCAPE:
Cairns, Sydney and Melbourne
Australian Independent!
by
Monograms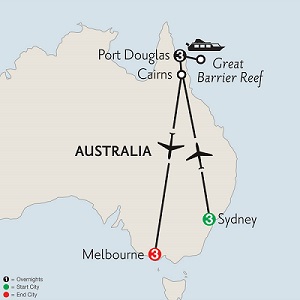 Explore three fascinating cities during this 12-day independent vacation. Begin with a three-night stay in Cairns, where a half-day excursion to tropical Green Island is included. From lush rainforests to the fascinating Tjapukai Aboriginal Cultural Park, there are many unique sights for you to see on your own. Next, fly to Sydney, where you stay for three nights. An included sightseeing tour shows you the highlights of this beautiful city, and you have two full days at leisure to spend as you choose. Finally, spend three nights in Melbourne, where a city tour helps you make the most of the "Garden City."