Since 1979



U S A

a n d

C a n a d a


2017 / 2018





From the spectacular national parks and sun-drenched California coast to the historic landmarks in the East and the charm of the South, we offer colorful and comprehensive touring opportunities throughout the United States. Experience New England's brilliant fall foliage, discover Alaska's breathtaking Denali National Park, sit in reserved seats at Nashville's Grand Ole Opry, visit the famous memorials in Washington DC, and take part in special events such as the Tournament of Roses Parade in Pasadena. Spend time with an Amish family; visit a bake shop to sample Hawaii's famous sweetbread; tour the Gloria Ferrer wine caves and enjoy their sparkling wines; take a buffalo safari in Custer State Park in search of bison, elk, and deer; and enjoy an exclusive performance by a professional historian at Williamsburg. These are just a few of the many highlights on our many escorted tours throughout the United States.

Scenic wonders, rich heritage, warm hospitality…all part of what makes Canada such an intriguing place to visit. Explore its picturesque isles and craggy shores in the east, dazzling mountain lakes and world-class resorts in the Canadian Rockies, cosmopolitan cities, and rugged Yukon Territory. Immerse yourself in the French ambiance of walled Québec, charming Scottish Nova Scotia, or very "British" Victoria. Come face to face with remote fishing villages, polar bears in the "Land of Nanook," intricate totem poles carved by First Nations people, breathtaking national parks, and historic sites. You'll enjoy the must-see attractions—plus special experiences you won't get anywhere else…tour a traditional sugar shack to learn how maple syrup is made, visit a dogsled facility to meet the huskies and their trainers, stop at the Royal Canadian Mounted Police Stables for an encounter with the "Mounties," and so much more.

LOW

UNPUBLISHED

DISCOUNTED RATES!*

KNOWLEDGEABLE AGENTS WITH OVER 35 YEARS OF EXPERIENCE REPRESENTING THESE FINE TOUR PROGRAMS

CHOOSE TO WORK ONE-ON-ONE WITH OUR PERSONABLE AGENTS OR BOOK IT ONLINE. YOUR CHOICE - ALWAYS!
*
We provide an additional point-of-sale discount for all
Globus, Cosmos, Avalon River Cruises
and
Monograms Independent
tours. For
Collette Vacations
we provide a welcome home "thank you" visa gift card. Ask us or email us about details. We will provide this information on every no-obligation quote that we send you.
| | |
| --- | --- |
| | |
AMERICA'S HISTORIC EAST
featuring Historic National Treasures!

by
Globus Tours
Discover the historic national treasures of the East on this rewarding eight-day vacation. Start in Washington D.C. by visiting Arlington National Cemetery, the Vietnam, Korean, and FDR Memorials, and many other famous sites. Then visit Mount Vernon and the Yorktown Historical Battlefield and enjoy a colonial-style dinner at a local tavern. Visit the archeological site of Jamestown, then travel to Colonial Williamsburg's Historic Area where costumed villagers add charm to the quaint streets. See the Historic Trade Shops, the Public Gaol, and drop in at Raleigh Tavern, the meeting place for Thomas Jefferson, Patrick Henry, and other patriots. You'll also enjoy an exclusive performance by a professional historian. Next, visit the capitol building and St. John's Church in Richmond, Virginia, and Jefferson's beautiful and imposing estate, Monticello. Follow up with visits to Shenandoah National Park, Harper's Ferry, and Gettysburg National Military Park, where you'll enjoy an exclusive presentation by an Abraham Lincoln portrayer. Travel on to Valley Forge for a behind-the-scenes tour. End your exciting trip with independent sightseeing in Philadelphia. For passengers who would like to return to Washington D.C., the coach will continue to the Wyndam Hotel at no additional cost.
| | |
| --- | --- |
| | |
NEW YORK, NIAGARA FALLS AND WASHINGTON, D.C.
The Scenic Northeast!
by Cosmos Vacations
On this affordable vacation, arrive in "The Big Apple" and venture northwest through the Pocono Mountains to upstate New York. Cross the border to the Canadian side of the Niagara River and spend two nights in beautiful Niagara Falls. Enjoy a sightseeing tour of Niagara Falls, and board the Maid of the Mist for a thrilling boat ride to view the thundering waterfalls from river level. During your free time in Niagara Falls, perhaps visit the Butterfly Conservatory, Great Gorge Adventure, or Botanical Gardens, or ride the aerial cable car. Next, travel southeast through the Appalachian Mountains to the City of Brotherly Love—Philadelphia. Explore the birthplace of American independence on your Philadelphia sightseeing tour before moving on to the U.S. capital, Washington DC. Washington DC is a sightseeing treasure trove, and your tour highlights the well-known sites, such as Arlington National Cemetery and the Korean and Vietnam War Memorials. Your vacation ends with free time to explore Washington DC.

NEW YORK, NIAGARA FALLS AND WASHINGTON, D.C.
Land Rate FROM:

$1517
CLASSIC FALL FOLIAGE
Spectacular Beauty! Historic Places!
by
Globus Tours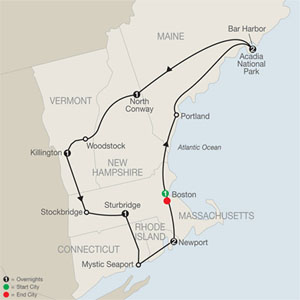 Absorb the history and beauty of New England on this nine-day fall foliage vacation that is a Traveler's Favorite. After your arrival in Boston, travel along Maine's rocky coast to Portland. Then enjoy two evenings in Bar Harbor on Mount Desert Island, Maine's oldest summer resort. See picturesque Acadia National Park and enjoy a traditional Maine lobster bake. Next, travel to New Hampshire to see the scenic White Mountains, the renowned Kancamagus Highway, and Dartmouth College. Then cross the border into Vermont for a visit to a living history museum and working dairy farm. Re-enter Massachusetts for visits to the Norman Rockwell Studio and Museum and Sturbridge Village, a 19th-century living history museum. Head to Connecticut and spend the night at Foxwoods Resort before continuing to Mystic Seaport and Newport with its elegant mansions. Complete your New England vacation with sightseeing in historic Boston.


| | |
| --- | --- |
| | |
NEW ENGLAND TRADITIONS
Scenic New England!
by Cosmos Vacations
10 Days New York/New York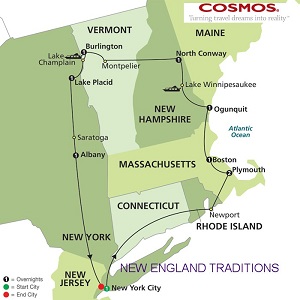 Charming New England comes to life on this scenic and historic vacation. Start your trip in New York City, then travel to Newport, Rhode Island, home to magnificent mansions, skilled sailing, and fresh seafood. Continue to Plymouth, Massachusetts for two overnights and plenty of time to sightsee. Visit Plimoth Plantation, where costumed interpreters portray the early 17th-century lifestyle of the Pilgrims, and see Plymouth Rock, the spot where the Pilgrims landed in 1620. A major highlight in Plymouth is a whale-watching expedition for dolphins as well as finback and humpback whales.

Travel to historic Boston for a sightseeing tour of the major sites before spending an overnight in the oceanfront village of Ogunquit, Maine. Marvel at New England's glorious fall foliage as you travel to Lake Winnipesaukee for a scenic cruise and an overnight in North Conway, New Hampshire. In Vermont, taste local maple syrup and sip fresh apple cider before boarding a ferry across Lake Champlain into New York. The foothills of the Adirondack Mountains guide you to Lake Placid, a former Winter Olympic site. Enjoy an orientation tour in Saratoga, known for its Victorian estates, before arriving in the capital of New York, Albany. From Albany, travel back to New York City for the end of your New England vacation. From the historic sites to the scenic beauty, this tour through New England is sure to delight.
| | |
| --- | --- |
| | |
EASTERN US AND CANADA DISCOVERY
Northeast US and French Canada!
by
Globus Tours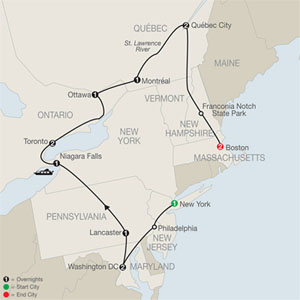 Savor the diversity and enchantment of the great cities of the Northeast and Canada on this enticing 13-day Panorama, featuring a boat cruise and visits to the most important monuments. Begin in exciting Boston where sightseeing focuses on historic sites such as the Old North Church and the Old State House. There's leisure time to browse through Faneuil Hall and Quincy Market. Then it's on to romantic Quebec City, Canada's only walled city, with its Place d'Armes, the ancient Palace Royale, and the Plains of Abraham. Travel to Montreal to visit Notre Dame Basilica and enjoy an afternoon at leisure. Drive west to the beautiful capital of Ottawa where you'll see the Canadian Mint, Parliament Hill, the Royal Canadian Mounted Police Stables, and other famous sites. Next is the cosmopolitan city of Toronto, Canada's largest city, for sightseeing and free time. See magnificent Niagara Falls on a Maid of the Mist cruise before returning to the U.S. to visit Lancaster, Pennsylvania, for a tour of an Amish farm house. Sightsee in Washington D.C. with its many monuments and government buildings before traveling to Philadelphia for independent sightseeing time. End the trip in Newark or New York City.


| | |
| --- | --- |
| | |
AMERICA'S MUSICAL HERITAGE
Awe-Inspiring Scenery and the Birthplace of The Blues!
by
Globus Tours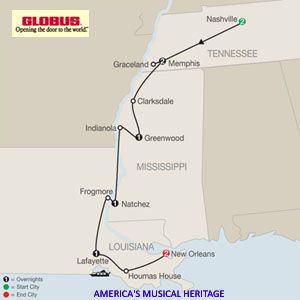 On this Southern US tour, visit the cities and landmarks that have influenced America's musical heritage—country, rock-n-roll, soul, blues, and jazz with Elvis Presley also thrown into the mix. Start in Nashville and visit the Country Music Hall of Fame; RCA Studio B, one of the country's most important recording studios; and the Grand Ole Opry, where you have reserved seats. In Memphis, visit the Stax Museum of American Soul Music, celebrating the great Memphis soul music; Sun Studio, the most famous recording studio, which launched the careers of Elvis, Johnny Cash, Roy Orbison, and more; and Elvis Presley's Graceland. Travel deep into the heart of the Mississippi Delta, the "Birthplace of the Blues," and visit the Delta Blues Museum, dedicated to the blues.

Other musical landmarks on this tour include the B.B. King Museum and the Louisiana Delta Music Museum, where you will learn more about Louisiana Delta musicians such as Jerry Lee Lewis, Mickey Gilley, and more. In New Orleans, visit the New Orleans Jazz National Historical Park.

But that's not all…in addition to musical heritage, you'll also have the opportunity to learn about life on a plantation and cruise through the swampy waterways of Atchafalaya Basin. Plus, Globus has arranged unique experiences for you throughout this Southern US tour. Enjoy a special lunch at Ground Zero Blues Club, owned by actor Morgan Freeman, and dinner at an antebellum mansion in Natchez. A special treat is the opportunity for you to make a recording at RCA Studio B that you can take home with you! It's a vacation no music lover should miss!
MAJESTIC ROCKIES
Breathtaking Scenery and Jagged Mountain Peaks!
by
Globus Tours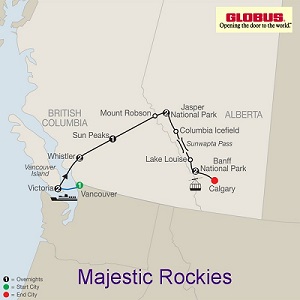 This unforgettable 11-day vacation is a perfect balance of scenic wonders and cosmopolitan cities, and is a Traveler's Favorite. Begin in Calgary and see the major sights, including Calgary Tower and Fort Calgary. Then enter the heart of the Canadian Rockies and Banff National Park. After a day at leisure, travel to Yoho National Park and spectacular Lake Louise, where you stay at world-renowned Chateau Lake Louise. Then follow the Icefield Parkway to Jasper National Park with a stop at the Columbia Icefield. Descend the Yellowhead Highway and stay at 108 Mile Ranch, a historic boomtown in the Cariboo Gold Fields. Stay in the alpine resort of Whistler before catching a ferry to Vancouver Island. See Butchart Gardens and enjoy independent time in charming Victoria. End your trip by sailing through the Gulf Island to Vancouver.


| | |
| --- | --- |
| | |
THE CANADIAN ROCKIES
Exploring the West - The Canadian Rockies!
by Cosmos Vacations
Canada's national parks highlight this wonderful Canadian Rockies vacation. Begin your trip in Vancouver with a sightseeing tour of Vancouver's major sites and time to explore on your own. Then, travel to the resort city of Kelowna for a winery tour and overnight. Journey through the Okanagan Valley to Canada's Glacier National Park for panoramic vistas and to Yoho National Park with its Natural Bridge. Enter Alberta and Banff National Park, the scenic heart of the Canadian Rockies. In Banff, one of Canada's favorite resorts, you have time to hike, fish, relax, and much more. Then it's on to Jasper National Park. But first, stop in Lake Louise and travel north to Columbia Icefield for a highlight of your vacation—a thrilling ride aboard an Ice Explorer, an all-terrain vehicle that travels on the Columbia Icefield, the largest expanse of ice in the Canadian Rockies. Continue on to Jasper National Park, the largest national park in Canada, for two nights and an orientation tour in Jasper.

Head back into British Columbia via the base of 12,972-foot Mount Robson, the highest point in the Canadian Rockies. Enjoy leisure time in Sun Peaks and the alpine resort of Whistler, host of the 2010 Winter Olympics. Then travel to the Pacific Coast, where you'll sail across the Strait of Georgia to Victoria for an orientation tour, two overnights, free time to discover some of Victoria's most popular attractions, and a visit to Butchart Gardens, rated as one of the most beautiful gardens in the world. Your Canadian Rockies vacation ends in Vancouver. Exploring the Canadian Rockies is an unforgettable vacation not to be missed.

THE CANADIAN ROCKIES
Land Rate FROM:

$1768
| | |
| --- | --- |
| | |
GREAT CANADIAN RAIL JOURNEY
Journey Across Canada VIA Rail!
by
Globus Tours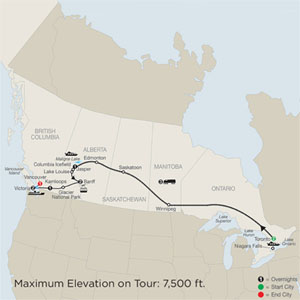 This breathtaking vacation crosses Canada using the scenic railroad. Your trip begins in Toronto with an orientation tour and excursion to Niagara Falls. Board a Niagara Falls sightseeing cruise for a thrilling boat ride to view thundering Niagara Falls from the river level. Back in Toronto, board the Art Deco cars of VIA Rail's The Canadian train for your 3-night rail journey through Ontario, Manitoba, and Saskatchewan. Watch the scenic countryside, lakes, and sun-dappled forests from your windows as you relax in first-class, refurbished cars from the 1950s.

Disembark in Jasper and take in the beauty of Jasper National Park. Enjoy an excursion to Maligne Lake for a fully narrated cruise to Spirit Island, and travel through Jasper National Park on Icefields Parkway. Take a thrilling Ice Explorer ride on the 1,000-foot-deep Columbia Icefield. On the way to Banff National Park, drink in the stunning sights of Lake Louise with its green-blue waters forming a perfect mirror reflection of Mount Victoria. In Banff, visit Sulphur Mountain for a ride on the Banff gondola with panoramic views of Banff's spectacular scenery. Next, enjoy a wine pairing and dinner at a local winery in Kelowna, then catch a ferry to Victoria for a visit to Butchart Gardens and free time on your own. Your Canadian vacation ends back in Vancouver.


| | |
| --- | --- |
| | |
AMERICA'S NATIONAL PARKS
America's Western National Park Treasures!
by
Globus Tours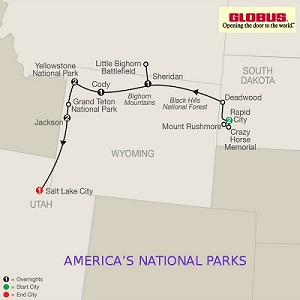 Experience the wonders of the West through its best-known national parks, gold-mining towns, and old saloons on this colorful vacation. If you are interested in seeing stunning scenery and amazing wildlife, this tour is for you. Visit Yellowstone National Park and view the Grand Canyon of Yellowstone and impressive Lower Falls, almost twice as high as Niagara Falls. Hear the roar of the water and stand in awe as you view the glorious falls. Witness Old Faithful as it explodes into the air and admire the herds of bison, elk, and other wildlife as you explore the park. Similarly, in Grand Teton National Park, enjoy beautiful glacier-fed Jenny Lake and the rugged mountains—a dramatic sight indeed. Get back to nature and allow a sense of peace to envelope you as you take in the scenery.

Mount Rushmore offers the astounding monument of four U.S. Presidents as well as spectacular scenery. Just imagine how difficult it must have been to sculpt the faces into the stone! In fact, did you know nearly 400 workers helped to create this memorial? Plenty of wildlife also roam this area, including Rocky Mountain goat, mule deer, and bison.

All of this and more await you on this marvelous vacation through some of the West's national parks. Be sure to pack your camera, as you'll have plenty of photo opportunities!


| | |
| --- | --- |
| | |
CALIFORNIA CLASSICS
The Scenic Golden Coast!
by
Globus Tours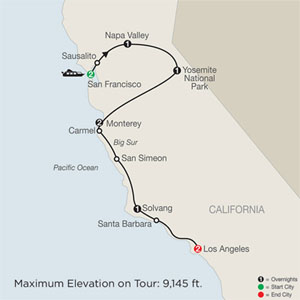 From San Francisco to Los Angeles, see the famous sights of California on this spectacular vacation. Enjoy the excitement and faster pace of San Francisco and Los Angeles, and take a deep breath and slow down in the mountain areas of Lake Tahoe and Yosemite National Park. If you're interested in seeing some of California's amazing scenery, this tour offers you a chance to admire some of its best. Witness the scenery in stunning Lake Tahoe with the sparkling blue water surrounded by the Sierra Mountains. Marvel at the spectacular alpine scenery in Yosemite National Park with its waterfalls, mountain peaks, ice-sculpted domes, and meadows. Sit back and watch the views of famous Pebble Beach Golf Course, the dramatic Pacific coastline, and Lone Cyprus on 17-Mile Drive, one of the most scenic drives in the world.

Visit Monterey and Hearst Castle in Sam Simeon, built by William Randolph Hearst as his private retreat. Once only accessible to celebrities and famous guests, enjoy a tour highlighting this impressive 123-acre estate. Also stay in Solvang, a quaint Danish village founded in 1911 by Danish educators to maintain their heritage. Wander through the town with picturesque buildings and windmills, charming shops featuring Danish imports, and over 30 restaurants.


| | |
| --- | --- |
| | |
NORTHERN CALIFORNIA'S FINEST
Northern California's Highlights!
by
Globus Tours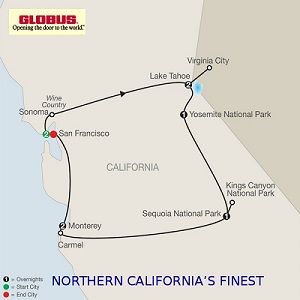 This magnificent trip blends the sophistication of San Francisco with the inspired beauty of California's national parks and scenic Lake Tahoe, Carmel, and Monterey. In San Francisco, see the sights and join a walking tour of Chinatown. On the way to stunning Lake Tahoe, stop in California's wine country for a tour and tasting at a Sonoma vineyard. An excursion to Virginia City introduces you to this old Wild West mining town, then enjoy the beauty of Yosemite National Park, one of the country's first wilderness parks with waterfalls, grand meadows, and ancient sequoias. Stand in awe as you witness the world's largest sequoia trees in Sequoia and Kings Canyon National Parks, sanctuaries for nearly half of the world's remaining sequoia groves. You'll also have the chance to witness their beauty at night with an evening astronomy program. In Monterey, visit the famous Monterey Bay Aquarium and journey along 17-Mile Drive, where you'll enjoy views of the Lone Cypress and Pebble Beach Golf Course. Be sure to bring your camera to capture this memorable vacation.


| | |
| --- | --- |
| | |
WESTERN WONDERS
Los Angeles, Palm Springs, Las Vegas and San Francisco!
by Cosmos Vacations
This wondrous Western vacation begins in Los Angeles with a sightseeing tour that includes glamorous Hollywood. Next, head east and stop in Palm Springs, home to 90 golf courses, before reaching Scottsdale, where a sightseeing tour highlights downtown Phoenix. From Scottsdale, travel north through cactus-studded scenery to Sedona and see the massive red-rock formations that make Sedona infamous. Continue north to spectacular Grand Canyon National Park, where you'll have an opportunity to explore the canyon rim and witness breathtaking scenery. Stay the night in nearby Williams, a town with Route 66 as the Main Street.

Let loose in Las Vegas before traveling to Mammoth Lakes and Yosemite National Park, a wonderland of spectacular lakes, giant granite domes, towering pinnacles, cascading waterfalls, and lush forests. Leave Yosemite and head to San Francisco, the world-famous city known for its steep hills and historic cable cars. On your San Francisco sightseeing tour, see the famous sites, including the Golden Gate Bridge, Fisherman's Wharf, Nob Hill, and more. This exciting trip through the "Western Wonders" ends with a visit to Alcatraz Prison and leisure time in San Francisco—a perfect conclusion to this grand vacation!

WESTERN WONDERS
Land Rate FROM:

$1859
| | |
| --- | --- |
| | |
HISTORIC TRAINS OF THE OLD WEST
Western Panoramas and Yester-Year!
by
Globus Tours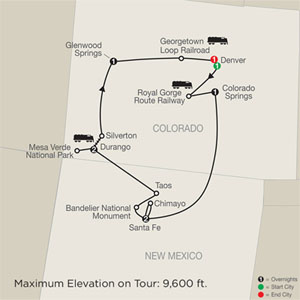 Discover the spirit of the Old West and its historic trains on this incredible vacation. Starting in Denver, Colorado, see spectacular scenery as you travel to Glenwood Springs and then down to Ouray, Silverton, and Durango. Hop on board the Georgetown Loop Railroad offering beautiful scenery of the rugged Rocky Mountains. Take a scenic ride through the San Juan National Forest on the Durango-Silverton train, a legendary steam train that hugs deep canyon walls and offers breathtaking beauty. Admire the cliff dwellings in Mesa Verde National Park and see how the ancestral puebloans lived for over 700 years. Venture to New Mexico and learn about the history of 1,100-year-old Taos, visit Santuario de Chimayo, and spend time in charming Santa Fe. Head back north for one of the highlights of this vacation – the Royal Gorge. Walk along the Royal Gorge Bridge, the highest suspension bridge in the world, and marvel at the rugged rock walls that plunge more than 1,000 feet down to the Arkansas River. In Colorado Springs, enjoy one last train journey as you take the cog railway up to the summit of 14,110-foot Pikes Peak for amazing views, before returning to the Mile High city of Denver for one last night. As you travel to each destination, you'll witness beautiful landscapes along the way. A remarkable vacation, indeed!


| | |
| --- | --- |
| | |
CANYON COUNTRY ADVENTURE
The Greatest Parks of the Old West!
by
Globus Tours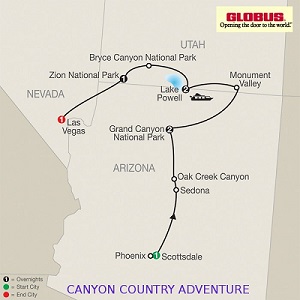 On this popular Southwest vacation, discover the unique landscapes of Arizona and Utah as you travel through three national parks—as well as Lake Powell and Monument Valley—and lots of beautiful scenery. Begin your trip in Scottsdale and travel north through cactus-studded scenery to Sedona. In Sedona, see the massive red-rock formations that make the area infamous. Continue north to watch the sun set upon the spectacular Grand Canyon—sunrise is just as impressive—and be humbled by the magnificent scenery. Your hotel is located near the rim of the Grand Canyon, giving you a rare opportunity for great views and extra time to explore the trails. Photographs cannot adequately do justice to the amazing landscape; you must witness it in person!

Enjoy a 4-wheel-drive tour of Monument Valley with a knowledgeable Navajo guide, and marvel at the area's stunning rock formations, oddly shaped monoliths, and red sandstone . In Lake Powell, enjoy an afternoon cruise on the sparkling blue water and let the majestic beauty wash over you.. More splendid views await you in Bryce Canyon National Park and Zion National Park. Watch the colors change on the massive stone formations and be awed by the impressive geology.

You've heard how remarkable the scenery is in these national parks, and now is your time to experience them. Sit back, relax, and let Globus handle all of the driving and details.


| | |
| --- | --- |
| | |
ENCHANTING CANYONLANDS
The Captivating Canyonlands!
by
Globus Tours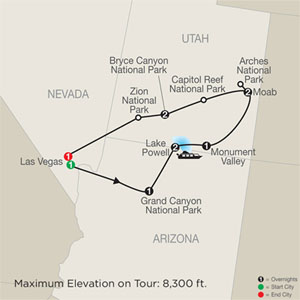 Discover the captivating canyonlands on this unforgettable vacation! First, experience the Grand Canyon with its spellbinding landscapes that will excite your senses. Your Grand Canyon hotel is located near the rim, giving you a wonderful opportunity to witness great views and have more time to explore this amazing place. In nearby Lake Powell, enjoy a leisurely cruise among the beautiful canyon walls and leisure time to relax or pursue your favorite activities. Then continue into Navajo country for a Navajo cookout and time to dip in the pool while you admire the majestic beauty around you. Have your camera ready for some spectacular shots during your 4-wheel-drive Navajo-guided tour of mystical Monument Valley.

Enjoy a relaxing 2-night stay at Red Cliffs Lodge in Moab, located beside the Colorado River at the foot of the dramatic red-rock cliffs. From Moab, visit Arches National Park with its 2,000 natural sandstone arches, Canyonlands National Park, and Dead Horse Point State Park. A day of contrasts leads you to Bryce Canyon National Park, where the slow erosion of ages has created fantastically sculptured rock formations resembling castles. Finally, head to Zion National Park and enjoy the beauty and peace offered at this park with its massive canyon walls ascending toward the blue sky.

Photos—and even movies—cannot adequately depict the stunning beauty and breathtaking geological formations offered in these destinations; you must experience them yourself. So grab your camera, sit back, and let Globus handle all of the details and driving.


| | |
| --- | --- |
| | |
NATIONAL PARKS AND CANYON COUNTRY
Mountains, Deserts and Canyons!
by Cosmos Vacations
Marvel at the West's premier natural wonders on this 6-state vacation and see spectacular scenery, memorials, monuments, parks, canyons, and much more. Your trip begins in Denver and heads to South Dakota for visits to the Crazy Horse Memorial and Mount Rushmore National Memorial. Visit Tatanka and Deadwood, once a wild gold-mining town, and journey west to Buffalo Bill's frontier town of Cody, Wyoming. Then head to Yellowstone National Park to see magnificent views of Yellowstone Canyon, Lower Falls, and world-famous Old Faithful Geyser. Overnight in Yellowstone National Park (depending on the time of year) before traveling into breathtaking Grand Teton National Park for a delightful walk along glacier-fed Jenny Lake. In nearby Jackson, with its wooden sidewalks and swing-door saloons, you'll have plenty of free time to tour on your own.

Next, it's on to Salt Lake City, Utah's capital, for a sightseeing tour; then marvel at the "hoodoos" and dramatic landscapes of Bryce Canyon National Park and Zion National Park. Stunning scenery awaits you in both parks, so have your camera ready! Continue into Arizona to Page, on the shores of Lake Powell, and cross the Painted Desert to amazing Grand Canyon National Park. Your hotel is located in the park, giving you a rare opportunity for great views and time to explore this spellbinding place. For a thrill of a lifetime, take an optional flightseeing trip over the Grand Canyon. Finally, travel to Las Vegas, where this spectacular vacation ends. On this vacation through some of the West's premier national parks, you'll see breathtaking scenery that cannot be found anywhere else—a trip of a lifetime!

NATIONAL PARKS AND CANYON COUNTRY
Land Rate FROM:

$2379
| | |
| --- | --- |
| | |
WESTERN EXPLORER
Best of the West!
by
Globus Tours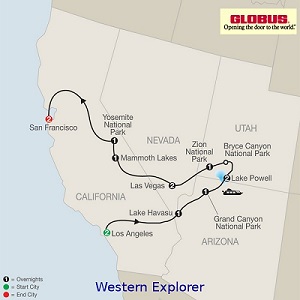 Experience the best of the West on this grand adventure—with its vibrant cities, spectacular mountains, unique rock formations, and serene lakes. Begin your trip with a sightseeing tour in Los Angeles before crossing the Mohave Desert to Lake Havasu, a water sports paradise. On to the natural wonders of the Grand Canyon, Lake Powell, Bryce Canyon National Park, Zion National Park, Mammoth Lakes, and Yosemite National Park. First stop is Grand Canyon National Park, where you can enjoy a majestic sunset and be awed by the stunning scenery. Continue to Lake Powell and enjoy an afternoon cruise and plenty of leisure time to relax in this beautiful setting. Then, head for Bryce Canyon National Park, where years of erosion have carved colorful sandstone into thousands of spires, arches, and mazes, and Zion National Park, a spectacle of massive stone formations.

Leave Zion National Park and head to Las Vegas for an orientation tour and plenty of leisure time to enjoy the activities offered in Las Vegas. Then, journey across Nevada's desert landscape to California's Mammoth Lakes and Yosemite National Park. In Yosemite National Park, descend to the valley floor to see its wonderland of lakes, mountains, and waterfalls. On to San Francisco, where you'll have a guided city tour and visit the famous Japanese Tour Garden. In your free time, be sure to ride one of the historic cable cars!

From the exciting cities to the amazing scenery and from the desert landscapes to the sparkling lakes, this tour has it all. Grab your camera and get ready for a remarkable vacation!


| | |
| --- | --- |
| | |
YELLOWSTONE WINTER WONDERLAND
A Magical Winter Wonderland Experience!
by
Globus Tours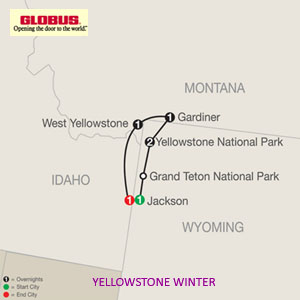 The only thing more impressive than Yellowstone National Park in the summertime is Yellowstone in winter—a time when the place seems magical! On this Yellowstone National Park winter tour, see Old Faithful without the crowds, marvel at the snowy landscapes, admire the bison as they shake off the snow, and be amazed by steaming geysers. Winter offers some of the best wildlife viewing because of the color contrasts between the animals and the snow, so have your cameras ready for animals such as bison, elk, moose, bighorn sheep, deer, and coyote.

Enjoy a walking tour of the Upper Geyser Basin, the greatest geothermal basin on Earth, where you'll witness Old Faithful. Travel via snowcoach to some of the famous places in the park, and take an excursion to Lamar Valley, known to locals as the Serengeti of Yellowstone. This unique experience arranged by Globus gives you an opportunity to spot wildlife such as elk, bison, moose, wolves, coyotes, and more.

On this magical Yellowstone winter vacation, you will also tour Grand Teton National Park and enjoy a sleigh ride in Jackson's National Elk Refuge, where as many as 10,000 elk congregate each winter—another special experience offered by Globus! You'll have leisure time to participate in some of the outdoor activities, such as snowshoeing or cross-country skiing, or you may choose to relax with a warm drink by a crackling fire. Regardless, you're sure to come away from this Yellowstone National Park winter tour with some amazing stories, fond memories, and unique photos.


| | |
| --- | --- |
| | |
SPECTACULAR ALASKA
America's Northern-most Playground!
by
Globus Tours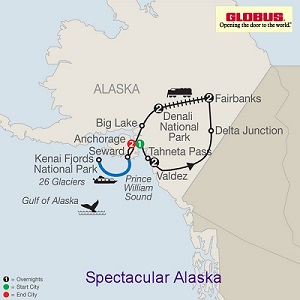 When you think of a spectacular Alaska vacation, what comes to mind? Witnessing glaciers cave into the sea? Riding the world-famous Alaska Railroad? Seeking out wildlife in Denali National Park? Or maybe it's cruising through the sea to watch for seals, sea otters, birds, and even whales. Whatever it is, this tour through Alaska is sure to delight!

Board the Alaska Railroad to Denali National Park, where you'll hear a private presentation by a Denali park ranger. Seek out grizzly bear, caribou, moose, and more on a wilderness expedition. Take a cruise on Prince William Sound and along Columbia Glacier, the second-largest tide-water glacier in North America. Just imagine the gorgeous scenery you'll see! You'll also take a cruise on Kenai Fjords National Park to see glaciers calving into the sea and hear the thunderous roar. Photos and videos cannot adequately capture the experience—you must witness it in person. On both cruises, be sure to watch for wildlife.

See the Trans-Alaska Pipeline Terminal near Valdez, take a sternwheeler cruise in Fairbanks, visit the home of four-time Iditarod champion Martin Buser near Anchorage, and enjoy all the scenery and majesty that only a vacation to Alaska can offer. Grab your camera and get ready for a trip that will leave you breathless and inspired—a travel experience of a lifetime.


| | |
| --- | --- |
| | |
ALASKA & THE YUKON
Scenic Mountains and Breathtaking Bays and Rivers!
by Cosmos Vacations
This Alaska and the Yukon Territory tour features many of the most popular scenic vistas that Alaska and the Yukon Territory have to offer—beginning and ending in Anchorage. Along the way, take a boat to view breathtaking Columbia Glacier on Prince William Sound and watch for eagles, whales, dolphins, mountain goats, and more. Between Valdez and Tok, enjoy views of Bridal Veil Falls, Worthington Glacier, and Thompson Pass. Between Tok and Whitehorse, behold spectacular vistas of Kluane National Park's rugged mountains. Between Dawson City and Fairbanks, delight in the stunning scenery as you motor over the Top of the World Highway.

More magnificent scenery awaits you on your journey aboard the Alaska Railroad between Fairbanks and Denali National Park. Travel through untamed wilderness and delight in viewing the awe-inspiring scenery via wide windows and the domed-roof car. With its six million acres, Denali National Park & Preserve is home to North America's highest peak and offers majestic landscapes. Your two nights in Denali give you the opportunity to explore on your own or to take optional outings, such as a helicopter ride over the park or a wilderness tour to seek out grizzly bears, moose, and more.

In addition to witnessing breathtaking scenery, this Alaska and Yukon Territory tour offers you a chance to learn about the Klondike Gold Rush. Follow the Trail of '98 over the same mountains that determined gold seekers traveled in the middle of winter. Visit Skagway, where thousands of hopeful miners came in 1898, and stroll the wooden sidewalks. In Dawson City, see where the first gold strike was made and enjoy the ragtime music, can-can girls, and old-fashioned casino just as the prospectors did over a century ago.

All of this and more await you on this value-minded tour through Alaska and the Yukon Territory!

ALASKA & THE YUKON
Land Rate FROM:

$2599
| | |
| --- | --- |
| | |
NATURE'S BEST: ALASKA with ALASKA CRUISE
Cruise/Tour Alaska!
by
Globus Tours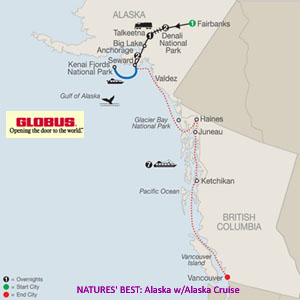 From Fairbanks to Anchorage, see what the "Great Land" of Alaska has to offer on this exhilarating Alaska tour and cruise. You'll visit Denali National Park, where North America's highest peak—Denali (formerly known as Mount McKinley)—dominates the park's six million acres. Here, enjoy an exclusive presentation on the park from a local Naturalist—a special experience offered by Globus—and enjoy a wilderness expedition in search of grizzly bear, caribou, moose, and more.

You'll have an opportunity to ride the thrilling, world-famous Alaska Railroad in Deluxe Dome Service for a journey through untamed wilderness to Talkeetna, where you'll overnight at the Talkeetna Lodge. With amazing views of Denali, it's another special adventure offered by Globus! You'll also cruise aboard a sternwheeler riverboat in Fairbanks and visit Happy Trails Kennels near Willow, the official start of the famous Iditarod Race. Here, you'll learn about the Iditarod and meet the sled dogs—another fun experience offered by Globus.

You've seen photos of glaciers calving into the sea, but nothing compares to being there in person. During your cruise on Kenai Fjords National Park, watch the glaciers crash into the sea and hear the thunderous roar. It's a spectacular sight! Along the way, watch for wildlife, including sea otters, seals, birds, and more. On your 7-night Alaska cruise, witness even more stunning scenery as you cruise Alaska's Glacier Bay National Park and scenic Inside Passage. Visit Juneau, Alaska's capital with beautiful forests and mountains; Haines, on the shores of America's longest fjord; and Ketchikan.

Alaska is a destination that should not be missed. So grab your camera, sit back, and let Globus handle all the details on this Alaska tour and cruise—a vacation of a lifetime!