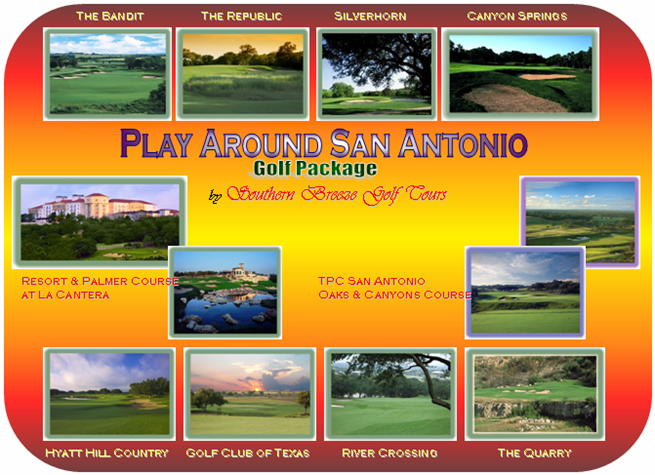 3 Days/2 Nights PLUS
includes:

2 rounds of golf per person w/cart

Advance/Prime Tee Times

Accommodations Moderate - Deluxe

Complimentary Breakfast
at most Properties

Extra rounds and nights available upon request -
stay awhile! Why not make it a week?

All lodging and golf taxes
Starting at
$220
* per player

The San Antonio area has some incredible golf opportunities along with some of Texas' best tourist spots. Take a quick tour of The Alamo. Then mosey on down to the Riverwalk. The city comes alive at night along this famous stretch of the San Antonio River. But whatever you do, bring along the sticks because there's no better place to be in Texas than on the 18th green at sunset at one of San Antonio's finest links. Nobody knows the San Antonio golf scene better than Southern Breeze Golf Tours.

CALL US at 1-877-510-4653 (1-817-788-5210 from some parts of Canada) or request your San Antonio golf package information in the questionnaire below. Our planners are very familiar with the finer courses in the San Antonio area and we would be happy to assist you and your playing partners in securing those better tee times well in advance. We can assist you with close-by overnight accommodations at some of the best-suited properties for the golfer... like a warm starter breakfast and convenient dining opportunities nearby. We can also accommodate you for a stay on the Riverwalk. All this at a comfortable price.

* Playing The Republic and The Bandit weekdays plus 3 players in room at LaQuinta Inn NW San Antonio.
REQUESTING YOUR QUOTE VIA E-MAIL

Click on the course tabs below in our Deluxe Courses category and then our Premium Courses category to review each respective club. At the end of each course description you may choose to play this course by using the dropdown menus for your desired day of play (Monday-Sunday) and your preferred tee time. This will add to your selection of those courses you are considering to play. Then, do the same for your overnight accommodations. We will return a quote to you based upon your selection(s). Below our section of golf clubs and overnight options, you will be asked to provide your name and the email address that we will use to respond to your request. Feel free to use the Text Box to add anything you wish to this request.

NEED A LITTLE ONE-ON-ONE, PARTNER? Just call us. We are open Monday - Friday from 8:30am until 5:30pm CST. In most cases, we can provide a quote to you over the phone.
Tell a friend about this page!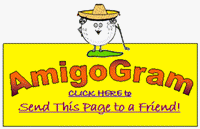 ---
RECENT TESTIMONIALS
---
"Thank you so much for all your work on my behalf regarding our trip to San Antonio. We had a great time and everything went like clockwork. The lodging at the Marriott was great and a short walk to the riverwalk. The courses were all very good and fun to play. The teetimes were exact and we had no issues in the proshop, in fact all the people that we interacted with were very friendly and extremely customer oriented(same with the staff at the hotel). My favorite course was Canyon Springs and the Hyatt Hills courses were challenging. The Quary course was unique and fun to play. Your recommendations for dinner were spot on. We do a golf trip yearly. Anyway, Andy, Thank you very much. All my guys had a great time and no complaints cudos to you!"
Sincerely, Mark
"
Julie, you are so awesome! I cannot believe you got it done!! That's incredible!
Who is your supervisor that I can write to and tell them how great you are? I would use your service again anytime (and I will next time I'm in Texas!) Incredible! Thank you so very, very much!"
Tip
"
San Antonio was fantastic!
Everyone in our group wanted me to be sure and thank you. for your efforts. Let me rate the courses we played for you for your future clients.
1. La Cantera Palmer
2. Canyon Springs
3. La Cantera Resort
4. The Quarry
5. River Crossing
6. The Republic
Top here were great courses with great services!"
Tom



"
Thank you to you and Gardner Travel for the fine work done arranging our golf trip to San Antonio.
The courses were all very nice, especially LaCantera Palmer, and all the staff at each facility were especially accommodating and helpful.
We will consider another San Antonio trip in the future. Please pass along my thanks to all your course contacts,the Residence Inn management your staff, and of course a big thanks to you!"
Brian
"
Simply said, an excellent trip.
Thanks very much for what turned out to be a problem free trip to all golf courses reserved. Each pro shop had our paperwork in hand, with no issue to go to tee off box at once. Again, thank you!"
Jacques & Ginette