East Africa Wildlife Discovery
by

Abercrombie and Kent
---
---

Simply the Best
East Africa Wildlife Discovery
Tanzania and Kenya
14 Day Tour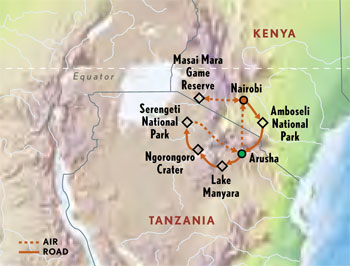 Experience the unequaled combination of two African nations, Kenya and Tanzania, with excellent game viewing at the top parks and reserves of both countries.
The A&K Advantage

Enjoy a privately guided visit to Olduvai Gorge, the site of the Leakey family's fossil discoveries
Learn the traditions of the Maasai culture with a visit to a local Maasai village
Observe wildlife in the Ngorongoro Crater, Serengeti National Park and the Masai Mara - East Africa's premiere game-viewing destinations
Plant a tree in Amboseli National Park


Not included: travel insurance; any airfares; airport departure taxes; excess baggage fees; cost of obtaining passports or visas; gratuities to your guide; personal expenses such as meals, beverages or sightseeing not included in the itinerary; communication charges; laundry.

(B) Breakfast, (L) Lunch, (D) Dinner

East Africa Safaris
East Africa's reputation as the quintessential safari destination is well deserved. A&K focuses on private reserves, sanctuaries and national parks where wildlife is on display in landscapes of great beauty and variety.

For instance, the Serengeti and Masai Mara are host to the annual Great Migration, the last of its kind on earth. This unique spectacle, which can be viewed by hot-air balloon, private plane or on the ground in the midst of the action, occurs as huge herds of wildebeest and zebra follow the fresh grazing that sprouts in the wake of the annual rains.

To the west, Uganda offers some of the best primate viewing in the world. Chimpanzee and mountain gorilla live free in the forests of this lush nation. And to the north, Ethiopia, home to the Ark of the Covenant, the Simien Mountains, the cave churches of Lalibela, the castles of Gondar and the source of the Nile, offers breathtaking natural beauty and fascinating cultural riches. Amid the soaring mountains, ancient churches, and sparkling Rift Valley lakes, you find one of the world's oldest surviving Christian cultures, many diverse ethnic groups, and an abundance of birds and animals.

Overnights are divided among hotels, found primarily in major cities or in beach resorts; small, private "bush" lodges; mobile camps; and permanent tented camps. But don't confuse camping in Africa with the rough-and-ready experience you might have had as a scout. Here, tents often include surprisingly luxurious amenities such as en-suite facilities, spring beds with crisp linens and fine dining. In fact, some traditionalists insist that it's not a "real" safari unless you spend some time under canvas.

A safari isn't the only way to explore East Africa. The region also offers glorious beach resorts, mountain treks, desert dunescapes and exotic tropical islands perfumed with spice. All with comfortable temperatures year-round, daily flights from the U.S. via Europe, and colorful, diverse histories.

ITINERARY
---
Days 1-2:

USA or Canada/Nairobi, Kenya


Depart by overnight flight to Nairobi.


Nairobi Serena Hotel





Day 3:

Nairobi/Amboseli National Park
Set off on safari this morning, driving south towards Amboseli, a park famous for its big game and superb views of snow-capped Mount Kilimanjaro. After lunch and a chance to settle in, your afternoon is spent game viewing in this photogenic area. This evening, enjoy a special welcome dinner and safari briefing.


Amboseli Serena Lodge B L D
Day 4:

Amboseli National Park




Leaving your lodge early this morning, you have a full day of game viewing in this area. At dawn, all the animals are moving, making this the most exciting time to view wildlife. Watch for elephant, zebra and wildebeest along the saltpan trails. Swamps and springs form permanent watering places for the wildlife in times of drought. The middle of the day is at leisure to relax before setting off in the late afternoon for a game drive. This is an ideal time of day to see predators as they begin to stir from the shade and roam onto the plains in search of prey.




Amboseli Serena Lodge B L D




Day 5:

Amboseli/Arusha, Tanzania/Lake Manyara National Park




Drive across the border into Tanzania, arriving in Arusha in time for lunch. Later, continue on to your next lodge, located in the Lake Manyara region. Lake Manyara, one of a chain of lakes in Africa's Great Rift Valley, is nestled at the foot of a spectacular 2,000-foot escarpment decorated by magnificent forests of towering mahogany trees and giant figs.




Lake Manyara Serena Lodge B L D





Day 6:

Lake Manyara/Ngorongoro Crater




This morning, enjoy a game drive in Lake Manyara National Park. With its verdant foliage and variety of bird life, the park resembles a tropical rainforest. At the conclusion of your game drive, continue by road to quaint Gibb's Farm for a farm-fresh lunch. Afterward, continue on to one of the most magnificent wildlife arenas in all of Africa, the Ngorongoro Crater.




Ngorongoro Serena Lodge B L D




Day 7:

Ngorongoro Crater




Drive down into the Ngorongoro Crater. The entire Conservation Area is recognized as a UNESCO World Heritage Site for its geological and ecological importance. Up to 12 miles in diameter, the crater's grass prairies are an ideal haven for animals, and you may see lion, elephant, hyena, wildebeest and gazelle. Even the rare and elusive black rhinoceros, one of Africa's most endangered species, is a resident here. Following a picnic lunch in the crater, visit a Maasai Village to gain insight into this fascinating culture.




Ngorongoro Serena Lodge B L D




Day 8:

Ngorongoro Crater/Serengeti National Park




This morning, drive to the vast Serengeti plains. On your way, stop at Olduvai Gorge where the Leakey family discovered many fossilized remnants of human ancestors. Descend to the gorge and enjoy a privately guided visit of this renowned archaeological site. From here, continue your drive into the arid and spectacular country of Serengeti National Park.




Serengeti Serena Lodge B L D





Day 9:

Serengeti National Park




The Serengeti's breathtaking panorama of plains, rivers and rocky outcroppings reveal resident populations of wildlife. Spend your day on morning and afternoon safaris searching for large predators including lion, leopard, cheetah and their herbivorous prey.




Serengeti Serena Lodge B L D




Day 10:

Serengeti/Arusha/Nairobi/Masai Mara Game Reserve




Board your flights to the Masai Mara Game Reserve, Kenya's finest wildlife spectacle. A vast expanse of the Serengeti plain rich in wildlife, the Masai Mara is the height of your safari. The action never seems to stop, and the chain of command begins with the Mara's lion population, the largest in the country, which presents excellent photographic opportunities.




Mara Intrepids Club B L D




Days 11-12:

Masai Mara Game Reserve




Spend two days in the Mara, an essential part of the Serengeti ecosystem and the destination of the annual wildebeest migration. Your final evening in the Mara concludes with a special farewell dinner. You will also have an opportunity to visit and support a local primary school.




Mara Intrepids Club B L D




Day 13:

Masai Mara/Nairobi/USA or Canada




Return to Nairobi, stopping at the famed Carnivore Restaurant for lunch, with free time prior to this evening's international flight.




Nairobi Serena Hotel (dayroom) B, L




Day 14:

USA or Canada




Connect with your homebound flight.



---


Optional Zanzibar Post-Tour Extension
We recommend this independent option as an extension to this escorted program. Add a four-day Zanzibar extension to any Highlights of East Africa departure, and you'll add spice-scented streets, sandy beaches, coral reefs and exotic shops to your safari memories. Ask for details.

Active Options:
In the course of your tour, you will have the opportunity to take advantage of active options (some at additional cost). These include:

Nairobi Serena: swimming and use of the health club
Amboseli Serena: swimming and nature walks
Ngorongoro Sopa: Crater highland hike and swimming
Mara Intrepids Club: swimming and ballooning

---

The price shown is in USD. Price is per person, based on double occupancy, and does not include international or internal air.
Departures are limited to 18 passengers.

2010 PRICE PER PERSON (land arrangements)


14 Days | Limited to 18 passengers


| | | | |
| --- | --- | --- | --- |
| 2010 PRICE PER PERSON | May | Mar & Nov | Jan-Feb; Jun-Oct; Dec |
| Double occupancy | $6,295 | $7,850 | $8,395 |
| Single supplement | $ 540 | $1,390 | $1,495 |

Internal airfare:

Serengeti/Arusha/Nairobi/Masai Mara/Nairobi from $950


Discovery programs offer A&K service, expertise and style to travellers who want less structure, more individual choices, and a great value in relation to cost. Hotels are generally the best four-star (and occasional five-star) properties available. Maximum group size may range from 20 to 24 participants, but you'll spend less time in a group setting. Escorted sightseeing shows you local highlights and gives you a firm sense of place in each destination - then you're free to explore as you wish, with plenty of options (including hiking, biking and other active alternatives) from which to choose. With fewer meals included, you can indulge your own culinary preferences too.
---
ABERCROMBIE AND KENT
East Africa Wildlife Discovery
Tanzania and Kenya
14 Day Tour
| | |
| --- | --- |
| From $6295USD | Simply the Best! |
Prices are per person, based on double occupancy.
Offer subject to availability and change without notice.
Certain restrictions may apply. Airfares if included are based on departure from New York.
For year 2012, departures are subject to itinerary and price modifications.
OR CALL US AT
1-877-510-4653
ABERCROMBIE AND KENT
It's Simply The Best Way To Travel
---
Some people collect travel destinations the way others collect Biedermeier furniture or presidents' autographs.
What's come onto the market this year? Bhutan? Libya? Mongolia? Why not fly over this summer and add it to the collection?
Others travel for an entirely different set of reasons. Reasons which have less to do with collecting countries (who needs another trophy on the shelf?) than with gathering experience.
If you're a member of the latter group, you know that, at its best, a journey down the Sepik River or up Mount Kilimanjaro, across Provence or along the Antarctic Peninsula, can change you deeply in ways both tangible and intangible, acknowledged and unavowed.
However, when changing the way you look at the world is one of your travel objectives — when authentic experience matters more to you than casual acquisition — the travel company you choose has a tall order to fill.

That's where Abercrombie & Kent comes in.
Since 1962, A&K has been doing one thing exceptionally well. We specialize in matching unique people with unique places, and in providing the expertise and (unobtrusive) support that allows them to experience those places fully, at first hand and in their own personal style.
It's simply the best way to travel. And it requires a unique combination of local knowledge and global organization that only Abercrombie & Kent is equipped to provide.
The travel industry is filled with companies who own only their brochures and a handful of contracts with independent suppliers overseas. In contrast, A&K has its own network of offices (48 and counting) across the globe, staffed full time by A&K professionals. We own and operate luxury camps and lodges in remote destinations to ensure that our clients have access to the best.
And we draw on the knowledge, humor and creativity of an incredible team of staff members and local "friends of A&K," to bring you face-to-face with an Antarctic iceberg the size of Chartres Cathedral, or make it possible for you to walk around Chartres itself with an expert on its stained glass. To set you down for a private picnic a deux in the middle of the African savannah or give you and the children your own tropical island for a day.
Experience does count. Ours will make yours unforgettable.


A&K - The First Name in Luxury Travel

---
For more than forty years, Abercrombie & Kent (A&K) has been internationally recognized as the first name in luxury travel. Born in 1962 as a safari company in Nairobi, Kenya, A&K's unparalleled travel and tour operations now extend across the far and exotic reaches of the globe. A&K takes its travelers on extraordinary journeys-in extraordinary style-to more than one hundred countries on all seven continents. The company's tours and safaris span the globe from Africa to the Middle East, India and Nepal; from the Orient to Australia, New Zealand and the South Pacific; and from Europe to Central and South America and Antarctica. Forty-five destination management companies ensure the "insider access" that only a local staff can provide.

A&K's impressive and enticingly varied list of luxury and adventure holidays combine active days with comfortable, luxuriant nights. Small group escorted journeys allow guests to confidently travel to places they might otherwise hesitate to go on their own, with a choice of itineraries at varying levels of luxury. Family holidays are tailored to the interests, attention spans and abilities of all ages, with comfortable hotels and comforting meals, and, most importantly, a friendly guide who understands children. Tailor made private travel offers independent travellers meticulous attention to detail, safety and customer service. These lifestyle-oriented programs are one reason why A&K was honored at the World Travel Awards as "World's Leading Luxury Specialist Tour Operator."

Geoffrey Kent, who along with Jorie Butler Kent owns and operates A&K, was born-most fittingly-while his British parents were on safari in Zambia. Indeed, he spent much of his childhood on the African continent. In 1962, Geofrey Kent, along with his parent's Colonel John and Valerie Kent, formed Abercrombie & Kent.

In the 1970s, Geoffrey Kent, who by then had long been the Managing Director of the company, entered into a partnership with Jorie Ford Butler of Oak Brook, Illinois, to run A&K. They continue to travel the world in search of adventures that will surprise and thrill their guests. Under their passionate and visionary guidance-Geoffrey Kent serves as Chairman and CEO, Jorie Butler Kent as Executive Vice Chairman - Abercrombie & Kent represents the uncompromising best at every turn in the road.

With a philosophy that is governed in equal parts by the Kents' unswerving commitment to conservation and their mission to provide "memories of a lifetime," A&K goes to seemingly limitless lengths to design tours that offer privileged access and special insight. Further distinguishing A&K is the fact that the company owns luxury safari lodges in pristine wilderness areas, including Chief's Camp and Chobe Chilwero in Botswana; exclusive rights to camps with some of Africa's finest game-viewing; a fleet of comfortable, well-maintained ground transport vehicles; and the Sun Boats on the Nile. A&K also creates unique travel experiences built around the luxury trains of Venice Simplon-Orient-Express and the Royal Scotsman; the Road to Mandalay river cruiser and 29 canal and river cruisers in Europe; and the legendary Sea Cloud, the world's most beautiful sailing ship.

Abercrombie & Kent's headquarters are in Oak Brook, Illinois. Forty-seven offices worldwide, employing more than 1,700 travel professionals, offer unrivaled attention to detail, safety issues and service standards.

A deep-rooted concern for the natural world infuses each and every A&K trip: Geoffrey Kent and Jorie Butler Kent believe passionately in "high-yield, low-impact" tourism-adventure that respects the natural environment and benefits indigenous peoples. They are the founders of Friends of Conservation and the Abercrombie & Kent Global Foundation, established to address global environmental and conservation concerns. Among its achievements have been significant contributions to the preservation of Kenya's famed Masai Mara Game Reserve, as well as to anti-poaching and environmental education projects on all seven continents.


Abercrombie and Kent

is a

NON-FEE/no discount buy





We will not charge a fee for any/all tour planning for Abercrombie and Kent.

Our services are absolutely free when servicing this quality program. Additionally, no travel agent or web-based travel concern is allowed to discount when representing Abercrombie and Kent and any of its affiliated touring companies. Rest assured, you will receive the quality that you expect and the unique value of a well-designed tour program from the beginning and planning stage to the culmination of this exceptional journey.



Experience the Abercrombie and Kent Difference with Gardner Travel!





Simply the Best!



Recommend Magazine
"Best Africa/Middle East Tour Operator" - December 2004, 2003, 2002, 2001, 2000
Men's Journal
"10 Great Companies to Work For" - November 2004
Forbes
"Best of the Web" - April 2004, 2003, 2002, 2001
Elite Traveler
"Wonders of the World: Machu Picchu", Juan Lazo, Best Guide - January 2004
World Travel Awards
"World's Leading Luxury Specialist Tour Operator" - 2003
"World's Leading Villa Operator" - 2003
Travel + Leisure Magazine
"Best Tour Operator and Safari Outfitter" - 2004 (#12), 2003 (#5), 2002 (#2), 2001 (#1), 2000 (#2), 1999 (#1), 1998 (#1), 1997 (#1), 1996 (#1)
"Top Guides in Africa" – Joseph Ndunguru, Gavin Ford - 2001
Conde Nast Traveler
"Readers' Choice Awards: Top 15 African Safari Camps"
Olonana and Chief's Camp - 2004
Chief's Camp - 2003
Chobe Chilwero -2002
"The World's Best Places to Stay," Gold List
Chief's Camp - January 2004
Chobe Chilwero - 2003
"The Greatest Travel Pros on Earth"
"A&K has access to places and people that other operators in China don't – including some of the top English speaking guides. Hatherly is a cultural encyclopedia, Chen a whiz with logistics." - 2003
"Reader's Choice: Top 20 Small-Ship Cruise Lines" - 2003, 2002, 2001, 2000, 1999, 1998, 1997
Gavin Ford, "15 Best Safari Guides" - 2002
Ecotourism Award – Special Mention - 1996
Conde Nast Traveller (UK)
"World's Best Tour Operator" - 2004 (#3), 2003 (#5), 2001 (#2), 2000 (#1), 1999 (#1)
Andrew Harper's Hideaway Report
"Favorite Hideway Resorts of the Past 25 Years", Chief's Camp - 2004
"Favorite Worldwide Travel Adventures", Olonana, Chief's Camp - 2004
"Previewing Heaven: 15 Worldwide Hotels with Drop-Dead Views", Chief's Camp - 2003
"Top 20 Hideaway Gems," World's Best Hotels, Resorts & Hideaways, Chief's Camp - 2002
Travel Agent Magazine
"Leaders in Luxury," Geoffrey Kent - 2002
World Travel & Tourism Council
Green Award for Corporate Social Leadership in Travel & Tourism - 2002
Town & Country
Gavin Ford, "Top Guides in Africa" - 2001
Queen's Award for Enterprise
(A&K Europe) - 2001, 2000
Chevron Conservation Award
Jorie Butler Kent - 1999
ASTA/Smithsonian
Environmental Award - 1992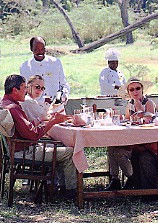 ABERCROMBIE AND KENT is a member of

---
If you like the above tour program, you may also want to view
the following programs for comparison
---
---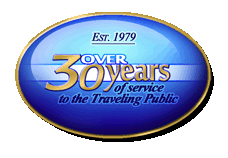 OUR HOURS ARE
---
Monday - Friday
from 8:30am to 5:30pm
Central Standard Time
TOLL FREE
877-510-4653
or
817/788-5210
For more information e-mail us at vacation@gardnertravel.com

Gardner Travel Service, Inc.
Serving Dallas/Fort Worth and the World

Member

Traditional Service Values with a Southern Flavor since 1979!
SiteMap
Since 1979
© 1999 - 2011