---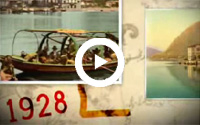 More than 75 years ago, Antonio Mantegazza bought a rowboat to transport commercial goods across Lake Lugano in Switzerland. Who could know that rowboat would launch the world's leading escorted travel company? Today Globus is a global, family-owned company reaching every corner of the world. Globus is now the first choice among individuals looking for vacations with both domestic and international travel in a variety of styles to six continents and hundreds of itineraries to choose from.

Antonio's frequent trips across the scenic lake led him to consider opportunities in a different market - tourism. His entrepreneurial instinct pushed him to gradually acquire some motorcoaches to transport tourists around the Lake Lugano area. In 1928, Antonio opened a company specializing in motorcoach touring called Globus Viaggi. The company began with a fleet of 12 coaches which operated local excursions for European tourists in Switzerland.

By 1950, Globus Viaggi had grown to a fleet of 33 coaches and featured overnight excursions to Rome, Venice, the Dolomites and the French Riviera. Gradually, these became regularly scheduled tours and grew longer to cover more ground. Later that decade, under the leadership of Werner Albek, Antonio's business partner, Globus pioneered the concept of Grand European Touring by offering first-class European tours to North Americans. By 1961, the company launched its Cosmos arm, which featured affordable, value-priced European touring for the cost-conscious British traveler.

The coach tours were so successful that Cosmos soon introduced another form of travel for the British market: air holiday packages to the sunny destinations of southern Europe. By 1968, Cosmos air holidays became so popular the company formed its own airline, Monarch Airlines. Monarch Airlines started out modestly with two used Britannia aircraft and eventually blossomed into one of the most successful European charter companies with a large fleet of modern jets and its own engineering division.

Under the flagship of Sergio Mantegazza, current president and son of Antonio, Globus began expanding its markets beyond Great Britain and North America. Since 1974, travel packages have been sold in Australia, New Zealand, Canada and most recently in Southeast Asia. Starting in the 70s, the company also aggressively expanded its offerings, introducing travelers to more countries than any other tour operator with packages to Africa, South and North America, Europe, the South Pacific and Asia.

Today, the Globus family of brands is marketed and operated by a network of more than 32 independent tourism and aviation businesses, serviced by a group of more than 5,000 professionals worldwide. Combined, Globus, Cosmos, and Monograms carry over 500,000 passengers a year, making the organization the leading operator of guided vacations worldwide. Globus attributes its success to the ideals of founder Antonio Mantegazza. For three generations, his vision, hard work, love for travel, and commitment have guided the company. These values are the cornerstone on which Globus was built and will continue to grow.

Vacation Standards
When you travel with Globus you'll simply get MORE! You'll get MORE selection, MORE included features, MORE quality hotels, MORE experience and MORE value. You'll get inside attractions which you'll merely see from the outside with other travel companies. Globus has almost 80 years of experience for you to take advantage of. Vacation Standards
Free airport transfers
Saving options
Help along the way
Hotels
Transportation
---
One of the biggest benefits of escorted travel is the ability to experience a destination without worrying about the details such as transfers, hotels and much more. You will have plenty of free time to explore on your own but you will also benefit from the expert knowledge of our Tour Directors.

And Globus enables you to choose the escorted experience that will suit you best. Do you want a vacation with more planned time or a do you want to enjoy a more independent experience with less "guided" time? There are hundreds of itineraries for you to choose from.

There is also value you receive with an escorted vacation that is difficult or nearly impossible to get with your own planning. Because of Globus' buying power and thanks to nearly 80 years of experience, you will get unmatched values when it comes to your hotels, excursions and even your air price. You will often also have the option of adding even more inclusives to your trip or even adding days to your vacation.

Escorted travel with Globus will allow you to travel with confidence. Globus has offices located all around the globe so you can rest assured during your vacation that you will never be stranded without access to our legendary customer service. The Tour Directors all speak English, besides their native tongue, and often other languages. They are also some of the most experienced in the business, averaging almost 150 vacations each, which also helps avoid confusion or problems for you on a Globus vacation.

You will also have the peace of mind of Globus' $10 million consumer protection plan while you travel domestically or abroad. You can even (for a small fee) be sure that if an emergency came up before your trip you could cancel or reschedule it easily.

The best way to experience the benefits of escorted travel is to choose the Globus vacation that is best for you and then trust Globus to provide you with a superb travel experience.


---
For generations, Globus has worked hard to provide the best on-trip experiences, world-class customer service, and the best consumer protection plans available in the travel industry.
$11 Million of Travel Protection
Worldwide Scope
Travel Protection
Travel Protection Plus
Global Travel Community
Awards
Affiliations
$11 Million of Travel Protection

Globus has provided a $10 million letter of credit* issued by a leading bank to protect payments made by its customers for all 2005 vacation departures sold in the United States. "In these uncertain times, we feel it is important to assure our customers and our travel partners that we are financially secure and that we back our products 100 percent," said Phillip Gordon, chief executive officer and president. This is in addition to the $1 million traveler's assistance program maintained by the United States Tour Operators Association (USTOA) in favor of Globus travelers.

*The $10 million letter of credit has been issued by Credit Suisse S.A. in favor of PRO-CLAIM, INC. of Highlands Ranch, Colorado, acting as trustee of a trust for the benefit of Globus and Cosmos customers who advance deposits or payments for any Globus or Cosmos tour departure sold in the United States. PRO-CLAIM INC., as trustee of the trust, is responsible for refunding deposits or payments (excluding deposits or payments made by credit cards, since chargebacks are available), for Globus and Cosmos tours sold in the United States in the event Group Voyagers Inc., d/b/a Globus and Cosmos, becomes insolvent, bankrupt or ceases business.


Worldwide Scope

Globus is truly a worldwide operation with 32 offices around the world to assist travelers. Booking Globus vacations is always simple due to a network of over 13,000 knowledgeable travel agencies offering Globus vacations. Globus is also offered by some of the most well known travel consortia, such as Vacation.com.

Travel Protection

You're planning your annual vacation, or the vacation of a lifetime. Either way you don't want to think about canceling or interrupting your trip. Or getting sick. Or losing your luggage. We know these things can happen and we provide travelers peace of mind with a Travel Protection Plan. The plan costs from $79-$249 per person (depending on the vacation destination and price) and offers a wide range of benefits. Ask your travel agent for the details, get the details in your travel documents or follow the link below.

Please note that the Czech Republic now requires a minimum of $35,000 medical and repatriation insurance coverage. Our basic Travel Protection policy has a $25,000 limit, however will be increased to $35,000 while in the Czech Republic in order to meet Czech Republic requirements. There is no additional cost for this extra coverage. If you choose to purchase insurance independently, please know that the you may be required by immigration to produce proof of coverage while traveling in the Czech Republic.



Travel Protection Plus (Cancellation Protection)
---
If you purchase the Globus family of brands Travel Protection Plan, you may also purchase the optional Globus family of brands Travel Protection Plus Plan at an additional cost of only $30.00 per person. This additional Benefit* (if purchased) allows you to cancel your vacation up to 24 hours (or the prior business day, whichever is farther out) before your scheduled departure for any reason not covered by the basic Travel Protection Plan provisions. Under this Travel Protection Plus Plan Benefit, Globus family of brands will reimburse the cancellation penalty amount, as retained by the Globus family of brands, in travel certificates, minus the insurance premium. Plus, now Travel Protection Plus extends your basic Travel Protection Plan benefits to include coverage of air penalties or change fees on air purchased outside of the Globus family of brands, when canceling for a reason covered by your basic Travel Protection Plan.
*The Travel Protection Plus Plan is provided by Globus family of brands and is not an insurance benefit and must be purchased with the initial payment for your Trip.
ASK YOUR AGENT ABOUT DETAILS.
Globus recognizes the importance of preserving the North American attractions that our travelers go to great lengths to experience, which is why Globus is donating generously to the Tourism Cares for Tomorrow for restoration and preservation of five "American Icons." The donations are going toward specific projects, rather than operational costs.

Awards
For six years in a row, Globus has been selected by Recommend Magazine as the best Tour Operator to Europe, and a top finalist for North America, Asia, Latin America and Africa. The brand was also named in Travel Weekly's 2004 Reader's Choice Awards as Best Tour Operator - Europe and 2005 Reader's Choice Awards as Best Tour Operator - Europe, Best Tour Operator - International and Best Tour Operator - Asia and South Pacific.

SAVE UP TO 45% OFF

when purchasing a Globus Tour Program when compared to booking your trip independently. Since 1928, Globus has been a world leader when purchasing bulk rates from every hotel, transportation and attraction featured within these quality touring programs. We also provide a private viewership rate for an even greater savings. Inquire below or call us!


Save Smart/Save More
with
GLOBUS

!