| | | | |
| --- | --- | --- | --- |
| I N D E P E N D E N T | | SEARCH OUR SITE: | |

WELCOME TO OUR TOUR SHOP...

Traditional Service

+

Great Low Rates!

A gentle ocean breeze, seabirds circling overhead, the sand between your toes, the sound of the surf and not a care in the world. Our Freestyle and Independent package programs are designed to recharge your mind, body and soul. We offer a wide variety of vacation getaways to deserted beaches, tropical jungles, first-class resorts and villas and romantic experiences. Get lost in the moment with a Freestyle vacation getaway made especially for you. Whether you are single, a couple or you are looking for a trip for the whole family, we can provide options to fit your dreams.



FunJet Vacations has the destination planning to exceed your needs offering more vacation options than any other tour operator. More than 20 air carriers, with over 900 destinations and 26,000 hotels complete our product line-up. We offer service to Mexico, Caribbean, Hawaii, U.S. Cities, Europe and more.
Looking for a particular resort? There is an excellent chance that FunJet has it in all grades and categories.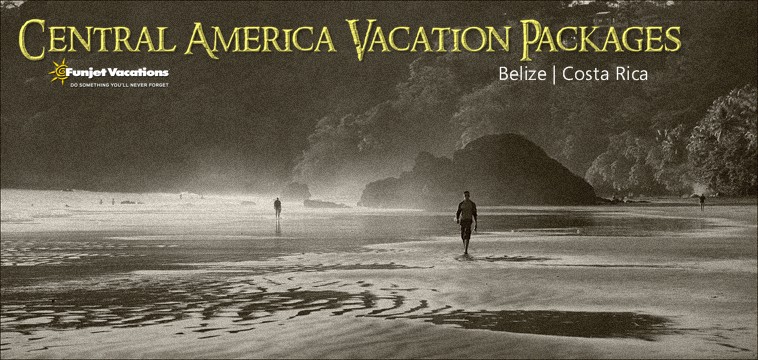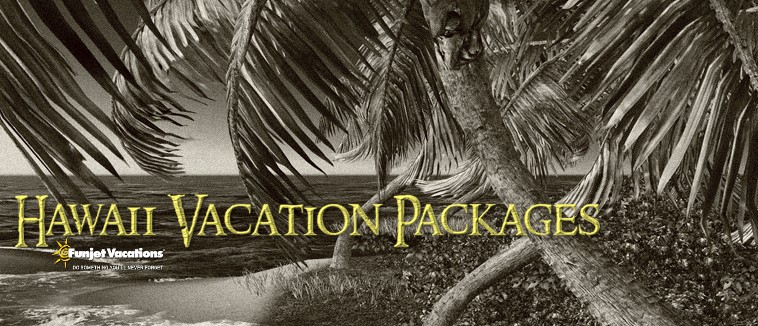 Only

Sandals includes
...more luxury, quality, choices and extraordinary service!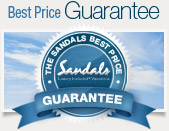 A

Sandals Luxury included® Vacation

gives you everything you'd find at any five-star luxury resort; the only difference is

everything is INCLUDED

! Sandals includes more exciting choices on land and sea – from

unlimited golf with complimentary green fees

* to motorized watersports including the Caribbean's most comprehensive

scuba diving

15 true specialty restaurants

per resort, each with a different ambiance – all with top chefs. Other all-inclusive resorts typically serve wine out of a box. Only Sandals includes four varietals of

Beringer® Wines

– Napa Valley's oldest and most respected winery. An impressive array of premium brand liquors is also included at up to

10 bars per resort

, while poolside and beachside cocktail valet service is included and available at all resorts. When it comes to luxury accommodations, Sandals offers far more choices –

up to 26

different categories per resort – including the most unique and creatively-designed "Love Nest" suites. Only Sandals includes personal butlers – all trained by the Guild of Professional English Butlers. The fact is, no other all-inclusive vacation in the world gives you more. It's the Sandals Luxury Included® Difference that makes all the difference in the world.

SANDALS RESORTS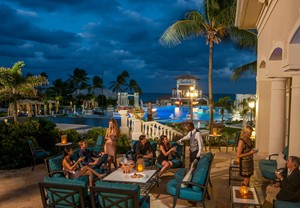 Sandals Emerald Bay
-
Great Exuma, Bahamas
Unfolding like a grand estate, Sandals Emerald Bay is a 500-acre Caribbean beach resort set along a one-mile stretch of white sand beach on Emerald Bay, Great Exuma, Bahamas. This all-suite resort will offer a selection of 245 "magnificently-appointed," luxury accommodations with styles that range from beachfront villas to charming bay house settings. Unique to the Great Exuma property is a stunning 18-hole Greg Norman-designed championship golf course, reputed to be among the best in the Caribbean as well as a 17-acre, stand-alone Emerald Bay Marina by Sandals, the first-ever marina for any Sandals Resort. Experience the best of Bahamas all-inclusive resorts at Sandals Emerald Bay in Great Exuma.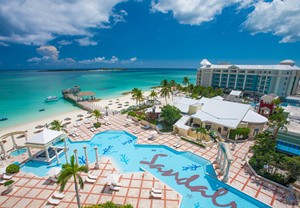 Sandals Royal Bahamian
-

Nassau, Bahamas
A historically regal retreat set on Nassau's best beach, Sandals Royal Bahamian is for discerning travelers who desire a blend of European sophistication with an exotic offshore island adventure. Once a favorite of the Duke and Duchess of Windsor, today it offers two sky-sized colonnaded pools overlooking the emerald sea, 10 specialty restaurants, an award-winning Red Lane Spa, and a Royal Village with hidden pools and villas in a quaint garden setting.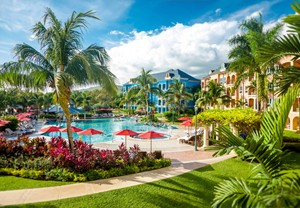 Sandals Whitehouse
-

Whitehouse, Jamaica
Discover Jamaica's only all-beachfront, all-oceanview resort set on a 1,000-acre wilderness preserve. Sandals Whitehouse perfectly blends the exotic allure of the Caribbean with the refined elegance of Europe, surrounded by tropical palm groves and a unique two-mile stretch of beach where you can view both the sunrise and the sunset.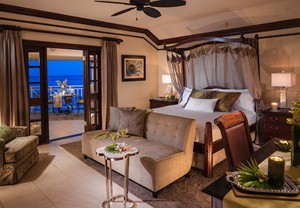 Sandals Royal Plantation
-
Ocho Rios, Jamaica

Some say the lush northern coast of Jamaica is one of the most beautiful places on Earth. Where the rolling hills of the St. Ann Mountains sweep down to the pristine white-sand beaches of a calm bay known as The Ocho Rios Riviera. Flawlessly set amidst this tropical paradise, Sandals Royal Plantation is a splendid seclusion for those who are serious about taking life easy, yet desirous of every refinement. Offering just 77 luxurious suites, all with stunning ocean views, it has the intimacy of an elegant private villa and the panache of a world-class Caribbean beach resort of the highest caliber.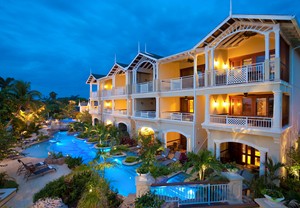 Sandals Royal Caribbean
-
Montego Bay, Jamaica

In a class by itself, Sandals Royal Caribbean is renowned throughout the Caribbean for its refinements and British traditions of a bygone era such as high tea and continental breakfast in bed. And just offshore, Sandals' own exotic private island features a pool with a swim-up bar, a secluded private beach and an authentic Thai restaurant where some of the dishes are rumored to be aphrodisiacs.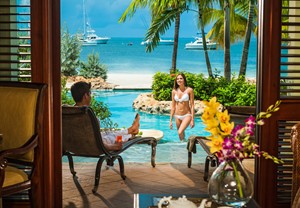 Sandals Negril
-
Negril, Jamaica

Amidst a pristine tropical setting, this world-class beachfront resort combines the laid-back atmosphere with refined elegance. Spanning the longest and best stretch of Jamaica's famous seven-mile beach, this is the only hotel in Negril to have won the coveted Green Globe Award, emblematic of its environmentally friendly ambiance. Where even the architecture has been designed to be lower than the highest palm trees.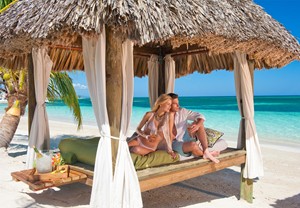 Sandals Montego Bay
-
Montego Bay, Jamaica

This is the place where the world first fell in love with Sandals - and it's easy to see why. Because the original Sandals still has the clearest waters anyone has ever seen, as well as the best private white-sand beach in all of Jamaica. And a fun loving staff can help make every couple as lazy as the sun and as free as the sea - and the only rule to follow is to do whatever you please. As often as you want.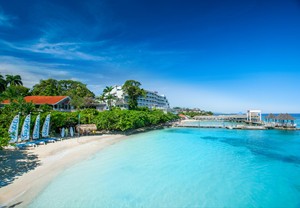 Sandals Ochi
-
Ocho Rios, Jamaica

This new all-inclusive resort has a hot new beach club, 11 bars - including the Caribbean's first speakeasy - and 16 totally on-trend restaurants. It's exciting and it's happening - but only when you want it to be. Because the other side of Sandals Ochi Beach Resort offers unsurpassed privacy when you want a more serene escape. A true Garden of Eden encompassing over 100 acres, this resort is so vast and lush that, no matter where you find yourself, you'll always feel as if there's plenty of space for just the two of you. All the things that make Jamaica such a uniquely spectacular destination are at the heart of Sandals Ochi. Jamaica's most dramatic luxury all-inclusive resort has truly arrived.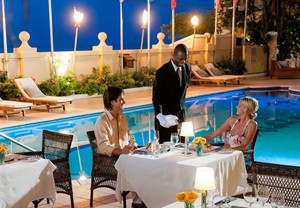 Sandals Carlyle
-
Montego Bay, Jamaica

Only five minutes from Sangster International Airport and 10 minutes from neighboring Sandals Montego Bay and Sandals Royal Caribbean, Sandals Inn may be our smallest resort, but it's big on warmth and charm. This intimate hideaway for two includes true room service and is home to 2 gourmet restaurants. Full exchange privileges at our 2 other Montego Bay resorts means 9 more gourmet restaurants to choose from. No other resort of this size offers so much`.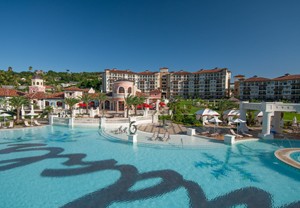 Sandals Grande Antigua
-
St. Johns, Antigua

Set on breathtaking Dickenson Bay, the island's best and most famous beach, this romantic getaway offers the charm of a quaint Caribbean village accompanied by the refined luxuries of a world-class all-inclusive that has been voted World's Leading Honeymoon Resort for six years in a row.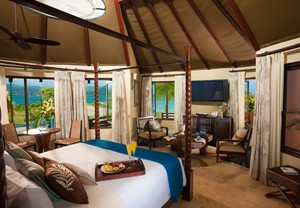 Sandals Grande St. Lucian
-
Castries, St. Lucia

On an island so "simply beautiful" the French and British fought over it for over 150 years, lies a Five Diamond resort considered the Caribbean's grandest new addition. Set on its own spectacular peninsula surrounded by the sea on both sides, the resort offers breathtaking vistas of the bay and the mountains on one side and the island of Martinique's distant shores on the other.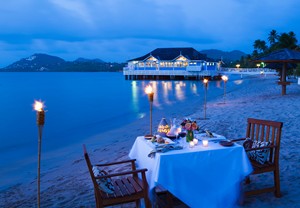 Sandals Halcyon Beach
-
Castries, St. Lucia

Clear turquoise seas kiss St. Lucia's silver white shores with a gentle grace that makes this resort one of the most perfect places for soul mates to escape the world. This is a sensuously secluded enclave where lush green gardens frame classic island architecture, and time moves at a more languid pace to create halcyon days and passionate nights.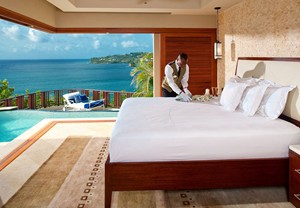 Sandals Regency La Toc
-
Castries, St. Lucia

Set along a half-mile crescent-shaped beach, this 210-acre Caribbean beach resort takes you to the height of glamour. A St. Lucia all-inclusive vacation at this resort includes service that is rendered by a staff who is genuinely pleased to have you as their guest. No detail has been spared to bring you infinitely romantic vacation on an exotic island that boasts the world's only drive through volcano.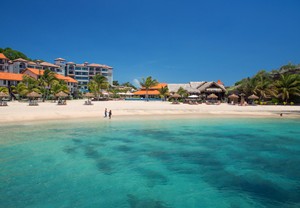 Sandals LaSource Grenada
-
St. George's, Grenada

An exotic, unspoiled hideaway, Sandals LaSource Grenada will offer guests a romantic, authentic Caribbean vacation while providing the Luxury Included® amenities and exceptional service that have come to be associated with the Sandals Resorts experience.









Whether you are a return visitor or newcomer

All About HAWAII

offers a program to suit your individual budget and vacation needs. Let us help you choose your Hawaiian destination where you may discover the "True Aloha Spirit"
MAUI -

The Valley Isle



Ah, the magic of Maui… is it any wonder that the humpback whales choose Maui as part of their annual migratory route?
With white sand beaches and crystal clear waters, Maui is ideal for sunbathing, snorkeling and snoozing! But once you've gotten enough sun, Maui's also a great place for shopping and sightseeing. The old whaling town of Lahaina is home to many quaint shops and eclectic art galleries. On the opposite side of the island, the long road to Hana will lead you to the waterfall fed pools at Oheo Gulch, a perfect place to stretch your legs and take in the view. After touring the island, you may need to unwind in Wailea with a pampering spa treatment. It's no wonder visitors return here year after year.
KAUAI -
The Garden Isle

Kauai is lush, tropical and wild. With cascading waterfalls and towering green mountains, this island is what most people imagine Hawaii to be like.
From the spectacular views at Waimea Canyon to the verdant vistas along the Napali Coast, Kauai can take your breath away. More and more people are coming to Kauai because they are attracted to its natural beauty and laidback atmosphere. Visitors are also drawn to Kauai for its gorgeous tropical rainforests, some of which can only be accessed by helicopter. These aerial tours take you into the heart of the island and offer spectacular scenic views that will remain with you long after your vacation ends.
HAWAII -
The Big Isle

It's easy to picture Pele, the Volcano Goddess, showing her wrath – or mercy – on those she encounters. As you explore the island, you'll see jagged lava fields immersed with new vegetation, providing an amazing contrast of Hawaii's Big Island's diverse landscape. To see the lava flow glowing at night is an incredible experience you really shouldn't miss! Yet the molten lava is just one of Hawaii's Big Island's hot attractions – there are also cool shops in Kona, coffee plantation tours, excellent golf on the Kohala Coast, and the quaint town of Hilo, where you'll feel as though you've gone back in time.
OAHU -
The Gathering Place

Oahu is the most popular of the Hawaiian Islands and it's easy to understand why – there's so much to do on Oahu!
The third largest Hawaiian island is home to the majority of Hawaii's diverse population, a fusion of east and west cultures rooted in the values and traditions of the Native Hawaiian people. With Waikiki as a central hub, you can explore the legendary North Shore of Oahu one day, and spend the next day on the east side snorkeling at Hanauma Bay, a protected marine sanctuary with tons of colorful fish. It's clear that Oahu offers just the right amount of diversity for the adventurous as well as the cautious visitor. Thrill seekers can skydive at Mokuleia while daydreamers can relax peacefully on the beach. Exquisite dining and exciting nightlife also entice people to Oahu again and again.
LANAI -
The Secluded Island

Like the other islands, Lanai has its own special unique flavor and feel. It's one of the smallest islands, but don't let its small size fool you – you'll be surprised at how much Lanai has to offer.
This charming island is home to just over 3,000 people, making it the perfect place for rest relaxation, rejuvenation, rediscovery and romance. From beautiful Manele Bay to the bumpy road and scenic views of the Munro Trail, you'll find a wide range of activities to please just about everyone. Golf on two challenging courses or go snorkeling in crystal clear waters at Hulopoe Beach. The resorts also offer excellent services for your indulgence.
MOLOKAI -
Hawaiian by Nature

Ready for some peace and quiet? You'll find it on the island of Molokai, where the most noise you'll probably hear is at the bakery in Kaunakakai with folks lined-up for steaming hot cinnamon rolls and freshly baked breads.
Molokai offers the perfect place for ultimate relaxation, though you can always find some interesting things to do. Try your hand at fishing with the locals or be adventurous and go sportfishing out in the open ocean. Intimate hiking and breathtaking bicycle tours are also available. For a truly unique experience, visitors aged 16 years and older can take a mule ride down the steep cliff to Kalaupapa National Historical Park, the isolated and historic settlement of those inflicted with Hansen's Disease.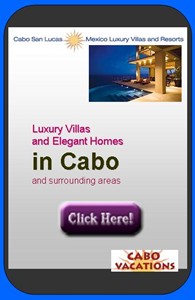 CABO VILLAS AND RESORTS


Looking for something a little more private than a resort or hotel? On your next vacation, stay at one of the exclusive Cabo villas. With more than 100 gorgeous private villas, houses and beachfront estates to choose from, it's easy to find one that fits your lifestyle and budget. We'll even arrange special on-site services, from chef-prepared meals to spa treatments, to make your getaway complete.

It's no secret that Cabo San Lucas is home to some of the best resorts and hotels in the world, attracting visitors from around the globe. We represent more than 40 of Cabo's finest resort hotels, with innumerable choices of suites and deluxe rooms to suit a wide range of preferences. Los Cabos resorts offer plenty to please, from sparkling free-form pools with swim-up bars, to world-class spas that pamper you to your heart's content.

What's your idea of the perfect Cabo resort getaway? We'll make it happen!



CLICK HERE

to reserve your Cabo Villa/Elegant Home!