---
---


The Texas Hill Country Offers Up
Choice Golf Opportunities
!
Some of the state's finest golf can be found amongst the rolling hills of Austin
The Austin music scene has been a favorite hangout for Willie and the boys and a host of other notable characters for some time now. But you will also find some of the finest courses to be played in Texas by Nicklaus, Palmer, Morrish and more. Nobody knows the Austin golf scene better than Southern Breeze Golf Tours.

CALL US or review any of our finer Austin golf packages below by clicking on the links. Our planners are very familiar with these courses in the rolling hills of the Austin and Texas Hill Country area and we would be happy to assist you and your playing partners in securing those better tee times well in advance. We can also assist you with close-by overnight accommodations at some of the best-suited properties for the golfer... like a warm starter breakfast and convenient dining opportunities nearby. We can also accommodate you for a downtown stay. All this at a comfortable price.


PLAY AROUND AUSTIN GOLF PACKAGE - Our very own concoction of the finest courses in the Austin/Texas Hill Country area. Combine these scenic venues with a wide selection of overnight accommodations from moderate to extravagant. We also offer select play on some of Austin's most secluded and scenic private clubs. Tee it up at Wolfdancer, Austin's newest club or discover a true hidden gem at Cimarron Hills. Every course that we offer will be well worth your play! Come any day and stay as long as your heart desires. Hill Country golf is special in every way.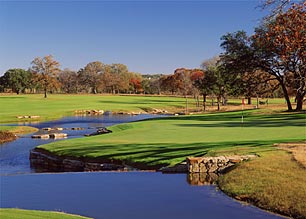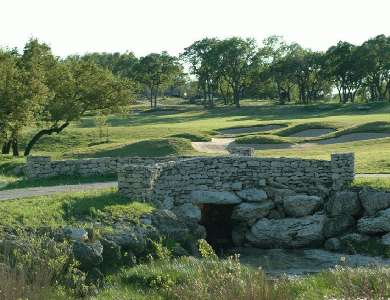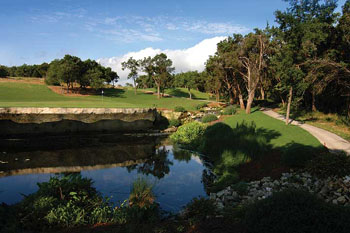 THE TEXAS 2-STEP AUSTIN and SAN ANTONIO - Combine the best of both golf destinations with just a couple of hours drive in between. A 4 day/3 night quick-step. But we can stretch it out for as long as you like.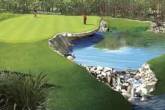 The TEXAS TUMBLEWEED
- Try this one on for size. A 6 day/5 night grand tour of our
Houston
,
Austin
and
San Antonio
triangle.

CHOOSE FROM SOME OF AUSTIN'S BEST ROUNDS!
ADVANCE TEE TIMES * GREAT RATES!


---

WOLFDANCER GOLF CLUB


---

Named in honor of the traditional wolf dance of the Tonkawa Indians who once inhabited this area, noted golf architect Arthur Hills designed Wolfdancer to take full advantage of the natural lay of the terrain. Discover native grasses, trees, wildflowers, even a flock of egrets as you move through the three distinct areas of this stunning Texas golf resort's 18 holes – rolling prairie, heavily wooded ridgeline and the river valley plain.



---

PGA FALCONHEAD GOLF CLUB


---

The newest addition to the PGA TOUR family of golf facilities, a PGA TOUR Signature Series Course is a golf facility designed and operated to meet the exacting standards of the PGA TOUR. Each Signature Series Course is committed to providing its guests with a golfing experience that lives up to the PGA TOUR's unmatched standard for quality, conditioning and customer service, while also being capable of hosting championship golf tournaments.



---

AVERY RANCH GOLF CLUB


---

Avery Ranch defines Hill Country golf. This championship 18-hole course is cut into the natural beauty of Texas: live oaks, rolling hills, cactus, and limestone. Black and Gold tee placements challenge the lowest handicappers, while our forward tees afford a great challenge while allowing you to work on improving your game. Regardless of your playing ablility, Avery Ranch is the perfect course to enjoy an outing with friends, family or colleagues.



---

TERAVISTA GOLF CLUB




---

Teravista's 18 Hole Championship Golf Course features some of the best golf in Texas! This 7,200 yard course will challenge golfers of all ages and abilities. The strong Texas winds will test the best of players, while the beginner friendly tees will make the game fun for newcomers. This Clifton-Ezell-Clifton design has captured the hill country beauty with views that span for 30 miles to the west and the rolling hills provide for a challenging layout while offering 5 different tees to offer a challenge as well as a leisurely round on the links.



---

STAR RANCH GOLF CLUB




---

Austin's newest upscale layout located on a scenic hilltop in Central Texas, where cattle once grazed on the Timmerman Ranch, a Hill Country golfing experience is taking shape. The Golf Club at Star Ranch promises to both test and reward golfers of all skill levels. Designed by Bechtol & Russell Golf Design and Carter Morrish, of Jay Morrish & Associates, this course follows the natural rolling contours of the land, using the central lake and prevailing wind to create an experience both formidable and fun.



---

GREY ROCK GOLF CLUB




---

Located just 15 minutes Southwest of downtown Austin, Grey Rock Golf Club has been recognized as one of the top 20 public courses in Texas by Gulf Coast Golfer Magazine. In addition, The Hill Country Golf News states that Grey Rock is the "finest daily fee, championship layout in the Austin area". Designed by renowned golf architect Jay Morrish, this course encompasses approximately 160 acres of the natural beauty found in the Texas Hill country. Situated among some of the most beautiful oaks in the area, the course is tree-lined and features large, undulating bermuda greens that are protected by mounds and bunkers.



PLAY THIS COURSE IN OUR
We offer an exclusive arrangement with advance tee times at the following private clubs:
---

CIMARRON HILLS COUNTRY CLUB

---

This private course has been meticulously designed and planned. Home to one of Texas' only bent grass greens courses and large fairways the splendor of this course is well illustrated by the rich verdant greens every day of the year. A Jack Nicklaus Signature Golf Course ensures that the playing experience and the development of the course are second to none.

"The unique character of this course, the native trees, and the rolling hills will provide one of the finest golf experiences in Texas," Nicklaus concluded.