Tour Name:

YOSEMITE NATIONAL PARK IN WINTER

6 Days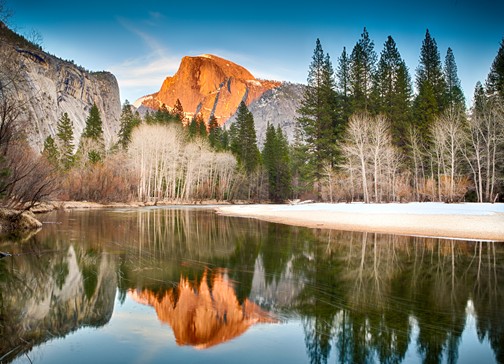 | | |
| --- | --- |
| We Offer a DISCOUNT on This Tour! | |
| | |
| --- | --- |
| YOSEMITE NATIONAL PARK IN WINTER | Duration:6 Days |
Includes:

Land Tour w/deluxe motorcoach

Visits to:

SAN FRANCISCO AND YOSEMITE NATIONAL PARK
Specially-priced Air Rates Available:

YES
BOOK IT ONLINE or CHECK AVAILABILITY
Exceptional Vacations




Celebrating over 85 Years of Touring!
HOW TO READ OUR LIVE AVAILABILITY DISPLAY:
You may reserve this tour by using our Globus secure server (right) by clicking on any of the "

Book Now!

" departures.


Book Now!

- Tour is available to reserve.


Not Available

- Tour is currently sold out.


Please Call

- There may be 1-4 seats available but tour is selling out.

Please have the names of passengers as listed in each passport available to complete the brief booking process.

This online reservations engine will not calculate our additional GLOBUS Preferred LOWER rate

. Although this portal will not show or add our discounts, they will be added when we receive your booking and an adjusted quote will be provided by our experienced GLOBUS Family of Brands agent.


OR


You may provide your information via EMAIL REQUEST and we will return a quote to you including our lowest available discount for this tour.
How We Will Handle Your Request and Your Privacy:

Your request will be handled by a responsible and knowledgeable tour specialist that can not only check availability for this particular tour but can further advise you as to other general queries that you may have about traveling conditions, passport/visa requirements, immunization requirements and other valuable information that you may need before making your reservation. We are a full service travel company and we have always catered to the individual traveler and his/her specific needs. We want to get to know you as a valued friend in travel. We are always available with our email service but feel free to call upon us if you have an immediate request at

1-817-788-5210

.



We use SSL Technology for secure data and information transfer to protect your privacy.
Humans do it best!

Your Privacy is also very important to us. If you elected to be listed with us in the above Optional Advisory List then, you will be added to our mail list for the particular area(s) of interest that you have selected to be informed about. If you do not elect to be on our mail list, simply do not complete that section and we will not add you to our list. We will not add you to any other mai llist either. We do not sell or otherwise pass along any information that you may provide to to us in the process of completing your inquiry. For further information on your privacy please see Liabilities and Privacy Policy.

Our 37TH

Year

!
representing
the

Globus

Family of Brands

GARDNER TRAVEL SERVICE
1-877-510-4653
817-788-5210
Monday - Friday from 8:30am to 5:30pm
Central Standard Time
Traditional Service Values with a Southern Flavor since 1979!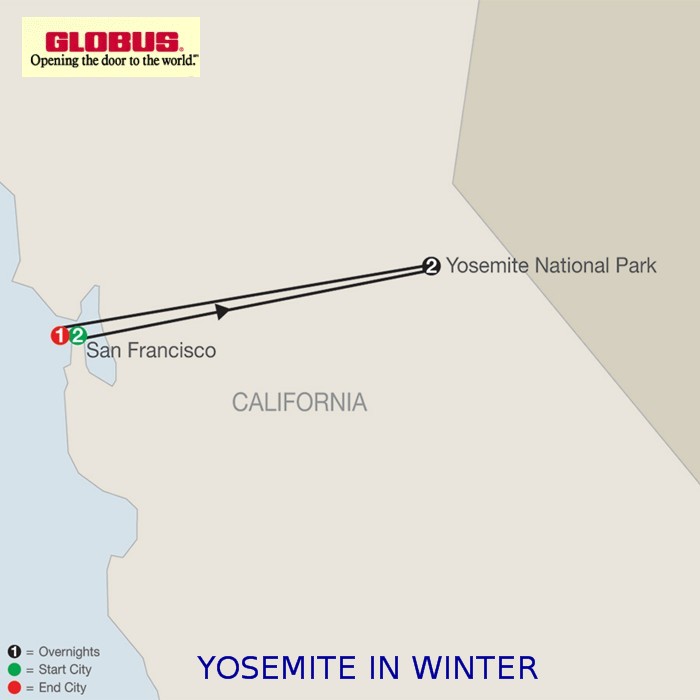 I N C L U D E D F E A T U R E S


SAN FRANCISCO
Sightseeing tour; farewell dinner

YOSEMITE NATIONAL PARK
Guided tour of the historic Ahwahnee Hotel and guided Valley Floor tour;
storytelling by local specialist;
guided photography tour

YOSEMITE NATIONAL PARK IN WINTER


6 Day Tour
TALK TO AN EXPERIENCED


---
As a full-service travel provider, we can help you in finding your perfect tour at the best price available, today. We've been representing the

GLOBUS Family of Brands

for over 35 years as a

Premier Agency Partner

- a designation only awarded to the top tier agencies that are authorized to represent the full Globus Family of Brands. We can take you all the way from your own hometown to some of the most beautiful touring experiences in Europe and then back again - all with the expertise of a seasoned GLOBUS professional representative. When it is important to get it right, you can trust the services of our own professional GLOBUS Certified travel specialists. Please feel free to call us or email us or we would be happy to provide your information via email on the tour form, below.
Requesting Availability
We will check your requested tour program and accommodations for the date range that you may specify in the boxes below and reply back to you as soon as possible. Of course the more information that you can provide us, the closer we will be in matching your needs and preferences. We will not knowingly sell or pass along your information that you provide to any third party for any reason (see
Liabilities and Privacy Policy
). And we use SSL Technology to safeguard your information on our tour request forms that we have posted throughout our website.
We are available to answer your inquiries in person Monday - Friday (except holidays) from 8:30am until 5:30pm CST

(1-877-510-4653 | 817-788-5210)

. We are available from time to time on the weekends via email to answer your questions. Our typical response time for your email request ranges from 3 hours to as many as 72 depending upon the availability of onsite resources and those of the tour companies and resorts/lodging establishments, as well as any variations you may request from our listed programs. For those inquirers requesting a trip within two weeks, we will give you a priority due to your need to establish an immediate plan. At any rate, we will respond to your requests as quickly as possible and as soon as we have all components of your package confirmable. All tour program rates are based upon double occupancy unless otherwise specified.
Thank you for your interest in this quality tour by The GLOBUS Family of Brands!

Randy C. Gardner
President
Gardner Travel Service, Inc.