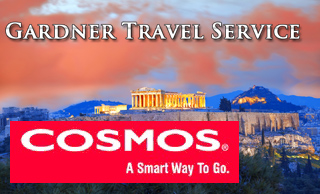 Grand Tour of Switzerland
COSMOS

Vacations




Affordable Escorted Vacations!




10 DAYS

| | |
| --- | --- |
| Grand Tour of Switzerland | Duration: 10 Days |

Land Tour w/deluxe motorcoach

LUCERNE, INTERLAKEN, LAUSANNE, BERNE, SWISS-ITALIAN LAKE DISTRICT, SIMPLON PASS and LAKE GENEVA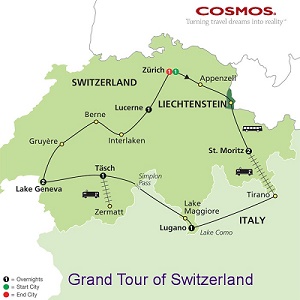 Specially-priced Air Rates Available:
YES

With its unspoiled scenery, majestic peaks, fascinating old towns, sparkling lakes, rich history, and cities with a cosmopolitan flair, Switzerland is the perfect vacation offering something for everyone. On this Switzerland tour, you'll experience some of its most beautiful scenery and interesting cities with overnights in Zurich, St. Moritz, Lugano, Zermatt, the Lausanne area, and the Lucerne area.

No tour to Switzerland is complete without seeing the stunning scenery. Enjoy a scenic drive through the high Alps to the tiny Principality of Liechtenstein. Witness quaint villages, finely carved chalets, green pastures, beautiful forests, magnificent mountain peaks, and rolling, green hills on your way to St. Moritz, one of the world's most famous winter resorts. Switch mode of transportation in Täsch, where you'll board a mountain train to car-free Zermatt, a picturesque cluster of rustic chalets beneath the famous Matterhorn. If you desire to see lakes, you'll enjoy Lake Maggiore, Italy's second-largest lake; stunning Lake Geneva; Lugano, the popular subtropical resort on the shores of Lake Lugano; Interlaken, situated between Lake Thun and Lake Brienz; and Lucerne, situated on Lake Lucerne in the shadows of the snow-capped Alps.

One highlight of this Switzerland tour is the journey aboard the Bernina Express from St Moritz to Tirano, Italy. Traveling on the "red train", the highest railway across the Alps, you'll witness glistening glaciers, stunning mountain streams, and alpine scenery, and you'll travel through tunnels and over bridges that are engineering masterpieces! Enjoy a visit to a local cheese factory in Gruyères, a picturesque medieval town that has been unaffected with the passage of time. You'll also spend time in Switzerland's capital, Berne, and storybook Lucerne.

From stunning scenery and vibrant cities to its special experiences, this Switzerland tour is sure to delight. So grab your camera and get ready for an amazing vacation!



---
TOUR HIGHLIGHTS:

APPENZELL

See the Old Town


VADUZ

Visit the capital of Liechtenstein


ST. MORITZ
Visit
BERNINA EXPRESS TRAIN

St. Moritz-Tirano


LUGANO

Visit


LAKE MAGGIORE ITALY

Scenic drive


ZERMATT

Visit


GRUYÈRES
Visit the village and a local cheese factory

BERNE

Visit


INTERLAKEN
Visit

LUCERNE

Visit Old Town
Inside visits and special features:
Shown in UPPERCASE in the tour description including admission charges where applicable.
| | |
| --- | --- |
| | The following UNESCO World Heritage Sites can be seen or visited on this vacation: |
Old City of Berne
Rhaetian Railway in the Albula / Bernina Landscapes
Lavaux, Vineyard Terraces
Inside visits and special features:
Shown in UPPERCASE in the tour description including admission charges where applicable.
HEADSETS
throughout the tour

OPTIONALS:


Choice of optional excursions at reasonable prices to customize your own experience. Please find a detailed list in your travel documents

AIRPORT TRANSFERS
Airport transfers may be included when you make your flight arrangements.
ZÜRICH

NOVOTEL ZURICH CITY-WEST (F)


ST. MORITZ

HOTEL BAEREN (ST)


LUGANO

IBIS LUGANO (T)


ZERMATT

BEST WESTERN BUTTERFLY (ST)


LAUSANNE AREA

NOVOTEL LAUSANNE BUSSIGNY (ST)


LUCERNE

DREI KOENIGE (ST) or IBIS STYLES LUZERNE CITY (ST)
HOTELS - (SF) Superior First-Class (F) First-Class (ST) Superior Tourist Class (T) Tourist Class


DINING HIGHLIGHTS
Buffet breakfasts; 4 dinners

TRANSPORTATION
Scheduled transatlantic flights and airport transfers in Zürich if Cosmos issues the air tickets. Touring by private, first-class, air-conditioned motorcoach with free Wi-Fi; Bernina Express train St. Moritz-Tirano; Alpine train Täsch-Zermatt-Täsch


GUIDES
Services of a professional Tour Director while touring



AIRPORT TRANSFERS




Airport transfers may be included when you make your flight arrangements.







Day 1

Arrive in
ZURICH
, Switzerland
---
Check into your hotel in Zürich. The rest of the day is free for exploring this exciting city. Tonight, meet your Tour Director and fellow travelers.


Dinner
Day
2
ZURICH–APPENZELL–LIECHTENSTEIN–ST. MORITZ
---
A sensational drive today takes you through some of Switzerland's most renowned cantons. Stop in Appenzell to see the Old Town with its 16th-century Town Hall. Continue to the minute Principality of Liechtenstein for a visit of its tiny capital, Vaduz. Pass through scenic "Heidiland" and into the Rhine Valley before ascending mighty Julier Pass. Soon, you'll be in the heart of Switzerland's largest canton, the Grisons, where you'll marvel at some of the world's best alpine views. Spend the next two nights in glamorous St. Moritz, host of two Winter Olympic Games (1928 and 1948) and the premier winter retreat of European royalty, celebrities, and the international jet set for more than a century.

Today's Distance:

177 mi/ 285 km

Breakfast

Dinner
Day
3

AT LEISURE IN ST. MORITZ
---
Enjoy a whole day to explore this scenic Engadine valley resort. Renowned for its stunning forest, lake, and mountain setting and an average of 322 days of sunshine per year, St. Moritz is comprised of two villages separated by a mile of lake shore—St. Moritz Dorf and St. Moritz Bad. Extending up the slope from the lake, terraced Dorf is a tapestry of grand hotels, upscale boutiques, and traditional Engadine architecture, characterized by arched wooden doors, small deep-set windows, and artistically etched facades. Neighboring Bad is known for its ice rink, mineral and mud baths, and energetic nightlife.

Breakfast
Day
4
ST. MORITZ–BERNINA EXPRESS TRAIN TO TIRANO, ITALY–LUGANO, SWITZERLAND
---
One of Europe's most spectacular train rides, the BERNINA EXPRESS begins today in St. Moritz, whisking you across lofty Bernina Pass via the Swiss Poschiavo area to Tirano in the Italian Valtellina. Here, rejoin your coach and journey to the shores of sparkling Lake Lugano.
Today's Distance:

134 mi/ 215 km

Breakfast
Day
5

LUGANO–LAKE MAGGIORE, ITALY–TÄSCH, SWITZERLAND–ZERMATT
---
Discover the highlights of charming, subtropical Lugano before traveling to Lake Maggiore, Italy's second-largest lake. Consider joining the optional boat trip to visit to the garden island of Isola Bella with its splendid 17th-century palazzo (palace). Return to Switzerland via picturesque Simplon Pass and hop aboard a train in Täsch for the only connection to car-free Zermatt, a resort surrounded by Switzerland's highest mountains—including the celebrated Matterhorn.
Today's Distance:

155 mi/ 250 km

Breakfast

Dinner
Day
6
ZERMATT–LAUSANNE AREA
---
Time to stroll through town and maybe take a break to sample the local fare, like raclette, fondue, or hand-made chocolate. Perhaps shop for an authentic Swiss watch or Swiss Army knife. Then, take the train back to Täsch, where you will rejoin the coach and continue your journey through the vineyards and apricot groves of the lower Rhône Valley to crescent-shaped Lake Geneva, one of Europe's largest lakes.
Today's Distance:
112 mi/ 180 km

Breakfast

Dinner
Day
7

LAUSANNE AREA
---
Spend either a whole day at leisure exploring Lausanne and its environs, or join an optional excursion to charming Geneva with its cobblestoned Old Town and the Palais des Nations, European headquarters of the United Nations.

Breakfast
Day
8
LAUSANNE AREA–GRUYÈRES–BERNE–INTERLAKEN–LUCERNE AREA
---
The first stop today is in picturesque Gruyères to visit a local CHEESE FACTORY. Then, on to Berne, Switzerland's charming 12th-century capital. The Old Town is a showcase of medieval architecture, arcaded shops, artistic fountains, and the landmark Zytglogge (clock tower), an ornate animated astronomical clock built in 1530. Travel on, skirting the shores of Lake Thun, and stop in the renowned resort of Interlaken for a visit before crossing Brünig Pass to Lucerne. Tonight, why not join an optional folklore evening, complete with yodeling and alphorn blowing?
Today's Distance:

155 mi/ 250 km

Breakfast
Day
9

LUCERNE AREA–ZURICH
---
Discover the wonders of Lucerne, a city straight out of a storybook. Situated on Lake Lucerne beneath the snowcapped Alps, Lucerne highlights include cobblestone streets lined with frescoed homes, the world-famous CHAPEL BRIDGE, and the poignant LION MONUMENT. Perhaps choose from a wonderful selection of optional activities—the most popular is an excursion to mount Stanserhorn. Return to Zurich for an overnight.
Today's Distance:

62 mi/ 100 km

Breakfast
Day
10
ZURICH
---
Your vacation ends with breakfast this morning.


Breakfast
Grand Tour of Switzerland

| | |
| --- | --- |
| | 10 Day Tour |

From $1999USD
(Less applicable COSMOS PROMO(S) and Gardner Travel Discounts)
REQUEST RATES, AVAILABILITY AND OTHER INFORMATION HERE!

To request our
LOW UNPUBLISHED RATE
and availability for this tour please
view our scheduled departures listed HERE. We will provide our private rate back to you by

email response

or

phone call

as you prefer it.

PLEASE NOTE: We have access to the U.S./Canada reservations only for this tour. If you reside outside of the U.S./Canada please contact the closest Globus Family of Brands travel agent in your country of origin.



| | |
| --- | --- |
| Exceptional Vacations | |
Celebrating over 85 Years of Touring!

Prices are per person based on double occupancy and are land only. We also offer competitive group-based airfares from your home city airport that fit with this particular touring program.




We provide an additional

agency point-of-sale discount

for all

Globus

,

Cosmos

and

Avalon Waterways

tour programs. Offer subject to availability and change without notice.

---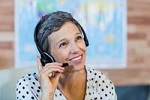 As a full-service travel provider, we can help you in finding your perfect tour at the best price available, today. We've been representing the

GLOBUS Family of Brands

for over 35 years as a

Premier Agency Partner

- a designation only awarded to the top tier agencies that are authorized to represent the full Globus Family of Brands. We can take you all the way from your own hometown to some of the most beautiful touring experiences in Europe and then back again - all with the expertise of a seasoned GLOBUS professional representative. When it is important to get it right, you can trust the services of our own professional GLOBUS Certified travel specialists. Please feel free to call us or email us or we would be happy to provide your information via email on the tour form, below.
Requesting Availability
We will check your requested tour program and accommodations for the date range that you may specify in the boxes below and reply back to you as soon as possible. Of course the more information that you can provide us, the closer we will be in matching your needs and preferences. We will not knowingly sell or pass along your information that you provide to any third party for any reason (see Liabilities and Privacy Policy). And we use SSL Technology to safeguard your information on our tour request forms that we have posted throughout our website.
We are available to answer your inquiries in person Monday - Friday (except holidays) from 8:30am until 5:30pm CST (1-877-510-4653 | 817-788-5210). We are available from time to time on the weekends via email to answer your questions. Our typical response time for your email request ranges from 3 hours to as many as 72 depending upon the availability of onsite resources and those of the tour companies and resorts/lodging establishments, as well as any variations you may request from our listed programs. We will respond to your requests as quickly as possible and as soon as we have all components of your package confirmable. All tour program rates are based upon double occupancy unless otherwise specified.
Thank you for your interest in this quality tour by The GLOBUS Family of Brands!

Randy C. Gardner
President
Gardner Travel Service, Inc.




and

The Globus Family of Brands

More than three decades ago

Cosmos

pioneered the idea of quality value travel to Europe. Since then we've developed and refined the concept of vacation packages. Over a million people have come back to us for a second or third vacation...or more!
Our clients' repeat business is the best testimony to the incredible value and experience we offer.
If you've never taken a package vacation, consider this: Traveling with Cosmos is less expensive, more comfortable, and far easier than going it alone. Our volume contracting for hotels and services provides you with travel at wholesale prices. A Cosmos package is carefully planned to make the best possible use of your time.

Our team of experts has refined our itineraries to combine the must-see sights with significant time on your own, offering more choice and flexibility. You can travel relaxed and hassle-free, knowing that we've taken care of all the details.

Once you've discovered the special advantages of traveling with Cosmos, you'll never want to travel any other way again. Cosmos is "A Smart Way To Go."


Guidance

---
At the heart of every great Cosmos tour are the friendly, knowledgeable folks who show you around and help you maximize your free time. We go to incredible lengths to find the most professional Tour Directors and Local Guides. They deliver commentary in English, but are multilingual so they can navigate Europe with ease and give you the richest experience possible.

Headsets
For all guided visits and included sightseeing in Europe, Cosmos will provide personal audio headsets. See tour itinerary for details.

The Right Balance
No one enjoys a vacation where every second is spent on a schedule. We build free time into every Cosmos vacation, so you can eat, shop, and explore the way you want. Your Tour Director and Local Guides can offer suggestions for things to see and do-or you can join one of our many intriguing optional excursions.

Sightseeing
Our packages include guided sightseeing and scenic highlights that reveal the best of Europe, North America, and South America. Enjoy inside visits of the must-see sites with knowledgeable Local Guides who will bring each destination to life. Inside visits and special features are shown in UPPERCASE in the tour description. See individual itinerary pages to learn what is included in your vacation.

Personalize Your Vacation with MyCosmos
Cosmos lets you enhance your tour with optional excursions that are meaningful to you. Whether you enjoy art, music, food, wine, history, or whatever, we give you the freedom to truly personalize your trip. Best of all, you can make your selections-and even pre-pay-in advance online at Cosmos.com/MyCosmos.

Cosmos Takes Care of Your Hotels
---
Where you stay makes all the difference
After a day's traveling you want to relax at a comfortable, clean, and attractive hotel. We have chosen hotels with the best rooms, service, and food for the money. Of course, they vary as different countries have different standards. However, we ensure that everywhere you get the best available in cleanliness and comfort.
Cosmos hotels are always located in good neighborhoods, some more centrally and others in residential areas. Especially in large cities we sometimes prefer good hotels in residential areas on the outskirts to less desirable or overpriced downtown hotels.
Rooms at all our hotels include private facilities: private bath or shower and a toilet.
Triple rooms are usually no larger than twin rooms and the third bed is often a roll-away bed put into a twin-bedded room just for the night.
Cosmos specifies your hotels
Our hotels are mainly superior tourist-class (ST) and tourist-class (T) establishments, but we also feature some first-class (F) hotels. Cosmos hotel ratings follow standards set by the independent Official Hotel Guide (OHG) or by national tourist boards. The specific rating for each contract hotel is determined by our quality controllers.
We reserve the right to substitute hotels listed on the tour pages with hotels of equivalent standard. With your Cosmos travel documents you'll receive a list of hotel addresses, telephone numbers, and fax numbers for your tour.
Stretch Your Vacation Dollars

---
Value-packed vacations at bargain prices.
With Cosmos, a company that specializes in package travel arrangements, you'll visit the world without spending a fortune. Because all our buying power is devoted to package travel, our clout with suppliers is powerfully concentrated -- and we pass the savings on to you with affordable vacation packages for every budget.
Singles save with "guaranteed share" rates
More than one-third of all people traveling with Cosmos are traveling independently. We therefore accept reservations on a "guaranteed share" basis. We charge singles the basic price and match up singles of the same gender in twin-bedded rooms. For mutual comfort we adopt a no-smoking rule in shared rooms. "Guaranteed shares" are not available for extra nights before or after your tour, on tours with overnight trains, or on train or cruise extensions.
If we cannot find a roommate for a traveler who has booked on a "guaranteed share" basis, we'll absorb the single room supplement, and that traveler will be accommodated in a single room at no extra charge.
Of course we do offer single rooms when available to those who prefer to travel solo and pay the single supplement.
Triple room reduction
Cosmos grants a reduction to three people who travel together and share the same accommodation. Triple room reductions, when available, are listed in the Dates and Prices box on the tour page.

A word of caution: Triple rooms usually are no larger than twin rooms, and the third bed, if there is one, is often a rollaway bed put in a twin-bedded room for the night.
Discount for young tour members
Cosmos grants a 10 percent discount on the land tour price to travelers who are under 18 years old on the tour departure date, provided they are accompanied by an adult. We do not accept children under eight on our tours because we have found that they are too young to enjoy these vacations.

Cosmos Vacations Offer Flexibility

---
Joining late and leaving early*


Many Cosmos land arrangements start and end in London. If you have already spent time in the British capital, you may want to skip one or more of the included London nights or even join at the first overnight hotel on the Continent. Call your Travel Agent for any reductions that apply to your vacation for joining late or leaving early. Vacations with these reductions are sold on a land-only basis.



A professional team takes care of you in London


For any help or information you might require during your London stay, please contact the Cosmos hospitality desk at your hotel. Our knowledgeable staff will serve you with a smile; give you guidance on what to do and where to go; and arrange excursions, evening entertainment, and theater outings for you.



Extra nights*


If you'd like more hotel nights than we've provided at the start or end of your tour, we can make reservations for you at the rates quoted below, provided you request them at the time you book your vacation. Rates are per person, per night, and include room with private bath, breakfast, service charges, and taxes.

Extra nights are only available immediately prior to or after your tour. Extra pre-tour nights in London are not available if you join your tour later than Day 2.

Every effort is made to reserve extra nights at the hotel where your tour stays. If space at the tour hotel is not available, alternative accommodation will be reserved at a hotel of equivalent standard. When this is the case, the transfer to and from the tour hotel is at our expense.

As hotel space is limited, we cannot reserve more than two extra nights before and/or after a tour, unless they are needed to bridge the gap between two Cosmos vacations. During particularly busy periods, hotel space in certain cities can become so tight that we may be unable to sell extra nights.


Trust & Travel Insurance
---
For generations, Globus has worked hard to provide the best on-trip experiences, world-class customer service, and the best consumer protection plans available in the travel industry.


DETAILS OF THIS INSURANCE PROGRAM WILL BE INCLUDED IN ALL OF OUR QUOTES.


and

The Globus Family of Brands

More than 90 years ago, Antonio Mantegazza bought a rowboat to transport commercial goods across Lake Lugano in Switzerland. Who could know that rowboat would launch the world's leading escorted travel company? Today Globus is a global, family-owned company reaching every corner of the world. Globus is now the first choice among individuals looking for vacations with both domestic and international travel in a variety of styles to six continents and hundreds of itineraries to choose from

(see Globus History video right)

.

Antonio's frequent trips across the scenic lake led him to consider opportunities in a different market - tourism. His entrepreneurial instinct pushed him to gradually acquire some motorcoaches to transport tourists around the Lake Lugano area. In 1928, Antonio opened a company specializing in motorcoach touring called Globus Viaggi. The company began with a fleet of 12 coaches which operated local excursions for European tourists in Switzerland.

By 1950, Globus Viaggi had grown to a fleet of 33 coaches and featured overnight excursions to Rome, Venice, the Dolomites and the French Riviera. Gradually, these became regularly scheduled tours and grew longer to cover more ground. Later that decade, under the leadership of Werner Albek, Antonio's business partner, Globus pioneered the concept of Grand European Touring by offering first-class European tours to North Americans. By 1961, the company launched its Cosmos arm, which featured affordable, value-priced European touring for the cost-conscious British traveler.

The coach tours were so successful that Cosmos soon introduced another form of travel for the British market: air holiday packages to the sunny destinations of southern Europe. By 1968, Cosmos air holidays became so popular the company formed its own airline, Monarch Airlines. Monarch Airlines started out modestly with two used Britannia aircraft and eventually blossomed into one of the most successful European charter companies with a large fleet of modern jets and its own engineering division.

Under the flagship of Sergio Mantegazza, current president and son of Antonio, Globus began expanding its markets beyond Great Britain and North America. Since 1974, travel packages have been sold in Australia, New Zealand, Canada and most recently in Southeast Asia. Starting in the 70s, the company also aggressively expanded its offerings, introducing travelers to more countries than any other tour operator with packages to Africa, South and North America, Europe, the South Pacific and Asia.

Today, the Globus family of brands is marketed and operated by a network of more than 32 independent tourism and aviation businesses, serviced by a group of more than 5,000 professionals worldwide. Combined, Globus, Cosmos, and Monograms carry over 500,000 passengers a year, making the organization the leading operator of guided vacations worldwide. Globus attributes its success to the ideals of founder Antonio Mantegazza. For three generations, his vision, hard work, love for travel, and commitment have guided the company. These values are the cornerstone on which Globus was built and will continue to grow.

If you like the above tour program
you may also want to view the following tour programs for comparison:


EUROPE GRAND TOURS
ENGLAND, FRANCE, SPAIN, ITALY, GREECE, BULGARIA, SERBIA, HUNGARY, SLOVAKIA, AUSTRIA, GERMANY, SWITZERLAND and HOLLAND
ENGLAND, BELGIUM, HOLLAND, GERMANY, SWITZERLAND, ITALY, FRANCE and SPAIN
ENGLAND, BELGIUM, HOLLAND, GERMANY, SWITZERLAND, AUSTRIA, ITALY and FRANCE
ENGLAND, BELGIUM, GERMANY, SWITZERLAND, ITALY AND FRANCE
CROATIA, BOSNIA, SERBIA, ROMANIA, BULGARIA and GREECE
FRANCE, SWITZERLAND, ITALY, AUSTRIA, GERMANY, HOLLAND and ENGLAND
FRANCE, SWITZERLAND, ITALY, AUSTRIA, GERMANY, HOLLAND and ENGLAND
HOLLAND, BELGIUM, GERMANY, AUSTRIA, SWITZERLAND, ITALY and FRANCE
ENGLAND, HOLLAND, BELGIUM, GERMANY, SWITZERLAND, AUSTRIA, ITALY and FRANCE
FRANCE, SWITZERLAND, ITALY, AUSTRIA, GERMANY and HOLLAND
GERMANY, POLAND, SLOVAKIA, HUNGARY, AUSTRIA and CZECH REPUBLIC
GERMANY, CZECH REPUBLIC, AUSTRIA, HUNGARY, SLOVAKIA and POLAND
ENGLAND, FRANCE, SWITZERLAND, AUSTRIA and ITALY
ENGLAND,
FRANCE
, SWITZERLAND and ITALY
ENGLAND, FRANCE, SWITZERLAND and ITALY
ENGLAND, HOLLAND, BELGIUM, GERMANY, SWITZERLAND and FRANCE
ENGLAND, BELGIUM, HOLLAND, GERMANY, AUSTRIA, SWITZERLAND, ITALY and FRANCE
GERMANY, CZECH REPUBLIC, SLOVAKIA, HUNGARY and AUSTRIA
HOLLAND, BELGIUM, GERMANY, SWITZERLAND, and FRANCE
HUNGARY, SLOVAKIA, AUSTRIA and CZECH REPUBLIC
ENGLAND, FRANCE, SWITZERLAND, AUSTRIA, GERMANY and HOLLAND
ENGLAND, FRANCE, SWITZERLAND, and ITALY

HOLLAND, BELGIUM and LUXEMBOURG
THE BRITISH ISLES |

England, Scotland, Ireland and Wales
INDEPENDENT STYLE
ITALY | GREECE | TURKEY
INDEPENDENT STYLE
FRANCE | GERMANY
INDEPENDENT STYLE
SWITZERLAND | AUSTRIA
RUSSIA | NORTHERN/EASTERN EUROPE
SPAIN | PORTUGAL | MOROCCO

| | |
| --- | --- |
| ENJOY THE GAME OF GOLF? | |
Check out our

SOUTHERN BREEZE GOLF TOURS

- golf packages for some fantastic destinations throughout the U.S!

Click here to visit our golf site.
TOURS BY REGION
A
GLOBUS

Family of Brands
Premier Agency Partner
We Know Globus - Cosmos!


TOLL FREE
1-877-510-4653

or
817/788-5210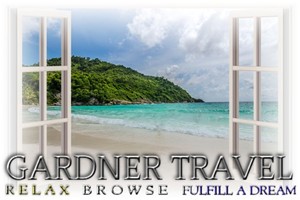 Serving Dallas/Fort Worth and the World
Our Hours Are:

Monday - Friday
from 8:30am to 5:30pm
Central Standard Time
1979 - 2019