---
---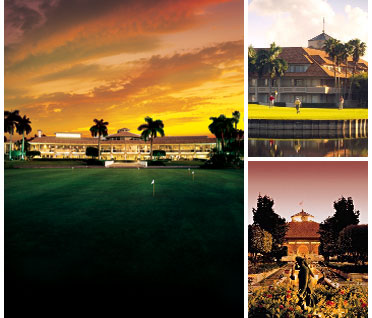 The Doral Golf Resort and Spa hold the distinguished honor of being the recipient of a Gold Medal Award from Golf Digest as one of "America's Best Resorts." The resort is set on 650-acres featuring golf, golf, and more golf. No mater the level of player there is something for everyone on the 4 championship courses to choose from at this exceptional resort.

The featured course of this resort is the world famous Blue Monster course that is the home to the annual PGA Doral Ryder Open. You will have so much golf to choose from you will have a tough time deciding. The resort also features three putting greens, a lighted driving range and the Doral Golf Learning Center. This full service training facility offers instruction and golf schools.

The resort features an array of other recreational opportunities beyond golf. Play on 15 hard courts or clay tennis courts at the Doral Tennis Center. How about bringing your fishing pole to try your luck at the freshwater lakes stocked with bass and tarpon.

A special feature of the resort is the Spa at Doral. This full-service health center that will pamper you with every possible feature you could imagine. You may never want to leave the spa after you're treated like a king.

For the evenings the resort offers 6 restaurants, with styles ranging from casual to classic dining. After your day for golf, tennis, fishing, spa treatments and much more, you can relax in comfort in on of the 694 guest rooms and suites. The rooms are first-class and offer all the amenities.

In February of 2000 Miami ushered in a new era of golf with the opening of the highly anticipated new Greg Norman-designed course - The Great White. His latest signature course brings a desert-scape feature to Doral. The trademarks of the Great White are a series of pot bunkers, with no rough, and coquina sand is used in all the transition areas to separate the holes. It provides challenges for the novice through the accomplished golfer. With five par-5 holes and a finishing hole that is not for the faint of heart, the golfer will enjoy the time spent on the links.



Blue
7125
72
130/74.5
D Wilson/Ray Floyd
Gold
6602
70
129/73.3
R. V. Hagge/Ray Floyd
Red
6146
71
121/70.2
Robert Van Hagge
McLean
6614
71
117/72.5
Jerry Pate
White
6208
72
117/69.7
R. V. Hagge/Greg Norman
Our DORAL Golf Package includes:
The Blue Monster is currently undergoing renovation and will re-open in December 2013.
Resort Accommodations (1 King or 2 Double beds) for single or doulble occupancy

One round of golf on the Great White, Gold or Jim McLean Signature Golf Course, per person, per night

Breakfast daily per person, per night

Advanced Tee Time Reservations (90 days)

Unlimited use of golf warm-up area

Complimentary Golf bag storage

Complimentary Replay round opportunity on Gold or Jim McLean Signature Course, booked same day of play*
RATES FROM $189 (double) or $259 (Single) per person

NOT INCLUDED: Surcharge will apply for additional rounds on Great White;
*All surcharge rates are per player. The above rates are per player. Extra nights and rounds available as requested.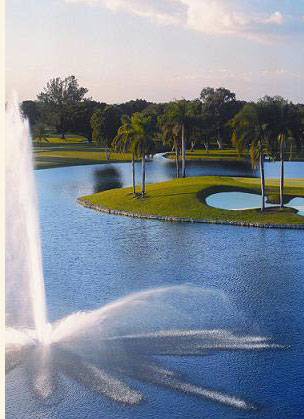 The

TPC

BLUE MONSTER



This course currently closed for renovation. Re-opening December 2013.



The TPC Blue Monster at Doral, home of the World Golf Championships-CA Championship, has hosted prestigious PGA TOUR events for the past 45 years. In fact, virtually every great name in golf has had a moment of glorious personal triumph on this world-class track. Originally designed by Dick Wilson, golfers won't find a more challenging or spectacular golf course. At 7,125 yards from the tournament tees, and with a series of strategically placed bunkers, both length and finesse are needed to score well on this historic course. The Blue Monster features long fairways, undulating green, a deep Bermuda rough and a unique assortment of water hazards. The famous 18th hole, with its signature fountain, was ranked by GOLF Magazine as one of the Top 100 Holes in the World.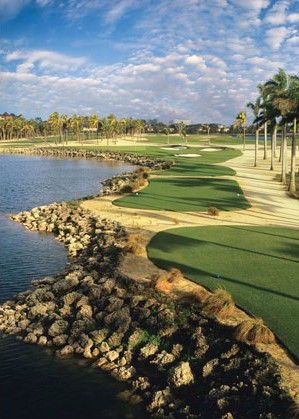 The GREAT WHITE

Course



The legendary Great White Course is enjoyable for the high handicap player while maintaining the integrity of the course for the accomplished player.

A Greg Norman Signature Course, the 7,171-yard, par-72 Great White Course is the only golf course of its kind in the Southeastern United States that utilizes coquina -- crushed shells -- as the primary design element on every hole. In designing the Great White, Norman blended strategically demanding fairways with hundreds of palm trees. He then laid out the course in a manner where water comes into play on 14 of the 18 holes, which makes for a challenging, but picturesque Great White Golf Course. Host to the PGA TOUR Franklin Templeton Shark Shootout in 2000, the Great White was rated as the best new golf course of 2000 by the National Golf Foundation.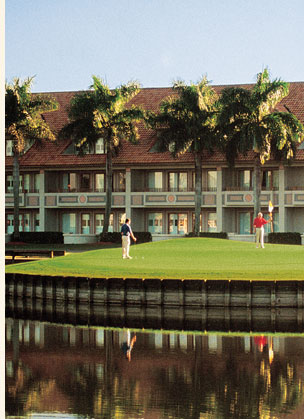 The GOLD Course
PGA Tour legend Raymond Floyd recently redesigned this course to follow a traditional Florida layout, incorporating gently contoured greens, strategic bunkering and water surrounding 16 holes. The course features narrow, tree-lined fairways and finishes with a dramatic par-4 island green on the 18th hole. This course hosted the 1999 PGA Qualifying School finals.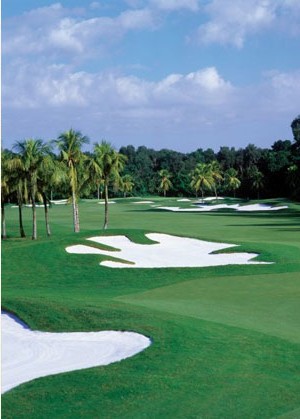 The RED Course



Unique to the Red Course are two island greens at No. 6 and No. 14. This course is often the site of corporate tournaments due to its promise of a fair test of golf at any level of play.



The Red Course forces golfers to use strategy and shot placement, rather than driving for show. Featuring 14 water holes with fairways winding around several lakes, the course provides breath-taking beauty and exhilarating challenges, without intimidating length. This course hosted the LPGA in 2001 for the Office Depot Championship.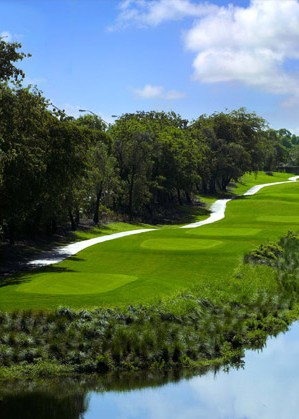 The MCLEAN Course
The Jim McLean Signature Course joins the infamous Blue Monster and the Great White as the third of Doral's premier courses. It is unique among courses in the Southeast because it presents a variety of challenges that include three of the toughest starting holes in golf, a series of phenomenal par 3s, and "The Bermuda Triangle" of the 13th through 15th holes. Five sets of tees let golfers from novices to champions decide how difficult they want the course to be – but no matter where they start, they'll have earned a real sense of accomplishment every time they finish
ACCOMMODATIONS
---

The

DORAL GOLF

RESORT

---

Surrounded by green fairways and shimmering water, Doral Golf Resort and Spa is an oasis of luxury in the South Florida sun. The recently renovated guest rooms and suites are situated in intimate lodges near the main clubhouse, and reflect the colors, beauty, and ambiance of South Florida's natural landscape. The nationally-acclaimed chefs at Doral apply their culinary artistry at a variety of restaurants and lounges, for intimate in-room dining as well as large group banquets. And for momentos of a wonderful resort stay, look no further than our seven retail outlets.

The spacious Guest Rooms at the resort are decorated with luxury to be expected of the finest world class hotels. Plantation shutters, private balconies or terraces, deluxe baths and uncompromising service are just a few of the special touches every guest enjoys.

The finest cuisine in Miami is served at Windows, an elegant terrace restaurant overlooking the green panoramic golf views. Windows features a bountiful buffet complete with a full sushi bar. A combination of hearty and high-energy fare, a casual atmosphere with a range of continental dishes prepared from the finest fresh ingredients at Terrazza Restaurant and Cafe. Towering columns and Old World charm surround the peaceful dining room at the Atrium. The freshest of ingredients prepared in a health-conscious yet delicious cuisine will feed the soul and replenish the body. There are five different dining establishments at Doral to choose from.

The 148,000 square foot Spa at Doral is an oasis of luxury, tranquility, and rejuvenation created for the body, mind, and spirit. A place where tropical foliage gives way to meditative Mediterranean gardens amidst the 650 lush acres of the fame Doral Golf Resort and Spa. Old world treatments set the tone for this classic European style spa. Whether the emphasis is on fitness, renewal, weight loss, lifestyle management, or the timeless benefits of the ultimate in relaxation, the joy of living is expressed in a hundred ways every day at The Spa at Doral.
Property type:

DELUXE FIRST CLASS

ROOM TYPES:

DELUXE GUESTROOM
incl. either 1 king or 2 queens



THE ABOVE RATES ARE PER PERSON. EXTRA NIGHTS AND ROUNDS AVAILABLE UPON REQUEST.

Please call or request your desired information via email below.

OR JUST CALL US AND WE WILL GET YOU A QUOTE THE SAME DAY!

Requesting Availability
We will check your requested courses and accommodations for the date range that you may specify in the boxes below and reply back to you as soon as possible. Of course the more information that you can provide us, the closer we will be in matching your exact request(s). We will not knowingly sell or pass along your information that you provide to any third party for any reason (see Liabilities and Privacy Policy).
We are available to answer your inquiries in person Monday - Friday (except holidays) from 8:30am until 5:30pm CST (1-817-788-5210). Our typical response time for your email request ranges from 3 hours to as many as 72 depending upon the availability of onsite resourses and those of the golf clubs, country clubs and resorts/lodging establishments, as well as, any variations you may request from our listed programs. For those inquirers requesting a trip within two weeks of play, we will give you a priority due to your need to establish a plan. At any rate, we will respond to your requests as quickly as possible and as soon as we have all components of your package confirmable. Also, keep in mind that some of our golf packages are time sensitive requiring an advance purchase to receive the lowest available rates.
OR...
JUST CALL US MONDAY-FRIDAY FROM 8:30AM UNTIL 5:30PM (CST) AND WE WILL TAKE YOU FROM TEE TO GREEN ON THE COURSE QUALITY, ROOM/SUITE DESCRIPTIONS AND THE RATES AND AVAILABILITY.

1-877-510-4653



Tell a friend about this page!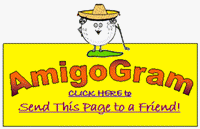 GOLF TRAVEL INSURANCE
Don't get caught out in the rain!

INSURE YOUR GOOD TIMES!
with TravelGuard Insurance



This unique insurance policy covers your trip for illness, injury or death. It also provides for

baggage loss (including golf clubs), delays and emergency medical and evacuation. Round rainouts are also covered in this fully comprehensive program.

Protect your golf trip with TravelGuard Insurance.

For full details and easy online purchase please click on the banner (right):

With Southern Breeze, you come first. If

when you play

is an important factor to you and your playing partners, we get there first. You can be assured that our tee times are generally

the best of the day

because we access the tee sheets well before the general public and usually 30-120 day days in advance.

And, although we are accustomed to serving foursomes and larger groups, we can also assist the single player in most cases. Our unique advance planning service insures that you play

when you want to

. Whether it is teeing it up at one of the many resort destinations that we represent or our individual and highly-ranked golf clubs listed throughout our web site, rest assured with a premium golf tee time from Southern Breeze Golf Tours.

How to book our golf packages: Your reservations can be handled via e-mail if you prefer by completing the information above and clicking the REQUEST RATE button located immediately above. Or we will be happy to assist you over the phone. It will greatly assist our planners if you can provide 1). the specific package that you and your party are interested in, 2). requested dates for the package, 3). whether, or not, you will need air or rent car and, 4). your handicap and those in your party. Click on GOLF REQUEST to send us a general request in text form.

All prices are per person and include all lodging and golf-related taxes except where noted.We accept American Express, Visa, Mastercard, Discover Card or money order.


We can also package and assist in the following golf-themed trips:

CORPORATE EVENTS

CHURCH GROUPS
FRATERNITY/SORORITY/ALUMNI GETAWAYS

REUNIONS
RETREATS

BACHELOR PARTY GOLF OUTINGS

GIFT CERTIFICATES

Proudly Associated with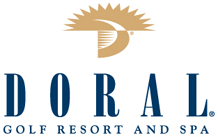 AUTHORIZED WHOLESALER REPRESENTATIVE
greens@gardnertravel.com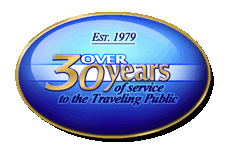 OUR HOURS ARE
---
Monday - Friday from 8:30am to 5:30pm
Central Standard Time

TOLL FREE

877-510-4653
or 1-817-788-5210 for some parts of Canada
| | | |
| --- | --- | --- |
| | and | |
GOLF *

VACATIONS

* TOURS * LUXURY TRAVEL


We love what we do 'cause we do what we love!
GOLF PACKAGE LOCATOR



(LS) - low season (HS) - high season (YR) - all year


Last updated: